Mike Lindell Invites Chinese Communist Party to Sit Next to Brian Kemp at His 'Election Symposium'
MyPillow CEO Mike Lindell has invited Georgia Governor Brian Kemp and Arizona Governor Doug Ducey to sit alongside the Chinese Communist Party (CCP) at his upcoming event focused on the 2020 presidential election.
Lindell made the remarks Monday on former President Donald Trump adviser Steve Bannon's War Room: Pandemic podcast. Bannon asked Lindell whether he would be "open" to allowing diplomatic representatives of the CCP to attend the event.
"Yes absolutely, they can sit right next to Brian Kemp and Doug Ducey in the front row," replied Lindell.
Lindell has accused Kemp and Ducey, both Republican governors of states that Trump lost, of being part of a conspiracy that handed the election to President Joe Biden using massive voter fraud. There is no credible evidence of widespread fraud during the election, with Biden having defeated Trump by 74 Electoral College votes and over seven million popular votes.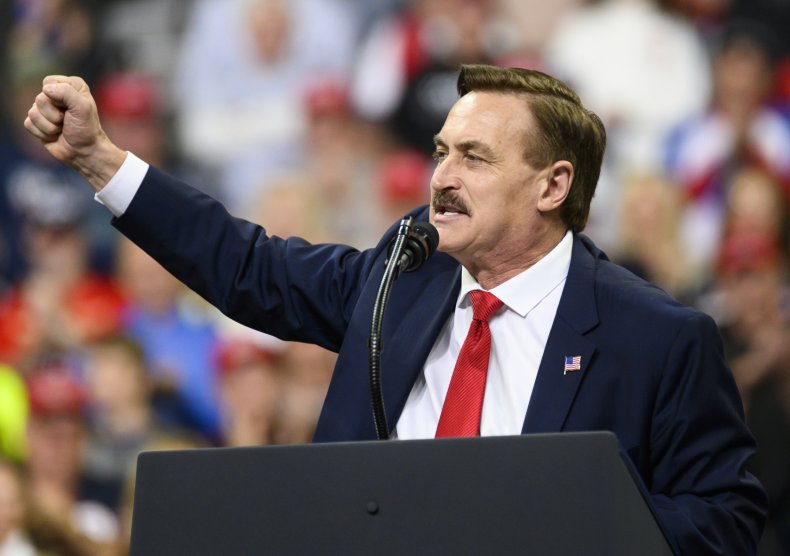 Regardless, Lindell says that he has proof that the CCP used the Democratic Party to steal the election and "invade our country" by hacking voting machines and flipping votes from Trump to Biden.
During an interview with Rolling Stone at his MAGA Frank Free Speech event in Wisconsin over the weekend, Lindell said that Trump had won the election by 12 million votes.
In addition to Kemp, Ducey and the CCP, Lindell said that other governors, members of Congress and state attorneys general of both parties would be among those invited to his "cyber forensics election symposium," which could take place in July.
Lindell insisted that attendees would be impressed by "cyber guys" at the event, leading to the Supreme Court unanimously overturning the election results and reinstating Trump as president.
"One of the things we're doing, it's a cyber forensic election symposium," Lindell said. "We're bringing all of our evidence to a big venue. I haven't announced it yet, I'll announce the date. Any cyber guy that's got credentials in the country, we're gonna bring them there."
"Once we show all the cyber guys and they can ask their questions and they're all going, 'Wow!' It's going to be like showing them a spaceship," said Lindell. "Here, you guys, you haven't seen anything like this. This is a miracle...This whole country is gonna go 'we've got to get this to the Supreme Court now and get this pulled down.'"
Fox News was invited to the event with a "personal invite" from Lindell, despite his previously announced investigation of the network over it not sending him any recent invitations to appear as a guest on its shows.
Dominion Voting Systems, a company that has sued him for $1.3 billion over his allegations that it was involved in the purported plot to steal the election, also received an invite.
Lindell suggested that a "nationwide petition" would directly lead to the Supreme Court taking up his claims of election fraud. The court does not take cases based on petitions from the public and there is no legal basis in the Constitution for the election to be overturned.
During an interview on The David J. Harris Jr. Show podcast late last month, Lindell announced a "deep investigation" of Kemp and Ducey, saying that he had already spent "millions of dollars" on the investigation. He also claimed, without evidence, that there might be a link between the GOP governors and the CCP.
"Do you think Brian Kemp and Doug Ducey might be a little compromised?" Lindell said. "Maybe they're tied into the, I don't know, the corruption, the deep state, maybe China? Who knows... it sure looks that way."
Newsweek reached out to the offices of Kemp, Ducey and Lindell for comment.