'Unhinged' Mike Lindell Rant Targets DeSantis Election Results
MyPillow CEO Mike Lindell, a fervent election denier and staunch ally of former President Donald Trump, seems to be criticizing Florida Governor Ron DeSantis in respect to his massive 2022 reelection victory.
Lindell's statements were part of a rebuke of DeSantis' praise for defamation attorney Libby Locke, who is representing Dominion Voting Systems in its lawsuit against Lindell. During a roundtable on Tuesday, DeSantis called her an "extraordinaire when it comes to First Amendment defamation."
In a response to the roundtable, Lindell focused on DeSantis' 11-point win in longtime Democratic stronghold Miami-Dade County, which Trump lost by 7 points in his 2020 presidential election loss to Joe Biden.
Lindell said he and his partners have put in requests to county officials for records through the Freedom of Information Act and otherwise. He then said that "there was no computer crime" in the county.
"Why didn't they cheat with DeSantis there?" Lindell said Tuesday on his broadcast program, Lindell TV, adding that he doesn't think DeSantis rigged the election. "I don't know, you gotta wonder. It sure makes it look good like, 'Gee, if you're a good governor and you're gonna get all these votes.' Rubbish. It's a big lie.
"Remember, the 'big lie' is the 'big lie.' I'm so upset I can't tell you. How dare you sit there with a lawyer who is suing individuals."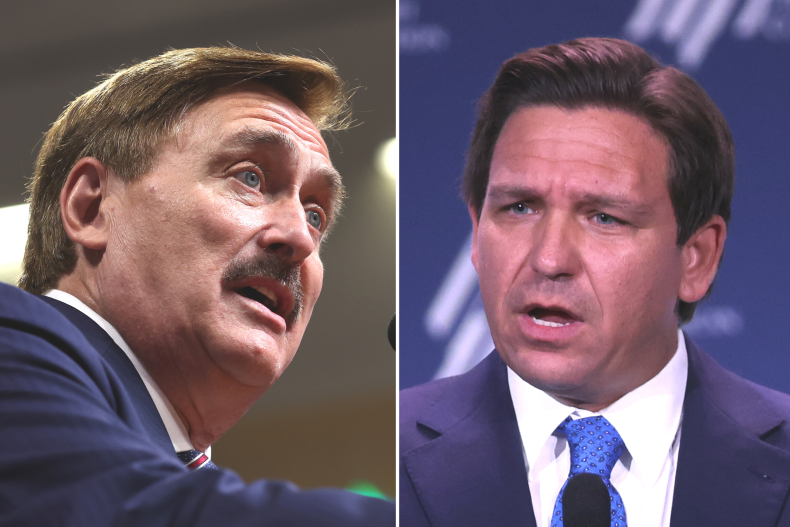 Lindell went on to say that DeSantis, whom he kept referring to simply as "Ron," probably doesn't understand what's going on in the country.
He also took the opportunity to say it was another indication that he, and not Ronna McDaniel, should have been voted in as the chair of the Republican National Committee (RNC). DeSantis will politically feel the effects of his hosting Locke, Lindell added.
"There's a reason that the whole country wanted me to be head of the RNC when they did the Rasmussen poll," Lindell said. "It's because I want to get rid of the machines and make our elections elections and not selections.
"He just blew any chance—if he was thinking of running for president, your ship has sailed, Ron," he continued. "You just as well should endorse Donald Trump right now and save face because you don't know what the people want. It's disgusting. I don't know, are you in on this?"
Asked if Lindell's statements about DeSantis, Locke and stolen elections could make him more legally culpable, attorney Andrew Lieb told Newsweek they can only make potential jurors more apprehensive.
"Lindell is 100 percent increasing his exposure every time that he opens his mouth because prospective jurors are seeing just how unhinged he appears," Lieb said. "However, his rant won't likely add any new lawsuits against him because it's such a garbled load of spewed word salad that it's not even possible to take away a coherent message even if you watch it over and over again."
For Dominion to win a defamation lawsuit, Lieb said it needs to prove a false statement of material fact and not just opinion.
"The only substantive thing that [Lindell] possibly communicates is that he is upset that DeSantis praised a Dominion attorney," Lieb added. "And to that, I say, so what."
Newsweek reached out to DeSantis' office and the Miami-Dade Clerk's Office for comment.