Mike Lindell Stopped by Right Side Broadcasting Host for COVID Conspiracy Theories
Mike Lindell, the founder and CEO of the MyPillow bedding company, spoke about coronavirus conspiracy theories with the Right Side Broadcasting News (RSBN), a conservative pro-Trump YouTube channel, at the Conservative Political Action Conference (CPAC) on Sunday.
In a video posted to Twitter by Bloomberg reporter William Turton, Lindell is shown sitting in a booth at the conference beside Right Side Broadcasting host Liz Willis.
At the beginning of the clip, Lindell claims that people who have not contracted COVID-19 are being diagnosed with the virus for nefarious reasons.
"You stub your toe, and they say 'Oh, you've got COVID!" Lindell said.
However, before the CEO continued, he was interrupted by Willis.
"We do have to be super careful," said Willis. "Due to YouTube's guidelines, we will get our whole platform shut down if we talk about the vaccines."
During his interview with Right Side Broadcasting, Lindell also mentioned that the prime minister of Israel is "making the whole country" take the COVID-19 vaccine.
"What do you care what someone else does," Lindell said. "This is our bodies. This is 'mark of the beast' stuff."
Lindell previously referred to the COVID-19 vaccine as the "mark of the beast"— a prophet mentioned in chapter 13, verse 18 of the biblical Book of Revelations—during a February 6 appearance on Steve Bannon's War Room: Pandemic podcast.
"Now it's this 'one World Order,' this stuff is in Revelations, you know that's what I was talking about, and you combine that with this vaccine, that's 'mark of the beast' stuff," Lindell said. "I mean, this is horrible, keeping us indoors."
The biblical verse has been interpreted in different ways throughout history.
Some Christians believe that the mark refers to a tattoo or branding marker that anti-Christians will impose on the world for the purpose of control. Other Christians believe that the mark symbolically means allegiance to a non-religious government.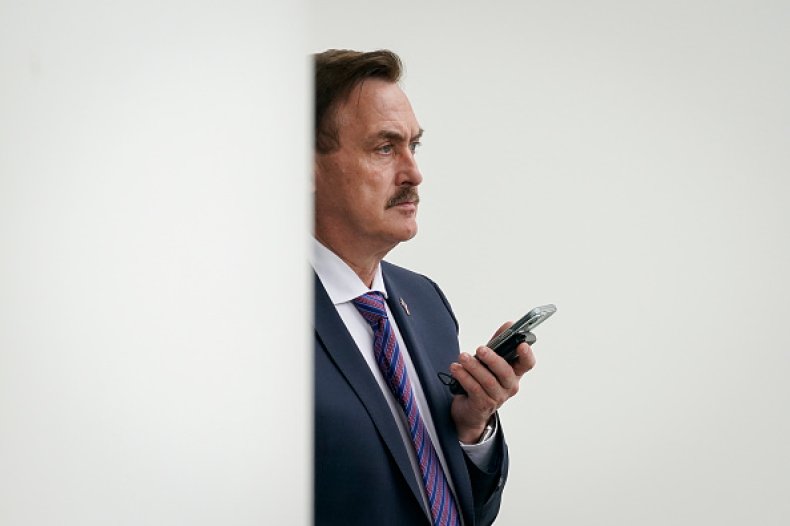 Lindell has also been a vocal proponent of election fraud conspiracy theories. An ally of former President Donald Trump, he has repeatedly claimed that Dominion Voting Systems, the company behind the voting machines used in the 2020 election, helped influence the election in favor of President Joe Biden.
Dominion Voting Systems filed a lawsuit against Lindell last week, after the MyPillow CEO asked Dominion to "please sue me."
Several stores, including Bed Bath & Beyond, Kohl's, and Wayfair, among others, have stopped carrying MyPillow. Twitter has also banned the company and its CEO from the platform.
David Hogg, a Parkland High School shooting survivor and March for Our Lives Founder, announced a "progressive" pillow company on February 4 as a direct rival to Lindell's pillow line.
Newsweek reached out to Lindell through MyPillow, but didn't hear back in time for publication.