Vice President Mike Pence to Remain on the Campaign Trail Despite Chief of Staff's COVID Diagnosis
Vice President Mike Pence plans to continue his campaign schedule despite being in close contact with his chief of staff who tested positive for the coronavirus on Saturday.
A spokesman for the vice president, Devin O'Malley, said while the vice president is considered a "close contact" of his top aide, Marc Short, he will not quarantine.
Pence and his wife Karen have been tested, with their results having come back negative.
"Vice President Pence and Mrs. Pence both tested negative for COVID-19 today, and remain in good health," O'Malley said in a statement to the Associated Press.
With election day 9 days away, Pence will continue his travel schedule "in accordance with the CDC guidelines for essential personnel," according to O'Malley.
The decision was said to be made "in consultation with the White House Medical Unit."
The New York Times reported that three other members of Pence's staff have tested positive, as well as another adviser, in recent days, though these cases have not been officially confirmed.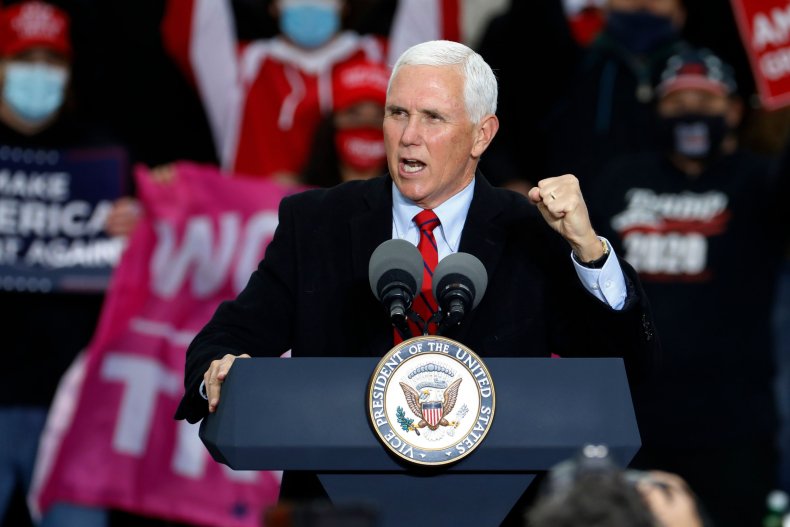 President Donald Trump, asked if he had heard about Short's diagnosis, after deplaning Air Force One in the early hours of Sunday, said: "I did hear about it just now. I think he's quarantining. I did hear about that. He's going to be fine. But he's quarantining."
Pence's travel schedule as November 3 nears has previously been described as "very aggressive."
"I think it's in stark contrast to what we're seeing out of the Harris-Biden campaign and the limited travel and events that they're doing," Pence's chief of staff Short, speaking ahead of his COVID-19 diagnosis, told Newsweek and other media outlets during a campaign call Monday.
White House Chief of Staff Mark Meadows was asked about the situation Sunday and said the vice president was "cleared by the doctors to travel."
Asked if he was worried about Pence catching COVID-19, he said: "Obviously, I'm worried about everybody being affected, not just the VP."
Haberman, a White House correspondent for The Times, reported Sunday that Pence and the second lady had again tested negative for COVID-19.
According to the Trump campaign website, Pence is due to address crowds in Kinston, North Carolina, at a "Make America Great Again Victory Rally" on Sunday.
He is then due at a similar event in Hibbing, Minnesota, on Monday.
Pence has a string of campaign commitments. He also leads the White House's Coronavirus Task Force. The diagnosis of his staff comes with more than 8.5 million COVID-19 cases having been confirmed across the U.S. throughout the pandemic, according to Johns Hopkins University figures.
Short's diagnosis and the reported cases among other Pence staffers have occurred just weeks after President Donald Trump himself was diagnosed with COVID-19, which sparked concerns for staff in the White House. A report from The Times suggested the White House sought to contain details of the reported diagnoses among Pence's staff.
Newsweek has contacted O'Malley, the White House and the Trump campaign for further comment.
This article was updated to include comment from White House Chief of Staff Mark Meadows.