Mike Pence Is Still Cleaning Up After President Trump, No Paper Towels Needed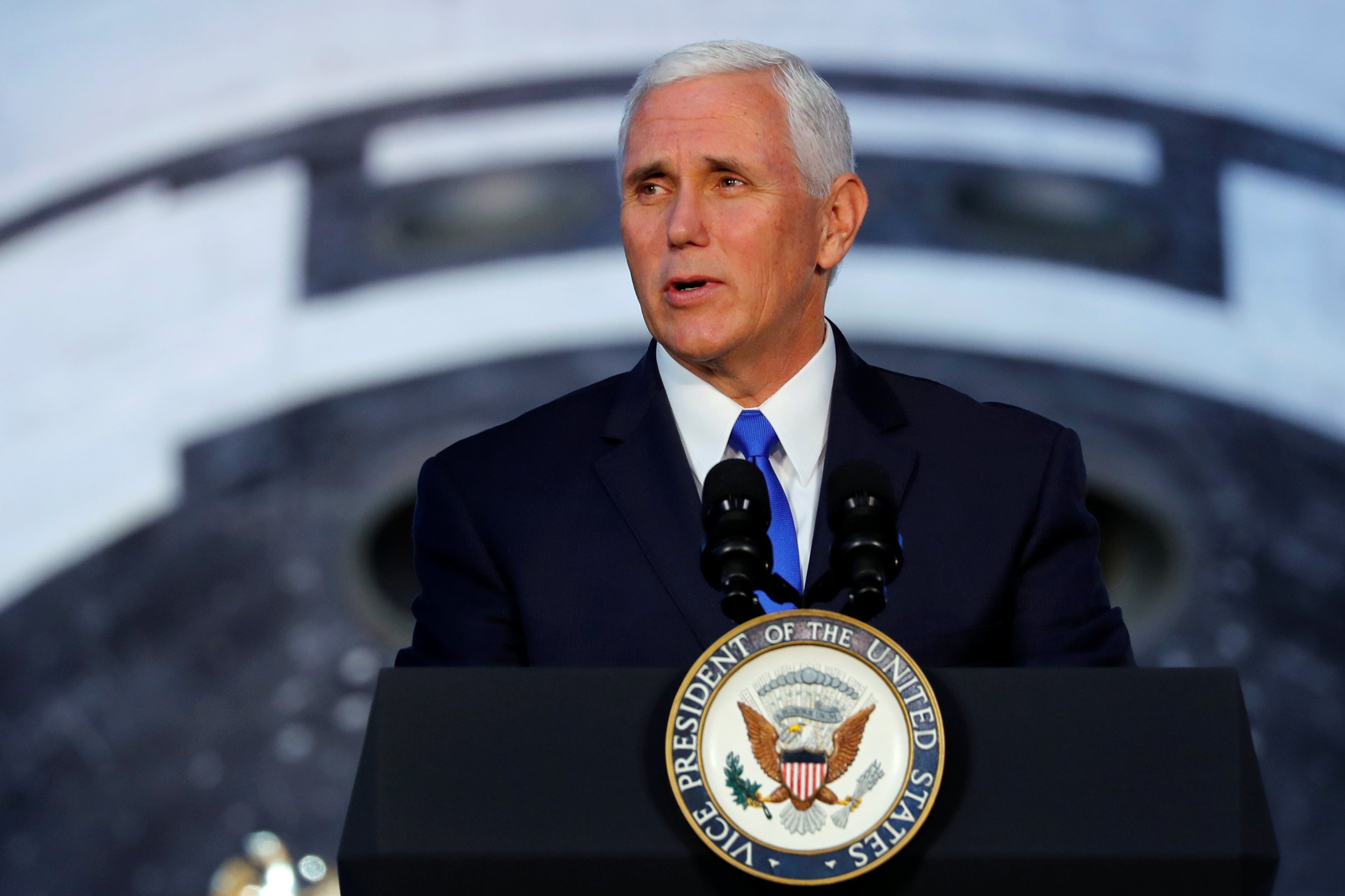 Puerto Rico and the Virgin Islands are still cleaning up after Hurricane Maria—and some say Vice President Mike Pence is still cleaning up after Donald Trump.
Pence headed to the storm-devastated islands Friday to comfort victims and promise lasting government help with recovery. He donned cowboy boots and an empathetic mien while on a mission that exemplified the marked contrast between his style and that of his boss…yet again.
"What you're seeing is the difference between a professional, retail politician who understands the personal touch and a celebrity billionaire who's been largely removed (and remains that way) from citizens," political consultant Reed Galen summed up for Newsweek.
Trump visited Puerto Rico Tuesday while engaged in a nasty public brawl with the mayor of San Juan, Carmen Yulín Cruz, flaring up at her for criticizing the federal response to her island's plight.
During a sit-down briefing, Trump lavishly praised the Coast Guard and asked a representative to say a few words on its behalf, only to be politely told he was addressing an official of the Air Force.
And the president certainly got critics chattering when he tossed rolls of paper towels to a crowd and told one man whose storm-damaged home he visited, "We're going to help you out. Have a good time."
By contrast, Pence and his wife, Karen, showed up in St. Croix on Friday clad in jeans and headed to a FEMA briefing.
There, according to a pool report, Pence spoke for less than four minutes: "I spoke to President Trump this morning and he wanted us to say simply: We are with you today, we are with you tomorrow…until the U.S. Virgin Islands comes back," he said. "We are here for the long haul."
One image from the trip showed a sober-faced Pence, accompanied by St. Croix Governor Kenneth Mapp, visiting a church with the roof torn away.
Per pool reports, he surveyed hurricane damage from above during a ride in a Blackhawk helicopter and also made an unscheduled stop at an emergency shelter, where he gave the manager a hug and complimented the resilience of Virgin Islands residents.
Before heading to the islands, Pence stopped Thursday in Florida, where he visited a disaster relief center serving Puerto Rico storm victims at Orlando International Airport.
Pool reports had him greeting workers with an understated, "I'm the vice president. This is my wife, Karen." His office released a campaign-quality supercut video of him shaking hands, patting backs and helping load trucks over a soundtrack of him discussing "what it means to be neighbors, and friends, and fellow Americans."
Costas Panagopoulos, professor of political science at Northeastern University in Boston, said the high-contrast performances by Trump and Pence reflect "how differently they perceive the political world: Pence is coming at this from someone who's been in public life for a very long time and has had to hone and refine the optics of his public response, whereas for Trump, he's done that under very different circumstances."
Plus, "this is classic good cop–bad cop behavior. I mean, how often have we seen this where Trump goes out and makes a mess and Pence has to go out and clean it all up?" Panagopoulos asked, alluding to the veep's track record of trying to patch up Trump's more controversial statements since the two hit the campaign trail together.
"It's no accident at all that this is the way Pence is presenting himself. It is very deliberately designed to be a very sharp contrast to Trump's approach—and criticism of that approach," Panagopoulos said.