Mike Pence said the Trump administration had "great confidence" in a coronavirus vaccine existing by the fall after it was announced that trials were entering their next phases earlier this week.
The vice president was optimistic about the prospect of a vaccine being ready this year on Fox News Tuesday, saying that the administration was readying itself to offer vaccines to "tens of millions" of U.S. citizens.
Pharmaceutical firm Moderna announced earlier this week that their COVID-19 vaccine experiment in partnership with the National Institue of Allergy and Infectious Diseases (NIAID) was going into its next phase.
A separate experimental vaccine run by Pfizer also entered its next stages this week, according to the company.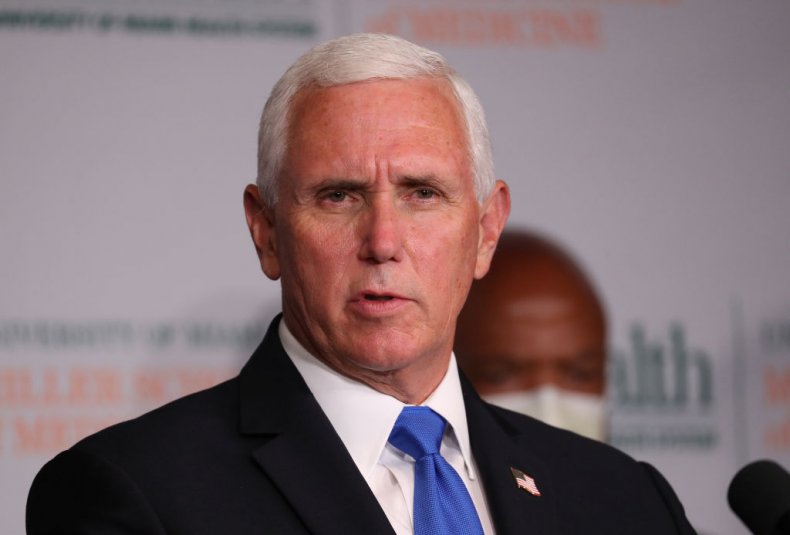 Speaking to Fox News anchor Martha MacCallum yesterday, Pence said: "I've got to tell you, when you've got Dr. [Anthony] Fauci saying that it's not if, it's when we have vaccine, it gives you the signal that we really have great confidence that by this fall we're going to have vaccine.
"Under Operation Warp Speed, we're literally producing those vaccines right now. We're purchasing millions of syringes right now, so that the moment the FDA says a vaccine is safe and effective we will have the supplies on hand to literally offer vaccines to tens of millions of Americans."
The vice president touted the prospects of the U.S. having a COVID-19 vaccine by the end of the fall a day after President Donald Trump heralded the "tremendous progress" being made in ongoing trials and experiments.
"Tremendous progress is being made with all of those proposals," Trump said. "America will develop a vaccine very soon and defeat the virus."
The president also heaped praise on the "Operation Warp Speed" project bankrolled by almost $2 billion of federal funds that aims to ready the mass production of vaccines in preparation for FDA approval.
NIAID Director Dr. Anthony Fauci also told CNN on Monday that he was "cautiously optimistic" about the Moderna COVID-19 vaccine working and hoped it would be more than 60 percent effective.
"If we get a widespread uptake of vaccine, we can put an end to the pandemic and we can create a veil of immunity that would prevent the infection coming back," the expert added.
At the time of writing, the U.S. has recorded more than 4.3 million confirmed COVID-19 infections since the outbreak hit the country in March, according to the Johns Hopkins University tracker.
The total U.S. death toll from the virus neared 150,000 on Wednesday morning as several states continued to report resurgences in new infections. More than 1.3 million cases of the disease have resulted in recoveries.
Newsweek has contacted the White House for further comment. The graphic below, provided by Statista, shows the states with more than 100 new COVID-19 cases per 100,000 people as of the week ending July 24.