Mike Pence Hid in 'Loading Dock' in Underground Parking Garage During Jan. 6 Riot
Images captured during the January 6 riot showed former Vice President Mike Pence hiding in an underground parking garage, according to the author of a book about the events surrounding the incidents at the Capitol.
ABC News chief Washington correspondent Jonathan Karl said while researching his book, he found out that Pence had been with an official White House photographer during the hours of the riot carried out by supporters of ex-President Donald Trump.
Karl's revelations come as the January 6 committee examining the fatal riot issued Monday a new slew of subpoenas to top Trump aides, including former National Security Adviser Michael Flynn.
Several Trump supporters turned on the then vice president after he oversaw the Senate's approval of the 2020 Electoral College vote. Outside the U.S. Capitol, make-shift gallows were seen and chants of "Hang Mike Pence" were heard.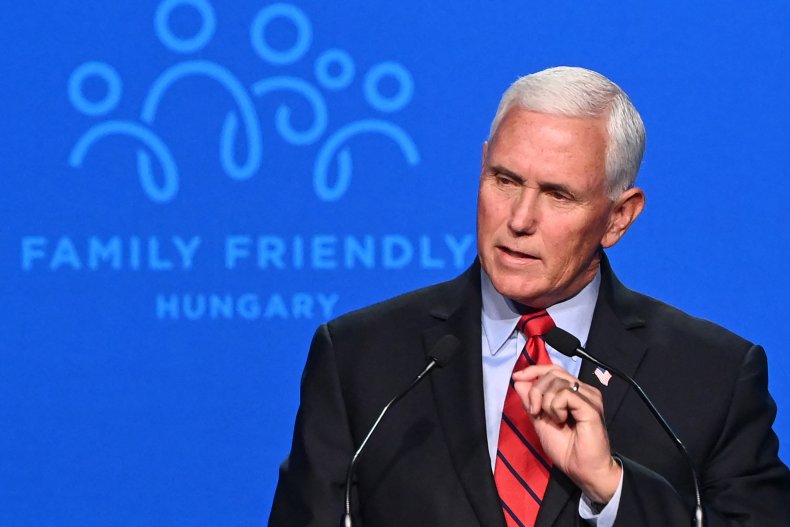 Promoting his upcoming book, Betrayal: The Final Act of the Trump Show, Karl told The Late Show with Stephen Colbert on Monday that he saw "all of the photographs" that had been taken of Pence over a period of around five hours as he and his family escaped to safety.
"It is wild to see that he was in a loading dock in an underground parking garage beneath the Capitol complex," he said, adding that there was "no place to sit, no desk, no chairs, nothing."
"He was in this concrete parking garage...with his family," Karl said. "This is the vice president of the United States and he is, like, holed up in a basement."
Karl said that one of the images is of the former vice president's then chief of staff Marc Short showing him his phone and a tweet by Trump which said that Pence "didn't have the courage," in reference to his refusal to overturn the Electoral College vote.
"It kind of looks like Pence is grimacing but you can never really tell," Karl said to laughter from the audience.
Karl told Colbert he had asked Pence's office if he could publish the photographs but was denied permission. "I have a suspicion that the January 6 committee is going to want to see those photos."
Karl also said that the fact the images were taken by an official White House photographer, makes them a public record as part of the U.S. National Archives.
Newsweek has contacted Pence for comment.
The January 6 riot has been linked to at least five deaths, and the injuries of over 130 law enforcement officers. Nearly 700 people have been charged with a variety of offenses related to the riot, ranging from minor fines to federal charges.
Former Trump adviser Steve Bannon has been held in contempt of court after he ignored a subpoena from the committee, whose chairman, Representative Bennie Thompson (D-MS) said Trump allies "drove a campaign of misinformation."
Thompson said in a statement Monday that his committee "needs to know every detail about their efforts to overturn the election."