Mike Pence Reminded of Jan. 6 MAGA Threats After He Attacks Biden's Speech
Former Vice President Mike Pence delivered a speech Thursday rebuking President Joe Biden's "partisan campaign rally" that criticized the same MAGA Republicans who threatened to "hang" Pence on January 6, 2021.
Pence's speech at the Concerned Women for America (CWA) summit was maligned by many on social media due to the hypocrisy of defending people who on that day audibly called for his death for not overturning the 2020 election after President Donald Trump's loss.
Pence also took umbrage with Biden's use of uniformed Marines during the speech, even though past presidents, including Trump, have done the same.
The CWA describes itself as a group that "promotes biblical values and constitutional principles through prayer, education and advocacy."
"The President [Biden] made it clear that he views pro-life Americans as enemies of democracy," Pence tweeted. "In fact, he said that anyone who refuses to bend the knee to his extremist left-wing ideology represents 'an extremism that threatens the very foundations of our Republic.'"
Pence went on to claim that "never before in the history of our nation" has a U.S. president "accused millions" of Americans of posing a national threat.
"To top it off, President Biden had the audacity to claim, 'I'm asking our nation to come together, to unite,'" he added.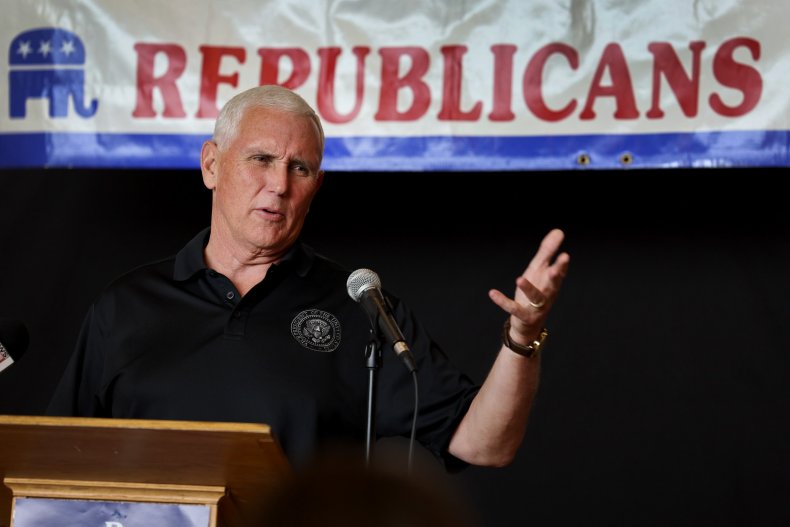 Screenwriter Randi Mayem Singer tweeted in response, saying, "So you don't think the people who came to hang you are a threat to this country?"
"[Biden] was referring to the MAGA extremists who were calling for your hanging," actress Alyssa Milano tweeted.
A CWA spokesperson told Newsweek that Pence was scheduled to appear at the summit "long before" Biden's speech.
"Pence is a strong conservative leader and has been throughout his years of service," the spokesperson said. "CWA has worked closely with him over the years on policy issues, including when he served in the White House. The more than 200 state leaders, supporters and Young Women for America leaders that were here in attendance at the event were delighted to welcome him to speak on several pressing issues."
Trump mentioned Pence by name before and after the Capitol riot, in a speech to gathered Trump supporters as well as numerous tweets.
"Mike Pence didn't have the courage to do what should have been done to protect our Country and our Constitution, giving States a chance to certify a corrected set of facts, not the fraudulent or inaccurate ones which they were asked to previously certify," one tweet read. "USA demands the truth!"
Representative Zoe Lofgren, a California Democrat and member of the January 6 Committee, said during an interview that Trump "accelerated" violence against Pence.
The phrase "Hang Mike Pence" became such a rallying cry for many conservatives on January 6 that it was used online countless times during the insurrection—so much so that a Twitter spokesperson later revealed that the social media platform blocked it "and other variations" from trending to promote healthy discourse.
In May of this year, Trump said on a radio show that he was "greatly disappointed" in Pence. It was a comment that received a response from Pence, calling Trump "wrong" in his assertion.
"The presidency belongs to the American people, and the American people alone," Pence replied. "Frankly there is almost no idea more un-American than the notion that any one person could choose the American president."
Newsweek reached out to Pence for comment.
Update 9/12/22, 9:40 a.m. ET: This story has been updated with a comment from a Concerned Women for America spokesperson.