Former Vice President Mike Pence offered a response on Sunday to the brutal recent comments made about him by outgoing Senator Mitt Romney, who claimed that he stood by "ungodly" things during his time in the White House.
Romney, a veteran politician who previously served as the governor of Massachusetts from 2003 to 2007 and received the 2012 GOP presidential nomination, announced on Wednesday that he will not be seeking a second term in the Senate next year. He currently serves as the junior senator from Utah, having been elected to the office in the 2018 midterms.
On his way out of office, he has made a number of damaging claims and appraisals of his colleagues in Washington, D.C. Speaking to journalist McKay Coppins of The Atlantic in an article published Wednesday, Romney revealed a text message to Senate Minority Leader Mitch McConnell in which he brought up worrying reports of activity that ultimately led to the January 6, 2021, Capitol riot, to which McConnell never responded. He also said that, in his estimation, a number of his Senate GOP peers do not respect the U.S. Constitution.
In one of these comments, Romney took aim at Pence, calling him out for standing by former President Donald Trump's actions while claiming a deep devotion to Christianity. While speaking with Coppins, Romney said that no one was "more loyal, more willing to smile when he saw absurdities, more willing to ascribe God's will to things that were ungodly than Mike Pence."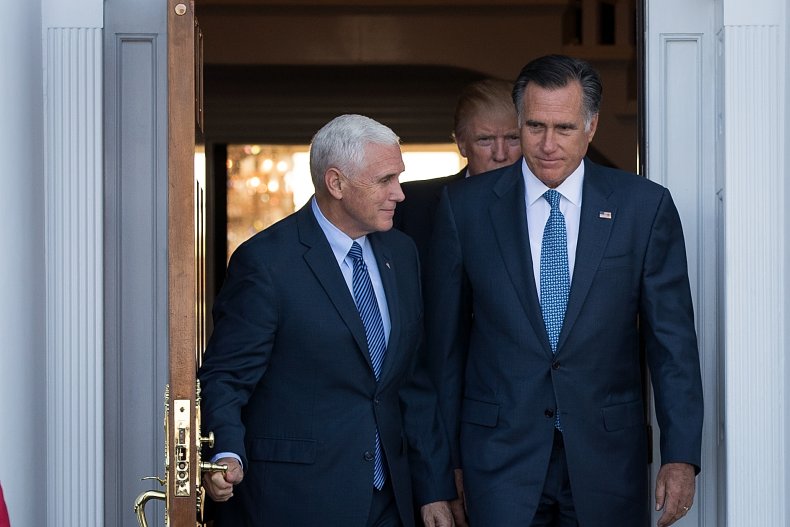 Pence is currently among the packed field of candidates seeking the 2024 Republican presidential nomination but is considered a longshot given his striking unpopularity among Trump-supporting members of the GOP base. On Sunday, he appeared on CNN's State of the Union, where host Jake Tapper asked him for a response to Romney's comments.
"You know, when that phone rang in 2016, my wife and I went to prayer about the invitation to join the national ticket," Pence said. "I believe we were called to serve and I'm incredibly proud of the record of the Trump-Pence administration. In just those four short years, we rebuilt our military, revived our economy, and appointed three conservatives to our [Supreme Court]. That gave us a new beginning for the right to life."
The former vice president continued: "Look, Mitt Romney has no idea what I was doing in the administration. I haven't talked to Mitt Romney for years. I think he can go off into retirement. I think he was even critical of his old running mate Paul Ryan in the pages of [Coppins' biography of him]. I know the stands that we took and the stands that we maintained, and I will always believe that we were called to that fight."
Newsweek reached out to Romney's office via email for comment.