State Department's Promotion of 'Being a Christian Leader' on Website Criticized For Potential Violation of Constitution
Secretary of State Mike Pompeo delivered a speech on Friday to the American Association of Christian Counselors (AACC) at its 2019 world conference in Nashville, Tennessee. Outlining "what it means to be a Christian leader," while relaying family anecdotes and stories from his West Point education, Pompeo described how he applies his religious faith to government administration.
Titled "Being a Christian Leader" and promoted in his official government capacity on the homepage for the State Department, religious and civil liberties organizations have decried it as a potential violation of the U.S. Constitution's intended separation of church and state.
"I keep a Bible open on my desk, and I try every morning to try and get in a little bit of time with the Book," Pompeo said, describing how the texts sacred to Christians influences his disposition, engagement with others and decisions. "We should all remember that we are imperfect servants serving a perfect God who constantly forgives us each and every day."
A complete transcript of Pompeo's speech has been posted to the front page of State.gov, including notation indicating the audience reaction to specific lines. While politicians often speak at events sponsored by religious groups, explicit promotion of "Being a Christian Leader" is widely seen as crossing a line.
According to both religious and atheist organizations, Pompeo is welcome to his Christian faith, but in potential violation of the separation of church and state by promoting "Being a Christian Leader" in official capacities, such as the State Department home page.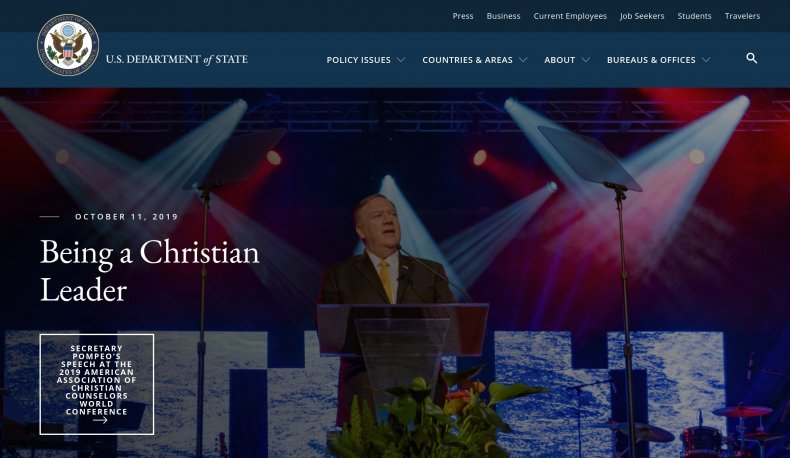 "As far as 'Being a Christian Leader' being publicly promoted on the homepage of the State Department, myself and the organization are incredibly frustrated and deeply concerned," Sarah Henry, spokesperson for the American Humanist Association, an organization of humanists, atheists and freethinkers, told Newsweek. "There's no question that the promotion is an unconstitutional promotion of Christianity."
Promoting secular humanism under the slogan "Good Without a God," the AHA pursues legal and legislative avenues to maintain church-state separation and advocates for international social justice causes.
"We don't feel that the Trump administration has done enough to protect religious and non-religious minorities, domestically or internationally," Henry added. "It's really important to note that this speech from Pompeo and the promotion of Christianity on the State.gov website is not operating in a vacuum. The Trump administration has a continued pattern of promoting Christian nationalism, and this is another example."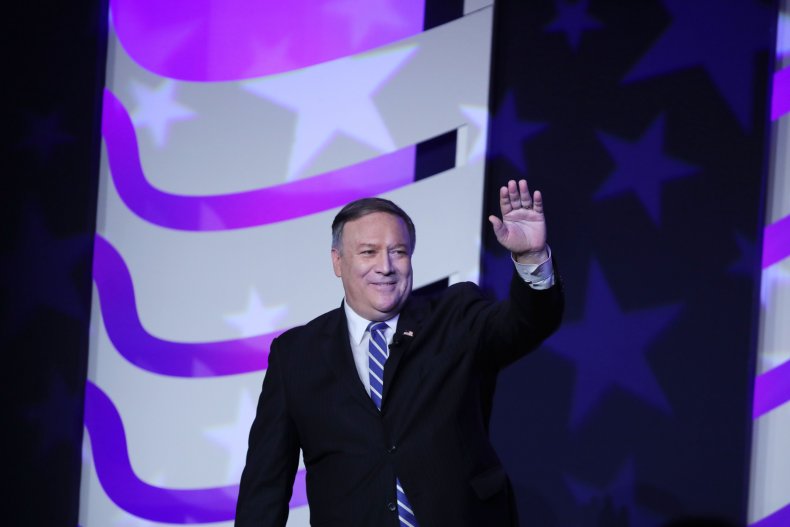 In its Establishment Clause and the First Amendment's Free Exercise Clause, the U.S. Constitution prohibits Congress from creating laws "respecting an establishment of religion or prohibiting the free exercise thereof." Often citing Thomas Jefferson, who described a "wall of separation between Church & State" in an 1802 letter, the Supreme Court has repeatedly ruled that government institutions must not promote, advance or excessively entangle itself with particular religious expressions over others.
"As believers, we draw on the wisdom of God to help us get it right, to be a force for good in the life of human beings," Pompeo said, going on to anticipate criticism and citing Abraham Lincoln's faith in defense of applying Christianity's lessons to governance. "I know some people in the media will break out the pitchforks when they hear that I ask God for direction in my work."
While much of Pompeo's leadership lessons could have also come from secular sources, Pompeo cited several instances where he believes Christian leadership can better defend religious liberties more broadly.
"This administration has spoken to the truth in many ways that previous administrations haven't done," Pompeo said to applause from the more than 6,000 in attendance (noted in the transcript published on the State Department's website). "For example, on China's rule-breaking and authoritarianism; for example, on why the Islamic Republic of Iran is an aggressor, not a victim, for why, in fact, we know in our hearts that America is a force for good in the world."
Describing what he called "the dire condition of religious freedom around the world," Pompeo cited China's internment of more than one million Uighur Muslims and violence upon Iraqi Christians by ISIS.
"We encourage American officials, and particularly the Secretary of State, to speak out against the persecution of Muslims in China," Ibrahim Hooper, National Communications Director for the Council on American-Islamic Relations (CAIR) told Newsweek. "He can speak at religious events, put on by religious organizations—we would expect public officials to speak at Muslim-sponsored events—but I think it's really inappropriate for him to title his speech 'Being a Christian Leader,' because he shouldn't be a Christian leader, he should be an American leader. He should be somebody who is leading a nation of people who have different faiths and no faiths."
While CAIR, the nation's largest Muslim civil rights and advocacy organization, has previously condemned the Chinese Communist Party for its ethnic cleansing of Uighur Muslims (and called out the NBA for its apologies in the face of Chinese government pressure), the organization has longstanding objections to many other actions undertaken by the administration, including condemnations of President Donald Trump's "racist tweets," promotion of anti-Muslim racists and his "racist rant" against Representative Ilhan Omar and Somali-Americans at campaign rallies.
CAIR previously objected to Pompeo's nomination of Secretary of State, citing his "Islamophobic views"—in 2010 Pompeo's Congressional campaign shared a blog post that described former President Barack Obama as a "turban topper"—and associations with anti-Muslim hate groups like ACT! for America.
"Given Secretary Pompeo's record, it comes as no surprise that the State Department is using taxpayer money to promote Christian nationalist talking points. This is a man who once called Jesus Christ 'the only solution for our world' and said that Americans had a duty to 'worship our Lord and celebrate our nation at the same place' until the rapture," American Atheists President Nick Fish told Newsweek.
"With people like Tony Perkins leading the US Commission on International Religious Freedom and Sam Brownback as Ambassador at Large for Religious Freedom, the Department of State looks more like it should be representing the Republic of Gilead from The Handmaid's Tale than an America that respects religious equality under the law," he added.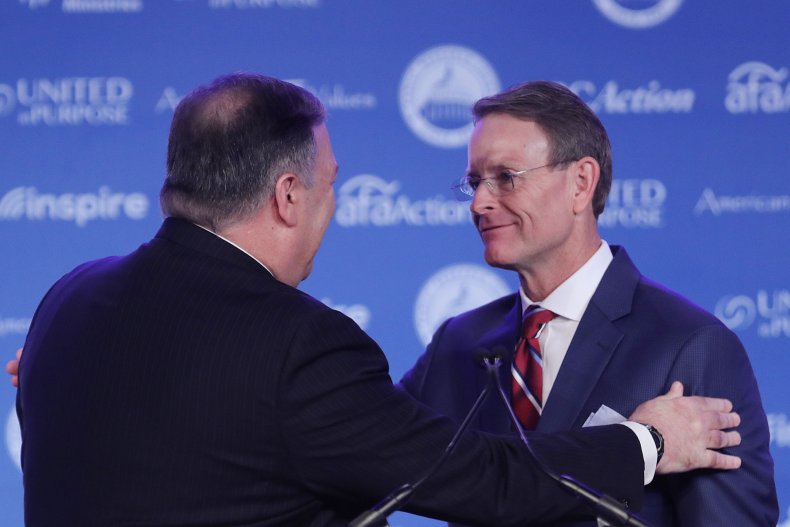 "There's obviously no issue with the Secretary of State being a leader, nor his being a proud Christian," former head of the National Jewish Democratic Council Aaron Keyak told The Times of Israel. "But it's a problem that Secretary Pompeo thinks it's appropriate to put those two words together and hold an official State Department event on being a Christian leader."
"Him talking as a Christian leader and billing it as such is an affront to our separation of church and state," Keyak added.
In light of objections from religious and other organizations, Newsweek has also reached out to the State Department for comment, but did not hear back in time for publication.
While the AACC world conference brought Pompeo to Nashville—"It's a heck of a deal to be out of Washington today," Pompeo said to laughter from the audience—he remains a central figure in the unfolding impeachment inquiry into President Trump.
Since September, Pompeo has refused document requests from House committees related to the administrations alleged politically motivated dealings with Ukraine. Pompeo was on the line during Trump's July call with Volodymyr Zelensky, during which Trump pressured the Ukrainian president to investigate Democratic presidential candidate Joe Biden. Pompeo has since defied a deadline for document delivery commanded by Congressional subpoena.
Other than his joking allusion to Washington, the impeachment inquiry did not come up in Pompeo's speech to the AACC.
"But no matter what comes before you, I pray you'll help hurting people stay immersed in God's Word," Pompeo said, in the conclusion to his speech. "You will all be in my prayers as you do God's work, and I covet yours as I lead American diplomacy."