Secretary of State Mike Pompeo Says NPR Reporter Lied to Him During Interview
Secretary of State Mike Pompeo said that a National Public Radio reporter lied to him over a Friday interview in which the topic of ousted U.S. Ambassador to Ukraine Marie Yovanovitch was brought up.
In a statement issued on Saturday through the State Department, Pompeo accused NPR's Mary Louise Kelly of lying and violating rules of journalism and decency during an he did on All Things Considered.
"NPR reporter Mary Louise Kelly lied to me, twice. First, last month, in setting up our interview and, then again yesterday, in agreeing to have our post-interview conversation off the record," Pompeo said.
"It is shameful that this reporter chose to violate the basic rules of journalism and decency. This is another example of how unhinged the media has become in its quest to hurt President Trump and this Administration. It is no wonder that the American people distrust many in the media when they so consistently demonstrate their agenda and their absence of integrity. It is worth noting that Bangladesh is NOT Ukraine."
Newsweek reached out to the State Department for further comment but did not receive a response in time for publication.
During the NPR interview, Kelly asked Pompeo whether or not he'd owed Yovanovitch, who testified during the House impeachment hearings last November, an apology. Pompeo refused to answer Kelly's questions.
"You know, I agreed to come on your show today to talk about Iran," Pompeo said. "That's what I intend to do. I know what our Ukraine policy has been now for the three years of this administration." When Kelly mentioned that she confirmed with Pompeo's staff that they would speak about both Iran and Ukraine, he said he didn't "have anything else to say about that this morning."
Asked where he had backed Yovanovitch, Pompeo said he'd "defended every single person on this team," but did not give Kelly an answer on whether he could point to his remarks defending the former ambassador. "I've said all I'm going to say today," he said.
Pompeo also said that he was proud of the work the Trump administration has done in Ukraine. He also remarked that President Obama's administration "did nothing to take down corruption in Ukraine."
The last point Kelly brought up in the interview was Yovanovitch's testimony, where she said the Ukraine policy was "hijacked." Pompeo said he knew what direction the State Department gave officials. "I've been clear about that. I know exactly what we were doing. I know precisely what the direction that the State Department gave to our officials around the world about how to manage our Ukraine policy," he said before the interview ended.
Kelly told All Things Considered co-host Ari Shapiro that she was taken to Pompeo's private living room after the interview ended abruptly, where Pompeo shouted at her "for about [the] same amount of time as the interview itself." Kelly said the staffer that brought her to the room did not indicate that they were off the record. "Nor would I have agreed," she said.
Kelly said Pompeo asked "do you think Americans care about Ukraine?" and used the F-word in that sentence and many others. She also said the secretary of state requested an unlabeled map of the world and asked Kelly if she could find Ukraine on a map. Kelly said she pointed to it, and he put the map away.
In a statement given to Newsweek, NPR stood by Kelly's report. "Mary Louise Kelly has always conducted herself with the utmost integrity, and we stand behind this report," NPR senior vice president of news Nancy Barnes said.
The controversy prompted a letter from five Senate Democrats -- Bob Menendez, Cory Booker, Tim Kaine, Ed Markey and Jeff Merkley-- that was addressed to Pompeo about his statement Saturday.
"We write to express our profound disappointment and concern regarding your irresponsible statement this morning about NPR Reporter Mary Louise Kelly and the corrosive effects of your behavior on American values and standing in the world," according to their letter.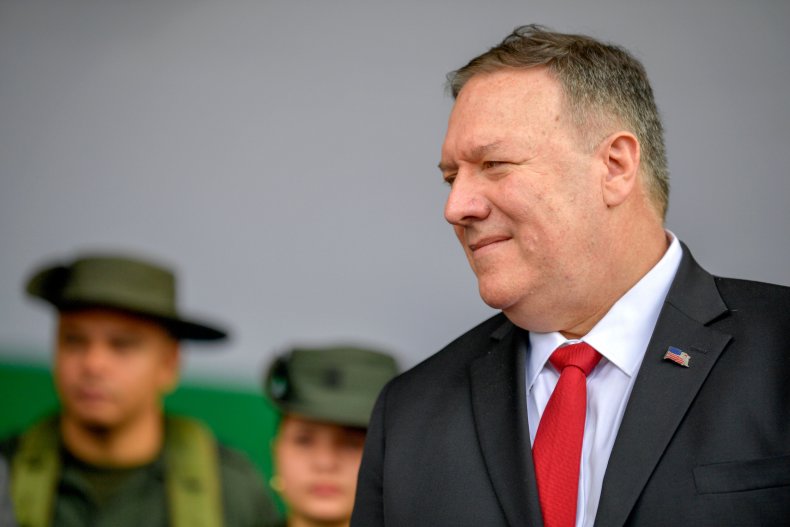 Updated 5:13 PM ET to include the five Senate Democrats' response.