Mike Pompeo Tries To Douse Flames on Trump Administration's Legacy
President Donald Trump has eight days left until his term ends and he leaves the White House. As the clock counts down, his administration is falling apart among the chaos and insurrection that seized Washington, D.C. last week and appalled the world.
Cabinet members have begun to abandon the president, who incited a far-right mob to storm the Capitol building last week as lawmakers tried to certify the election results.
Secretary of State Mike Pompeo—a pillar of Trump's administration since being appointed to his current position in April 2018—has so far remained loyal, every day tweeting to celebrate what he considers the administration's key achievements, interspersed with the same image repeatedly declaring: "American First."
Pompeo's valedictory tweeting began on January 1, even as the president continued his spurious challenges of November's election result. "My New Year's Resolution: give the American people the full story about our foreign policy," Pompeo wrote. "You may not read it elsewhere."
"We're so much safer today than four years ago," he added. "Over the coming days, I'm going to lay out the mission set, the huge wins, personal stories, and a lot more. Just me, Mike."
Every day since, Pompeo has been tweeting about different foreign policy issues, whether issues like human rights and trade or American relations with specific nations like China, Iran, Russia and others.
"America is a force for good—an exceptional nation like none other in history," Pompeo wrote. "First country ever to recognize that every human being has God-given rights. Truly a shining city on a hill."
The West Point graduate, former Kansas congressman and CIA chief has been one of the president's staunchest public allies, driving Trump's "America first" unilateralist foreign policy and spearheading the administration's campaigns against adversaries like Iran and China.
But Pompeo has also been widely accused of politicizing the State Department to support the president's divisive and personal agenda, peddling propaganda and misinformation to defend the administration and attack its critics.
The secretary of state even initially supported Trump's baseless claim that he—not President-Elect Joe Biden—won November's presidential election.
Pompeo's patriotic tweeting has so far not included any self-criticism or admission of failure, despite concerns that Trump's term has eroded U.S. global leadership and damaged long-held alliances. Pompeo tweeted Sunday that such alliances can "outlast their sell-by-date."
Critics say Trump's time in office has also undermined America's claim to be a defender of human rights and democracy. Pompeo himself was widely condemned for failing to acknowledge Biden's victory in November.
"There will be a smooth transition to a second Trump administration," he told reporters on November 10, even after it was almost certain the president had been defeated.
"Realism. Restraint. Respect for our founding. These are the core ideas that define America First. And they've helped us make Americans—and the world—safer. #NotTiredOfWinning," he wrote on January 1.
Pompeo also celebrated the "swagger" that he and his team have exhibited. "Swagger (def.): To represent America with pride, humility, and professionalism. We've done it. #Swagger".
The self-congratulatory tweets continued last week while a pro-Trump mob descended on Washington, D.C. to try and overturn the results of the presidential election, with the president urging them on to the Capitol building. Some protesters eventually stormed the building, forcing lawmakers to flee. Five people, including one police officer, died during the unrest.
That same day, Pompeo celebrated the administration's work to make American energy dependent, its work with allies to contain China in the Pacific, and its cyber security efforts against "bad guys" in Russia, Iran, China and North Korea.
Critics believe Trump's unapologetic unilateralism has damaged America's standing, but the president, Pompeo, and their allies all argue the administration broke with diplomatic conventions to achieve significant success.
Some of the most unexpected were normalization deals between Israel and the United Arab Emirates, Bahrain, Sudan, and Morocco. Israel's occupation of Palestinian land and human rights abuses against Palestinians have long blocked improved ties with Arab and North African countries.
But under Trump's guidance, these four nations jettisoned their long-held opposition, much to the fury of the Palestinians and their allies, as well as America's foreign policy elites.
China has loomed over Trump's presidency, and the administration charted a new and aggressive strategy in containing the Chinese Communist Party.
During Trump's term, the long-held belief among foreign policy experts and lawmakers that America must confront Beijing came to the fore and bled into the public national discourse.
This was partly fuelled by the coronavirus crisis and increased coverage of Chinese human rights abuses and territorial expansion.
Though critics may disagree with the method—not least the trillion-dollar trade war with Beijing—few would argue that China does not pose a threat to American interests.
Indeed, even Biden has committed to pushing back against Beijing, though with more of a focus on multilateralism than Trump.
One prong of Trump's China strategy was his new-found friendship with fellow nationalist Prime Minister Narendra Modi in India. Both men have been accused of fomenting extremist violence targeting their opponents, but both also command a devoted following.
Trump and his allies celebrated what they claimed was a strategic win in closer U.S.-Indian cooperation, though, in reality, India is not likely to soon abandon its traditional policy of non-alignment in favor of joining America's orbit.
Still, the close relationship between the two leaders could yet breed closer cooperation between Delhi and Washington, D.C., particularly on trade, military sales, and containment of China.
Trump's lack of political experience and truculent instincts prompted much speculation of new wars. Though he came close to open conflict with Iran and North Korea, Trump is to date the first president since Jimmy Carter not to deploy American troops to a new conflict.
The president has also consistently pushed to end America's so-called forever wars, and bring troops home from Afghanistan, Iraq and Syria. Trump also announced an end to the long-running military deployment in Germany and mulled doing so in South Korea, much to the horror of the Pentagon.
Still, Trump is no pacifist president. He launched strikes against Syrian President Bashar al-Assad's forces, ordered the assassination of top Iranian commander Major General Qassem Soleimani, and loosened the rules of engagement for American drone strikes, leading to a significant uptick in their use in the Middle East and Africa.
Trump has long shown disdain for civilian casualties, on the campaign trail vowing to kill the families of terrorist suspects and reportedly pressing the CIA to do so once in office.
His lack of concern is borne out in the statistics—in Afghanistan, the number of civilian casualties from U.S. airstrikes has increased by 330 percent since 2016. And in Syria and Iraq, it remains unknown how many civilians were killed by American forces supporting the campaign against Islamic State militants.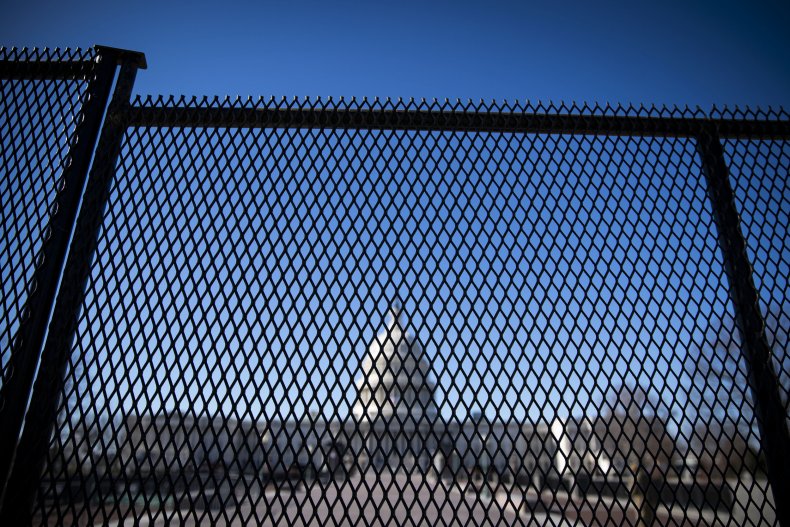 As the Capitol siege unfolded, Pompeo tweeted condemnation of the attack. "The storming of the U.S. Capitol today is unacceptable," he said.
"Lawlessness and rioting—here or around the world—is always unacceptable. I have traveled to many countries and always support the right of every human being to protest peacefully for their beliefs and their causes."
"But violence, putting at risk the safety of others including those tasked with providing security for all of us, is intolerable both at home and abroad. Let us swiftly bring justice to the criminals who engaged in this rioting."
He added: "America is better than what we saw today at a place where I served as a member of Congress and saw firsthand democracy at its best."
Like Trump's refusal to accept the result of democratic elections, the storming of the Capitol handed America's rivals a priceless opportunity to mock the U.S. and push back against years of criticism from the White House and State Department.
For nations like Iran, China and Russia, last week's chaos in Washington, D.C. has priceless propaganda value, exposing the flaws and fissures in America's treasured democratic ideals.
Pompeo later responded to such criticism denying that America had become a "banana republic," a phrase traditionally used to describe politically unstable dictatorships in Latin America and Africa.
"The slander reveals a faulty understanding of banana republics and of democracy in America," Pompeo said.
"In a banana republic, mob violence determines the exercise of power.
"In the United States, law enforcement officials quash mob violence so that the people's representatives can exercise power in accordance with the rule of law and constitutional government."
Pompeo has also defended the president against allegations he incited the mob that stormed the Capitol. Twitter, Facebook and Instagram—among other platforms—banned the president's accounts in the aftermath of the violence, citing the risk of further unrest.
Tweeting from his personal account, Pompeo wrote: "Silencing speech is dangerous. It's un-American. Sadly, this isn't a new tactic of the Left. They've worked to silence opposing voices for years. We cannot let them silence 75M Americans. This isn't the CCP."
Pompeo is expected to use his time in government as a springboard for a future run for the Senate or even the presidency. Pompeo's stubborn public loyalty to Trump has tied their legacies together.
Like other prominent Republicans, including senators Ted Cruz, Josh Hawley and others, Pompeo may have decided that Trump's highly motivated far-right base offers him a chance of further electoral success.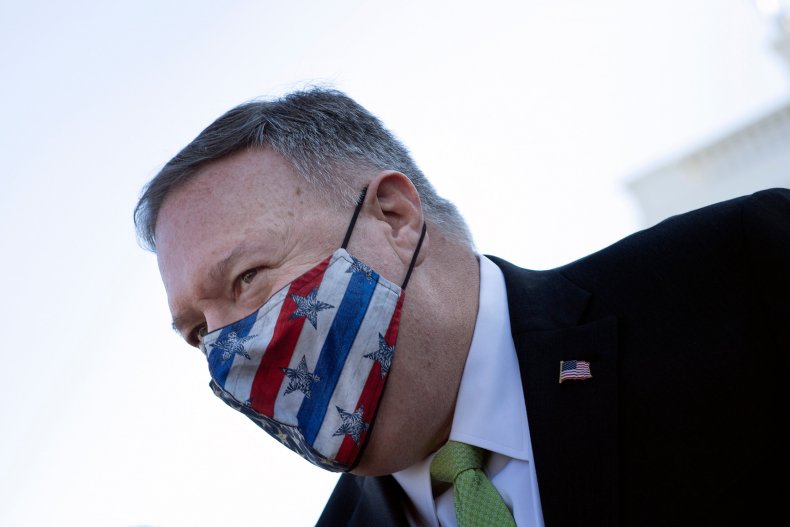 This article has been updated to include more information on the Trump administration's foreign policy record.