Linkin Park's Mike Shinoda on Losing Chester Bennington to Suicide—and Addressing Grief on 'Post Traumatic'
People have various responses to the death of a close friend. Mike Shinoda entered the studio. The Linkin Park songwriter and rapper started channeling his grief into music less than two weeks after his bandmate, Chester Bennington, died by suicide last July, throwing the future of the popular rap-rock band into uncertainty.
"I felt like I just needed to do it," says Shinoda, whose early sketches expanded into songs, which turned into Shinoda's new solo album, Post Traumatic. The songs are diaristic and bracingly specific: In "Over Again," Shinoda reflects on his terror at getting onstage for the first time without his friend and confesses, "I get tackled by the grief at times I least expect."
Shinoda, 41, has learned that grief isn't a linear or even comprehensible journey—and that mental health needs to be addressed as seriously as physical health. Though this interview took place before the recent deaths of Kate Spade and Anthony Bourdain—two losses that have brought suicide awareness to the forefront of national conversations—the message is eerily applicable. "I strongly urge anybody who feels like they don't quite have things under control to go talk to somebody," Shinoda tells Newsweek.
Did you find that writing and performing these songs was cathartic?
I felt like I just needed to do it. I always tell people that life was so difficult, and the songs were easy. There was something meditative about it. A lot of the time, I wasn't even thinking about the music. I was just making whatever felt like it would work in service of the words. When the whole thing was starting to come into focus, like six months ago, I realized I had an opportunity to capture all these little moments. By capturing them, hopefully it would help me get through them better, or at least show me where I was at a point in time.
You started writing songs very soon after Chester died.
It was probably between one and two weeks. The guys and I had gotten together a number of times. [Linkin Park bassist] Dave asked if we had listened to any of our old music yet. Nobody but David had. I said that sounded terrifying. He said, "Yeah, it was totally terrifying." But I figured I'd have to do it at some point. And once I did it wasn't so scary.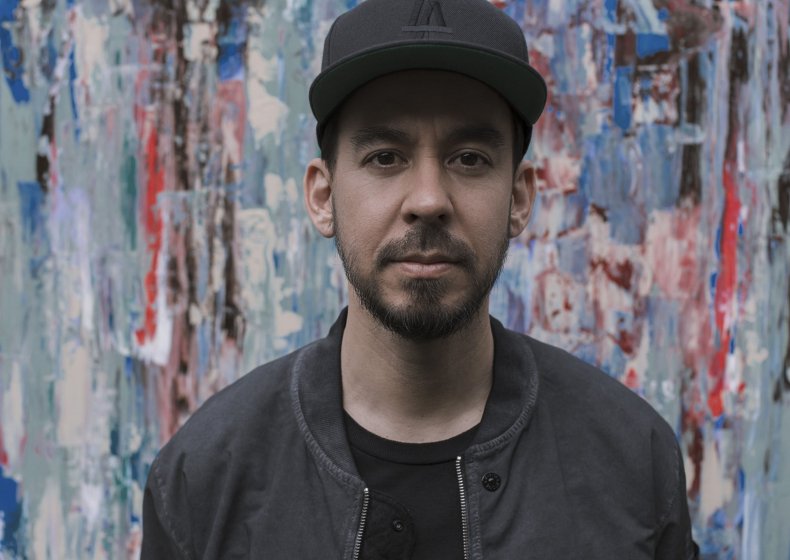 On the way home from his house, I listened to [2017 album] One More Light and [2010's] A Thousand Suns. I listened to both, and then I knew I could do it, you know? The same thing went for getting in the studio and playing music. I felt like if I didn't do it quickly, the anxiety and anticipation would build and build. In the beginning, I wasn't writing anything interesting. It was just sitting down and playing for the sake of playing. I found it to be really cathartic.
What's one thing you've learned about grief while making this album?
They talk about stages of grief and I always thought that meant they happened in order. You were just trying to get to the next step. It's really not that way. I wasn't aware how random and chaotic they are. There's almost like five gears, and you just flip-flop between them randomly. There's no making sense of it. Some days I'd wake up and I'd be feeling sad, for example, but then very quickly get angry over absolutely nothing and be angry for hours. There was no reason for it, except that was part of the coping mechanism.
The other thing I found out is that it's exacerbated by the number of people going through it at the same time. If you're going through the stages of grief on your own, that's chaotic. If you're doing it in parallel with a bunch of other people, everybody's just bouncing off each other. One person's having an OK day, and one person's feeling really sad, and one person's feeling angry. It creates even more chaos.
People seem to speak more openly about mental health now, whereas in the past it was a taboo subject.
I appreciate that mental health is a topic that a lot of people are talking about. Chester's wife, Talinda, got involved with an organization called Change Direction. One thing they talk about a lot is that we should think about [mental health] like physical health. When you wake up, if you feel sick, you'd say: "Do I need to stay home today? Do I need a doctor, do I need medication?" It would be obvious to you. Unfortunately, that's not the way we think about mental health. We don't wake up and check in with ourselves and say, "Do I feel sick? Do I need some fresh air? Do I actually need to see somebody, a professional?"
Did you read anything about grief or loss that you found helpful?
One book I read was Option B, by Sheryl Sandberg, about her husband's death. I got a lot out of that.
Which song was the most cathartic for you?
I don't think of the songs that way. It all just feels like one thing to me. In the beginning, it was a matter of having the guts to sit down and sing. It was more escapist. Over time, I started writing about real things that I was thinking. Then, towards the end of the year, I knew I wanted to put it out. I knew it was going to be an album, and my goal was to describe [the grief] as honest as I could. Sometimes you kid yourself—you talk about things in a way that covers up the truth of the matter. As I was writing a song, I tried to challenge myself to pull any layer of bullshit that was going on.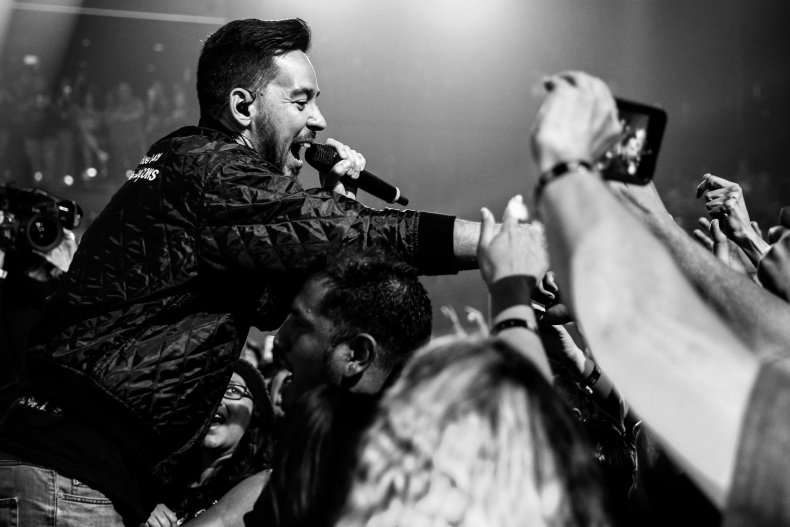 You mean the phony positivity that people sometimes use when grieving?
I mean, there's that. People kid themselves and say, "I'm fine." "How are you today?" "I'm fine." And that's bullshit! It's a rollercoaster of emotions when you're dealing with anything difficult. I'm dealing with the death of my friend. And then the uncertainty of my career, my life's work—I've got a body of work as an artist that's built largely on a combination of work with my band and things I've done in support of them. I love collaborating. I've always enjoyed being in a band. I look forward to doing more stuff with the guys at some point. [But] right now, this is a moment where, because grief and rebuilding your life after a major event is hard, it's healthy to do it on my own, because it is such a personal matter.
What was it like to play that first show after Chester's death, at the Hollywood Bowl tribute concert?
It was hard. I wasn't even paying attention to my performance. I was just doing it. It was kind of an out-of-body experience.
On the album, there's a song where you talk about how difficult it was to get back onstage, not knowing if you'd be able to do it.
That was "Over Again." I wrote the first verse the day of the Hollywood Bowl show. And I recorded that verse that day. I wrote and recorded the second verse the very next day. I feel like it would be easy to be immersed in the moment and forget to write anything. And then I would have come back and reflected on it later. I don't know if it would have been as potent as it was when it was happening. You can hear the progression of how things went. I intended for it to be an autobiographical journey from the beginning of things to now.
Will there be another Linkin Park album in the future?
It's the question everybody asks. For now, answers to the major questions are still unclear. For example: What to do with the live show. What does that look like? I don't know. It's kind of just a walkabout for me. I want to get out in the world and see what the opportunities, see what's interesting, just see where things might lead. I don't know if they lead back to Linkin Park in that way. But I love the guys. We still talk often. We talk very little about music and a lot more about life and families.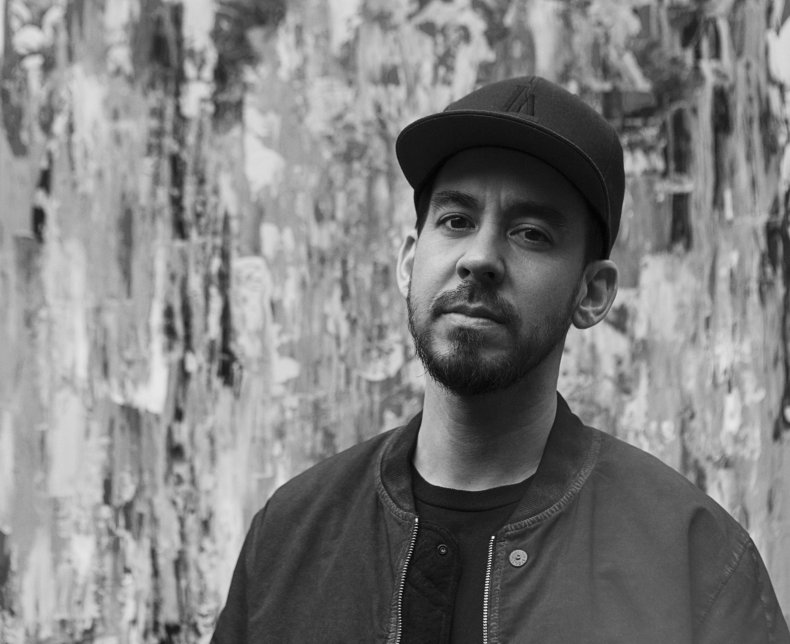 There have been other high-profile suicides in the music industry recently, including Avicii's death. Do you have any thoughts on what the industry can do to address mental health issues?
There isn't a singular solution, you know? Just realizing it's OK to check in with yourself, to admit that you don't have things under control. It's almost foreign to me, but there are some people that are either scared or too cool or too macho to go see a mental health professional. They're really doing themselves a disservice, and I strongly urge anybody who feels like they don't have things under control to go talk to somebody who spends all day every day helping people through that exact situation.
Were you a fan of Avicii?
We had crossed paths before. When I think of him, the one thing that comes to mind is the way our fans and his fans connected with one another after his passing. It was so soon after Chester died that our fans reached out to his fans without any prompting from us, and offered them a shoulder to lean on. It really gives me hope, you know? I'm just proud of our fans and his fans.
If you have thoughts of suicide, confidential help is available for free at the National Suicide Prevention Lifeline. Call 1-800-273-8255. The line is available 24 hours, every day.