Miles Taylor Disputes Kevin McCarthy Saying GOP Is 'Big Tent,' Calls for Breakaway 3rd Party
National security expert and ex-Trump administration official Miles Taylor criticized Republican House Minority Leader Kevin McCarthy's claims that the GOP is a "big tent party," on Saturday, and instead called for a third party of "renewed" Republicans.
Speaking on MSNBC's The Cross Connection, Taylor slammed McCarthy and the GOP after the party moved to oust Wyoming Representative Liz Cheney from her leadership role as conference chair over her repeated criticisms of former President Donald Trump.
"As they kicked Liz Cheney out of the party for telling the truth he said 'we're a big tent party,' and Elise Stefanik said the same thing," Taylor said.
"As a group of white people stood on the stage they said 'we're a diverse, open, big-tent party.' It's false. The GOP has not been a big tent party. It's like a little tiny one man camping tent that Kevin McCarthy sleeps in every single night," he continued.
Taylor, who served as chief of staff to the former U.S. Secretary of Homeland Security Kirstjen Nielsen under Trump's administration until 2019, is a vocal critic of the former president and has repeatedly pushed for the GOP to break away from Trump's influence. In 2018, Taylor penned an explosive New York Times essay stating that there was an internal "resistance" within the Trump administration.
On Saturday, Taylor said McCarthy's statement that the GOP embraces diversity and freedom of thought was "smothered in hypocrisy." Instead, the ex-Trump official called for the formation of a new Republican party – one that he says will actually work to "build a more diverse coalition."
"It's not about Trump anymore, it's about post-Trump, moving on and having a more hopeful vision for America's future. And so what we really want people to do is become renewed Republicans. We want them to be renewers," he said.
"We want to give them that new consumer brand identity that says 'I'm different from the radicals, I'm one of the rationals' and wear that as a badge of honor. We know there are millions of Americans that want to do that," he added.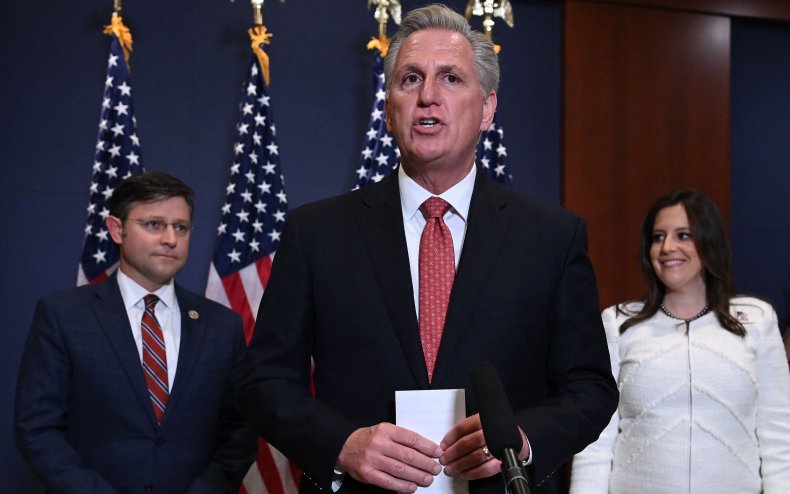 Earlier this week, Taylor worked to co-organize a letter signed by over 100 Republicans – including other former elected officials – who are threatening to break away from the current two-party system and form a new Republican alternative.
Naming the effort, "A Call for American Renewal," the group is calling for the GOP "to rededicate itself to founding ideals—or else hasten the creation of an alternative."
"[W]hen in our democratic republic, forces of conspiracy, division, and despotism arise, it is the patriotic duty of citizens to act collectively in defense of liberty and justice," the letter said.
"We, therefore, declare our intent to catalyze an American renewal, and to either reimagine a party dedicated to our founding ideals or else hasten the creation of such an alternative."
On Saturday, Taylor said he hopes a "renewed" GOP can become a "new political home" for individuals who are seeking to remain conservative, but are fed up with post-Trump politics.
"This is a party that should include people who have been disaffected or excluded from politics, but don't necessarily want to go to the Democratic side. We want to give them that tribe... a new political home, a new tribe to be a part of," he said.
Newsweek contacted McCarthy for additional comment, but did not hear back in time for publication.