Military Aircraft, Runway Among Damage at Iraqi Base Struck by Iran Missiles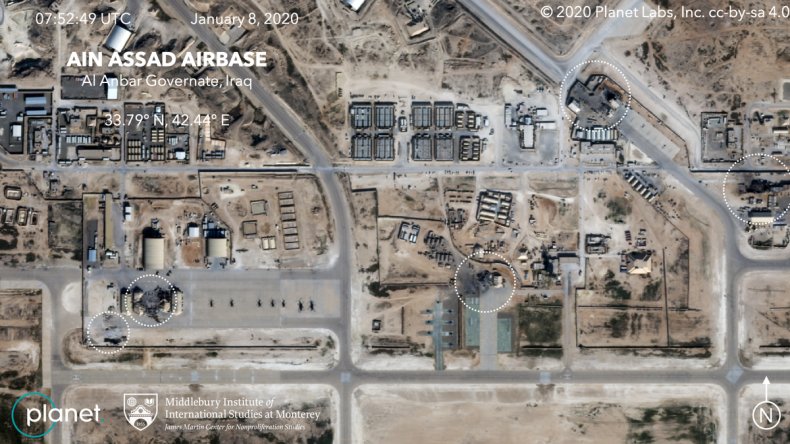 Iran's missile attack on two large military bases in Iraq damaged installations housing U.S. service members and battered an airplane hangar, aircraft, buildings and runways.
Preliminary reports from American and Iraqi military officials reported that Iran fired 22 missiles at both Al Asad Airbase in western Iraq and at the airbase near Erbil in the north. Two Defense Department officials told Newsweek that 18 ballistic missiles struck Al Asad Airbase alone. The attacks wrecked one Blackhawk helicopter and damaged a runway air traffic control tower. Three missiles slammed into the base's runway, leaving large craters.
The attacks also "lightly damaged" a MQ-1 Predator Drone and destroyed 10 military tents. Two of Iran's missiles struck the base in Erbil while the remaining two missiles failed to cross the Iraq-Iran border. A senior Defense Department official told Newsweek that no significant damage was reported at Erbil.
Defense Secretary Dr. Mark T. Esper and Army General Mark A. Milley, the chairman of the Joint Chiefs of Staff, told reporters Wednesday afternoon that the ballistic missiles were fired from three separate locations inside Iran and involved 16-short-range ballistic missiles, with 12 impacting Al Asad Airbase with only one striking the airbase near Erbil.
No deaths have been reported in the attack.
American and Iraqi officials provided a battle damage assessment to top Pentagon leadership Wednesday after missile bombardment against the U.S. military and coalition forces housed at the bases in Tuesday's attack Iranians called "Operation Martyr Soleimani." It came as part of a significant escalation of force in retaliation over the United States' killing of the country's top commander, Major General Qassem Soleimani, the head of Iran's Revolutionary Guards Quds Force, in a drone strike.
The minimal damage and lack of coalition casualties is attributed to the Iraqi government, which provided the United States with advanced warning of Iran's missile attack. The U.S. intelligence community also picked up heat signatures of the incoming ballistic missiles, giving U.S. personnel and coalition forces time to seek shelter under concrete and sandbagged bunkers, according to Defense Department officials who spoke to Newsweek. An Iraqi intelligence official told Newsweek Wednesday they expected Al Asad Airbase to be attacked but were surprised by the strike at the base in Erbil.
Satellite photos provided to Newsweek via the Middlebury Institute of International Studies at Monterey and taken Wednesday by the commercial company Planet, show the damage inflicted on airplane hangars and buildings.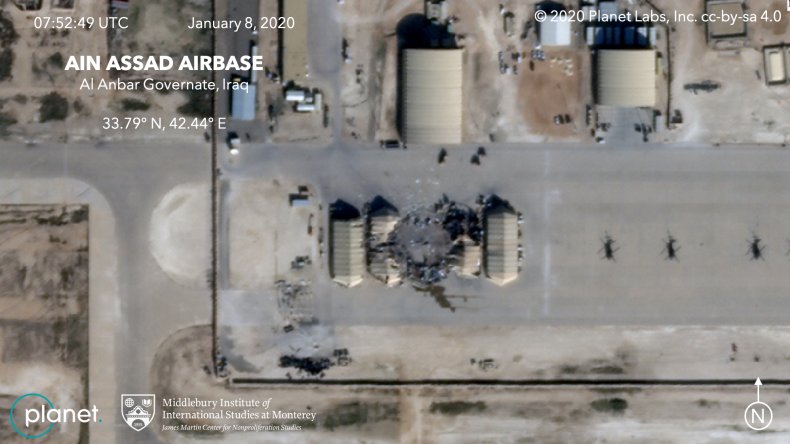 Tensions between Washington and Tehran have been mounting since Nawres Hamid, an American defense contractor, was killed last month after U.S. authorities say Iranian-backed militia fired rocket artillery at the K-1 Base in Kirkuk. Several others were wounded in the December attack.
While it marked a major escalation of force, Tehran's missile bombardment from inside its borders—rather than its reliance on rockets fired by Iranian-backed proxies—also was seen as a measured response to the Trump administration's actions. It was intended to demonstrate that Iran had the capability to strike American targets in Iraq but instead focused on areas at the military installations that would not result in U.S. or coalition casualties.
Iran's foreign minister, Mohammad Javad Zarif, defended the action on Twitter Tuesday: "Iran took & concluded proportionate measures in self-defense under Article 51 of UN Charter targeting base from which cowardly armed attack against our citizens & senior officials were launched."
He added: "We do not seek escalation or war, but will defend ourselves against any aggression."
Zarif comments echoed Defense Secretary Esper's comments during a Pentagon press briefing Tuesday and on CNN. "We are not looking to start a war with Iran, but we are prepared to finish one," Esper said.
However, General Milley, Trump's highest ranking military officer, broke from what both U.S. military and Trump administration officials charactered as a measured response from Iran who appeared to target areas of the base that would avoid casualties.
"I believe based on what I saw...they [Iranian missiles] were intended to cause structural damage, destroy vehicles...and to kill personnel, that's my own personnel assessment" said Milley speaking to reporters.
On Wednesday, President Donald Trump threatened Iran with additional economic sanctions as his administration continued to explore their "options,'' but assured Americans that the United States was not seeking to launch a war.
"The American people should be extremely grateful and happy, no Americans were harmed in last night's attack by the Iranian regime...only minimal damage was sustained at our military bases," he said flanked by Vice President Mike Pence, his U.S. military generals and cabinet secretaries from State and Defense in the Grand Foyer of the White House.
"Iran appears to be standing down," he said.
In his public address, Trump appeared to lay blame for the attacks on the Obama administration, saying that "the missiles fired last night at us and our allies were paid for with the funds made available by the last administration," referring to the Iran nuclear deal known as the Joint Comprehensive Plan of Action. The United States withdrew from the agreement aimed at curbing Tehran's nuclear program in exchange for billions of dollars in sanctions relief in May 2018, a move that contributed to current tensions.
Update: January 8, 5:40 PM EST: This story was updated to include information from Defense Secretary Dr. Mark T. Esper and Army General Mark A. Milley, the chairman of the Joint Chiefs of Staff.