Pentagon Identifies Two Soldiers Killed In Savage Gun Fight Ahead of U.S.-Taliban Peace talks
As the U.S. and the Taliban head into a new round of scheduled peace talks in Qatar on Saturday, the Pentagon identified two U.S. Army soldiers killed Tuesday in a close-quarters gun battle.
Master Sergeant Micheal B. Riley, 32, a Green Beret communications sergeant with 2nd Battalion, 10th Special Forces Group (Airborne), out of Fort Carson, Colorado; and Sergeant James Johnston, 24, an explosive ordnance disposal specialist with 704th Ordnance Company (EOD), out of Fort Hood Texas, died when the soldiers faced a savage fusillade of gunfire from Taliban militants positioned 10-yards away, according to a situation report obtained by Newsweek.
Pentagon officials said Thursday the incident is under investigation.
The gunfight occurred in the Shinia village, located in the Tarin Kowt District of the Uruzgan province of Afghanistan, just north of southern Helmand, the report said. The two soldiers from Operational Detachment Alpha (ODA) 0241 were on a clearing operation in the "green zone" when they were engaged.
Zabihullah Mujahid, a Taliban spokesman, told The New York Times early on Wednesday the two service members were killed in an ambush in eastern Wardak Province but three Defense Department officials, who spoke to Newsweek said the attack occurred in Uruzgan Province in central Afghanistan. It's unclear why Mujahid gave a different location.
In the report, Army Major General Christopher T. Donahue, the Special Operations Joint Task Force - Afghanistan commander, described the efforts of the Special Forces team: "Heroic Effort. 0241 is a great ODA, these teams that have been working in the south have by daily reporting done a really good job at hitting targets."
"Mike [Riley] was an experienced Special Forces noncommissioned officer and the veteran of five previous deployments to Afghanistan," said Army Colonel Lawrence G. Ferguson, the commander of 10th Special Forces Group. "We will honor his service and sacrifice as we remain steadfast in our commitment to our mission."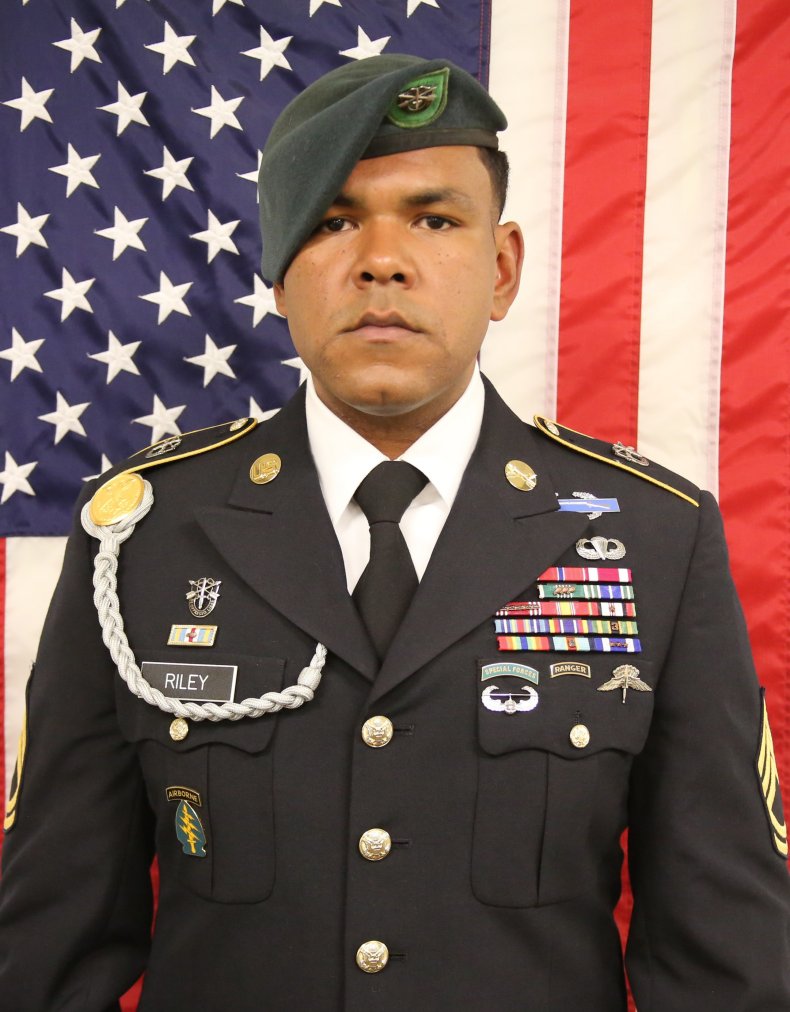 The two soldiers were killed in the same district as U.S. Army Green Beret Sergeant 1st Class Joshua Beale, 32, from Carrollton, Virginia, in January. Beale, a married father of two children, died of a gunshot wound to the neck during an operation aimed at stemming Taliban influence in the region, according to previous Newsweek reporting.
More than 2,400 U.S. service members have died in Afghanistan since the U.S.-led coalition invaded in October 2001 to oust the Taliban and dismantle al-Qaeda following the 9/11 attacks on the United States. Last year, 13 American service members were killed in combat operations in Afghanistan, up from 11 in 2017.
Wednesday's attack brings the Defense Department's death toll to a total of nine this year as the summer fighting season continues for the embattled Special Forces battalion ahead of a new round of peace talks set for Saturday in Qatar aimed at negotiating an end to the nearly 18-year war.
Mike Pompeo, the former CIA director and President Donald Trump's secretary of state, made an unannounced visit to the Afghan capital of Kabul a day before the attack on Tuesday where he expressed optimism of Washington signing a peace agreement with the Taliban before September, but said no timeline had been established.
"In light of this progress, we've begun discussions with the Taliban regarding foreign military presence, which today remains conditions-based," Pompeo told reporters. "And while we've made clear to the Taliban that we are prepared to remove our forces, I want to be clear we have not yet agreed on a timeline to do so."
While the Taliban have refused to hold direct peace talks with the Afghan government, U.S. Special Representative Zalmay Khalilzad said on Twitter he believes all sides want rapid progress and believes the Taliban will agree to the framework laid out in a "comprehensive peace agreement" versus a deal for a total U.S. withdrawal.
"With so much going on in the world right now it's sometimes easy to forget about America's commitment here to Afghanistan, but the world should know that the Trump administration has not forgotten, the American people have not forgotten," Pompeo said. "We agree that peace is our highest priority and that Afghanistan must never again serve as a platform for international terrorism."
U.S. Army soldiers assigned to 2nd Battalion, 10th Special Forces Group (Airborne) continue to be engaged in heavy fighting reminiscent of former President Barack Obama's surge of American forces into the region nearly ten-years ago.
After the deaths of unit members back in March, Newsweek published accounts of soldiers being wounded in action by either improvised explosive devices or gunshot wounds, illustrating the toll combat operations were having on some of the U.S. Army's most elite commandos assigned to 2nd Battalion, 10th Special Forces Group (Airborne).
The Pentagon does not identify or provided many details when a U.S. service member is wounded in a combat operation. A U.S. Army source with knowledge of the battalion's operational history told Newsweek in March that between the combat deaths and the wounded over the past three years, the unit had experienced suicides among soldiers and spouses.