'Milkshaking' Becomes an Official Word After Far Right Figures Doused With Dairy
Milkshaking has been added to the Collins Dictionary in a nod to far-right politicians being pelted with dairy drinks.
Revealing a list of words that have entered regular usage following the U.K.'s vote to leave the European Union, Collins Dictionary defined the verb "milkshake" as the act of throwing "a milkshake or similar drink over a public figure in order to humiliate him or her."
The inclusion of "milkshaking" in Collins Dictionary's "Brexicon" comes after a British man was ordered to pay the cleaning bill for Nigel Farage's suit after he doused the Brexit Party leader with milkshake during a visit to Newcastle, England in May this year.
Donald Trump's friend found himself on the wrong end of a milkshake a little more than two weeks after the far-right figurehead Tommy Robinson was milkshaked twice in two days.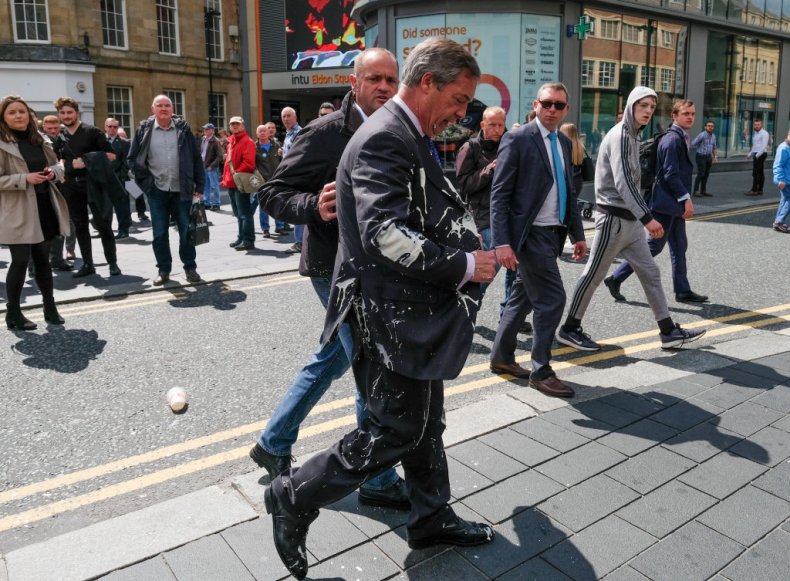 Carl Benjamin, a right wing YouTuber known as Sargon of Akkad, also had milkshake chucked at him several times while campaigning as a U.K. Independence Party candidate during the 2019 European elections.
In a statement on the Brexicon, Collins language consultant Helen Newstead said: "The Dictionary has no opinion on Brexit, other than to say it has been quite generous in its gifts to the English language, as well as I am sure inspiring the use of many old-fashioned expletives.
"The Brexicon could be even longer, but we feel our selection sums up many of the key themes since Collins named Brexit Word of the Year in 2016. As the process continues through this latest 'flextension,' no doubt more words will emerge until we come to a 'Brexend.'"
Collins Dictionary also revealed other additions to its 11-word Brexicon list, including "Brexiety" (anxiety brought on by Brexit) and "remoaner", a derogatory term for people who want the U.K. to stay in the EU.
Another addition to the list was less self-explanatory: "prorogue." The word describes the decision to "discontinue the meetings of (a legislative body) without dissolving it."
A Collins Dictionary spokesperson confirmed that all words included in its Brexicon had been added to the dictionary's web edition, but were not yet included in the print version.
The release of the Brexicon came at the same time Collins revealed that "climate strike" was its "Word of the Year" in 2019, honouring the international protests founded by the 16-year-old Greta Thunberg.
Other words nominated for the publisher's "Word of the Year" prize included "influencer" and "cancelled" as well as "deepfake" and "nonbinary."