Progressives have reacted with anger to the decision not to allow a federal minimum wage increase to be considered as part of the Biden administration's COVID relief package and say they will remain undeterred in pushing for the hourly rate to go up to $15.
Senate Parliamentarian Elizabeth MacDonough decided that the Raise the Wage Act 2021 did not fall within the remit of budget rules, which would have allowed it to be passed through the reconciliation process via a straight majority.
Denied the fast-track process that would bypass the 60-vote legislative filibuster, the key progressive policy which would have seen a rise to $15 an hour by 2025, appears to be nixed.
However, the Congressional Progressive Caucus (CPC) said it would not give up and took aim at MacDonough and the Republicans for blocking a policy that would lift many out of poverty.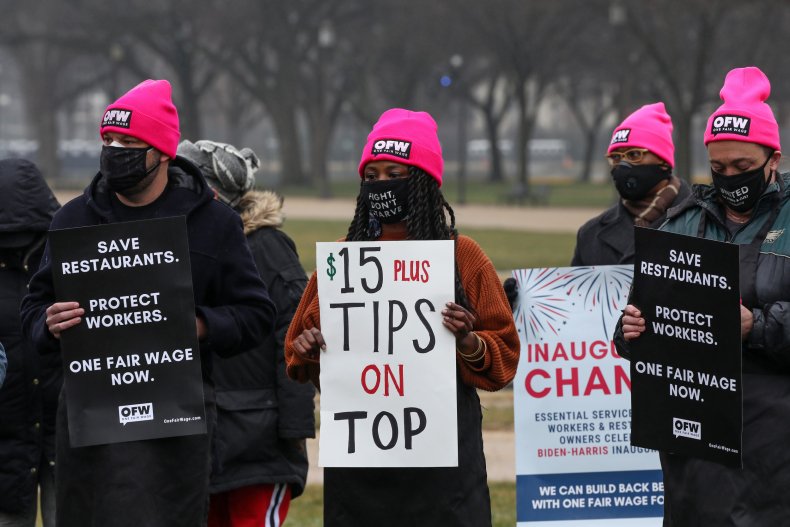 In a statement by CPC Chair, Rep. Pramila Jayapal (D-WA), that was also issued via Twitter, the group of progressive Democrats said: "We cannot allow the advisory opinion of an unelected parliamentarian and Republican obstructionism stop us from delivering on our promise to voters.
"Workers are counting on us to #FightFor15 and finally #RaiseTheWage for millions."
Progressives had always argued raising the minimum wage complied with the budget rules, although some Democrats and President Joe Biden were doubtful it could make the final bill.
The CPC said the ruling showed how the Senate "must reform its archaic rules" including reforming the filibuster, another move Democrats have long been arguing for.
"The White House and Senate leadership can and should still include the $15 minimum wage increase in the pandemic relief package," said the CPC, as it described the current federal minimum rate of $7.25, which has been unchanged since 2009 as a "starvation wage."
"We simply cannot go back to the Black, Brown, AAPI, Indigenous, poor and working class voters who delivered us the White House and the Senate majority and tell them that an unelected parliamentarian advised us—based on arcane rules—that we could not raise the minimum wage as we promised," the statement added.
For the minimum wage policy to survive the Senate, Democrats and Vice President Kamala Harris would have to effectively sideline the parliamentarian, but the White House opposes this, as does Democratic Senator Joe Manchin (D-WVA), The Hill reported.
House Speaker Nancy Pelosi said that the provision would remain in the American Rescue Plan on the Floor which would effectively let progressives vote for it even if it is stripped out in the Senate.
"Democrats in the House are determined to pursue every possible path in the Fight For 15," Pelosi said in a statement. Newsweek has contacted the White House for comment.
The graphic below provided by Statista shows the minimum wage state by state.