Minneapolis' First Black Police Chief Who Led Department During Floyd Death to Retire
Minneapolis' first Black police chief, Medaria Arradondo, announced he will retire next month after more than three decades with the department.
On Monday, Arradondo, who notably led the department during the tumultuous year in the wake of George Floyd's death, announced he would not seek a third term as Minneapolis' top officer when his current term expires in mid-January.
"After 32 years of service, I believe that now is the right time to allow for new leadership, new perspective, new focus and new hope to lead the department forward in collaboration with our communities," Arradondo said at a news conference.
"This, at the end of the day, is what I feel is best for the department as well as my personal well-being," he added.
Arradondo became the city's first Black police chief in 2017 after Janee Harteau resigned. He was appointed in the wake of Justine Ruszczyk's death. Ruszcyk was fatally shot by former Minneapolis Police Officer Mohamed Noor after she called 911 to report a possible assault behind her home.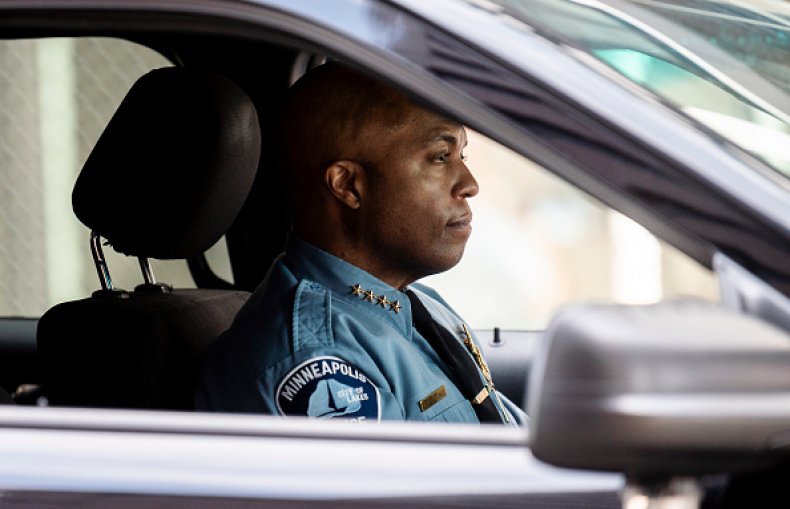 Four officers from Arradondo's department faced widespread criticism last year after a video depicting their encounter with Floyd went viral. Earlier this year, former Officer Derek Chauvin, who kneeled on Floyd's neck, was convicted of murder and sentenced to over 20 years in prison.
Arradondo guided the Minneapolis Police Department as Floyd's death and the city of Minneapolis became the focal point of a nationwide rallying call to end police brutality and demand racial justice.
The city saw weeks of unrest as thousands flooded to Minnesota's most populous city to protest the events of May 25, 2020.
Over the last year, the city's police department has seen hundreds of officers leave their posts amid a violent crime surge.
Announcing his departure, Arradondo said "the impacts of Floyd's killing will stay with me forever," but that they did not factor into his decision to retire.
The chief said he's "open to exploring next chapter" but has no plans to enter political office, nor is he considering applying for a police chief position elsewhere.
At the news conference, Minneapolis Mayor Jacob Frey said he will announce an interim chief this week.
"I can assure everyone in this city that there will be continuity and leadership in the weeks and months ahead," Frey said.
Last month, in a crushing defeat for the Defund the Police movement, a ballot initiative to replace the Minneapolis Police Department with a reimagined public safety department failed. Arradondo publicly opposed the measure.
In the fall, the chief requested an additional $27 million in funding and the department announced plans to hire 90 police recruits.