Minneapolis Man Accused of Racially Profiling Black Entrepreneurs Inside Office Gym in Viral Video
A man in Minneapolis has been accused of racially profiling a group of black entrepreneurs in a video that has gone viral.
Tom Austin, the managing partner of F2 Group, was captured on camera telling the men that he would call police inside the gym at the MozAic East building on Lagoon Avenue.
The videos started circulating on social media after two clips were shared on Instagram by Top Figure, a social media company based in the building.
Austin told Newsweek in an email that he "f***ed up" and "should have handled it differently," but insisted the incident had nothing to do with race.
"They got in my face in a very threatening manner and I threatened back to call [building] security. I would have done this regardless of race. So this is bullsh**," he said.
In the clip, Austin is heard identifying himself and saying that he is a tenant in the building before asking the men: "Are you?"
He is also seen taking pictures of them, before adding: "What office are you in? I'm calling 911 now."
In another clip posted on Instagram, Austin is seen on a phone call, saying there's a "whole bunch of people who don't appear to be part of the..."
In a caption, Top Figure said the incident occurred inside the building's gym just before 8 p.m. on Monday. "Normally we don't speak out about encounters of racial profiling and age discrimination that we face day to day in our lives as young black entrepreneurs," it said.
"As we were working out this man approached and immediately asked us who we were and if "WE BELONG" in this building."
Top Figure noted that tenants of the building need a key card to access every part of the building.
"We all pay rent here and this man demanded that we show him our key cards or he will call the cops on us. We are sick and tired of tolerating this type of behavior on a day to day basis and we feel that we had to bring light onto this situation."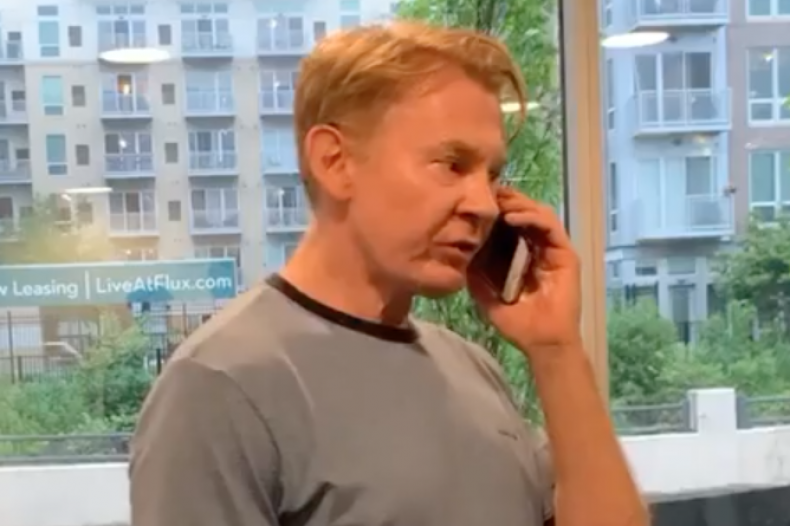 But Austin claimed that a number of the men had been trespassing.
"Several of these guys were trespassing and using a private gym that was authorized only for building tenants," he said.
Austin added that it "looked like one of the tenants brought four friends and I complained to them that this isn't right and it's unfair to the tenants who pay."
Top Figure has been contacted for additional comment.
The incident in the gym occurred a day after the death of George Floyd, a black man, following his arrest in Minneapolis.
Protests occurred in the city after video footage of Floyd being detained on Monday was shared on social media, in which an officer can be seen placing his knee on Floyd's neck as he says he can't breathe.
It also comes after a white woman was fired from her job after she was seen in a viral video threatening to call police on a black man who asked her to keep her dog on a leash in New York's Central Park.