More Than a Dozen Police Departments Have Banned Neck Holds Since George Floyd's Death—Minneapolis Police Hasn't
More than a dozen law enforcement agencies are banning the use of neck holds in the wake of the death of George Floyd, with calls for the Minneapolis Poice Department to follow suit.
At least 15 forces in California, including San Diego's sheriff's office and police department, have announced their officers will be banned from using the controversial carotid restraint technique while attempting to detain suspects.
Despite calls to do so, the Minneapolis Police Department has not announced any plans to fully ban the use of the carotid restraint. According to the Minneapolis Police Department's manual, officers may only use neck restraints and chokeholds on a suspect if they feel their life is at risk.
The method requires an officer to render a person unconscious by pressing down on a subject's carotid arteries, which are on either side of the neck. Several police forces in the U.S. require that the technique should only be used as a last resort, if the officer is under attack or if deadly force would be authorized.
An NBC News analysis of Minneapolis police records found that their officers have rendered 44 people unconscious with neck restraints since 2015.
The Minneapolis Police Department has been contacted for comment.
Minneapolis officer Derek Chauvin has been charged with second-degree murder after he placed his knee of Floyd's neck for several minutes while detaining him on May 25. The department has since confirmed Chauvin's use of a knee was not protocol for their officers.
Footage of the incident has sparked outrage, resulting in widespread police brutality protests, many of which have escalated into violence, looting and rioting.
Trovon Williams, the vice president of marketing and communications for the NAACP national office in Baltimore, is among those calling for Minneapolis police to ban their officers using neck restraints.
"We demanded that the police department ban those uses, knee holds, as an acceptable use of force... well before this ever came into play," he told told NBC News. "We have focused on de-escalation of tense situations with police."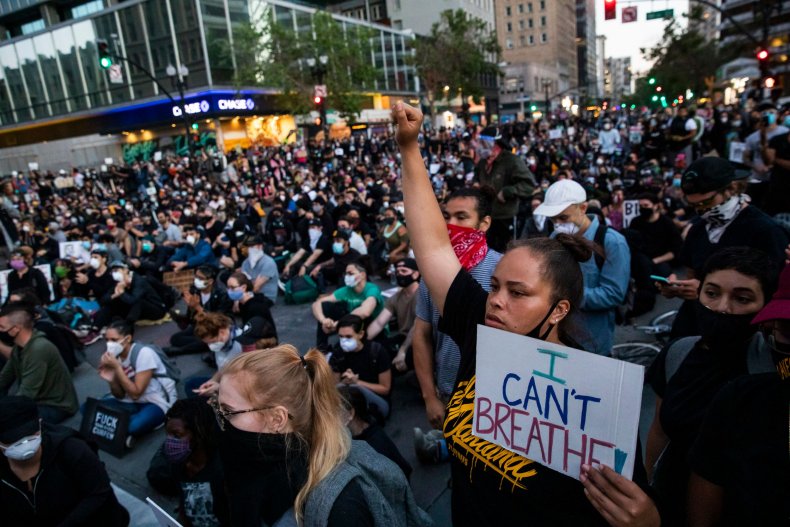 The actions of Chauvin have been condemned by several forces and police unions.
Carlsbad Police Chief Neil Gallucci, whose department is one of those which has announced they are banning the use of neck restraints, said using body weight with a knee on a suspect's neck is "inconsistent with any training provided to members" of his agency.
Roxanna Kennedy, chief of Chula Vista Police, who is also banning the restraint in the wake of Floyd's death, described how she had been impressed with her officer's "unanimous condemnation of the offensive actions" that took place in Minneapolis.
San Diego Chief of Police David Nisleit announced that he is banning the technique in the wake of the "terrible events" in Minneapolis, believing that now is "the right time to make this change."
The decision to immediately end the use of carotid restraint was backed by San Diego Mayor Kevin L. Faulconer.
"We are watching the hurt and pain so many people are expressing after the tragic death of George Floyd, and are committed to taking new actions to make sure something like this doesn't happen in San Diego," Faulconer said.
"That starts today with the police chief's decision to immediately stop this particular restraint that has led to so much concern and frustration by many in our minority communities. I want to thank Chief Nisleit for listening to those demanding justice and doing the right thing."
San Diego Sheriff Bill Gore changed his mind about use of the technique after previously dismissing calls to ban it while officers are being attacked amid the protests as "wrong."
In a statement issued on Wednesday, Gore announced he has reversed his decision in the light of "community concerns" and consultation he had with several with elected officials in the county.
"I have and always will listen to any feedback about the public safety services we provide," Gore said.
Several other departments in California, such as Coronado Police, National City Police and policing agencies in San Diego schools and universities, are also banning the technique.
Announcing its decision to prohibit the carotid restraint, Oceanside Police chief Frank McCoy said: "I am aware this particular restraint option has been and continues to be considered unacceptable in many communities. It is time for our department to focus on alternative de-escalation tools and techniques that will help ensure the safety of those individuals in our custody."
In Bridgeport, Connecticut, officials also proposed a ban on knee and choke holds as part of plans for "reform and accountability" in the department.
"We stand united and in solidarity with the family of George Floyd and families of color who have endured the tragic loss of loved ones at the hands of police officers both unjustly and with little to no accountability," Bridgeport Council President Aidee Nieves standing outside City Hall, according to the CT Post.
"Some residents of Bridgeport have experienced similar incidents with our own police department and have called for reform and accountability."
New York Governor Andrew Cuomo has also suggested a national ban on "excessive force and chokeholds" by law enforcement officers.