Should Democrats Be Punished for Rising Crime? Minnesota Will Decide
Ahead of the upcoming midterm elections, crime has remained a top issue for voters across the nation and many may be looking at Minnesota on how states can combat it.
"I think the 2022 elections in Minnesota have become a referendum on crime," Larry Jacobs, the director of the Center for the Study of Politics and Governance in the Hubert H. Humphrey School and the Department of Political Science at the University of Minnesota, told Newsweek on Wednesday.
In the period after George Floyd was murdered in 2020, protests and riots broke out nationwide, prompting many to call for police reform in Minnesota as well as in other states. Legislation that would replace the Minneapolis Police Department with a public safety department was eventually rejected by voters, but a focus on crime has remained ahead of the upcoming midterm elections.
In the governor's race, incumbent Democrat Tim Walz currently holds a slight lead over Republican challenger Scott Jensen, according to FiveThirtyEight's polling average. In the state's attorney general race, incumbent Democrat Keith Ellison is currently tied with his Republican opponent, Jim Schultz, a poll from MinnPost found.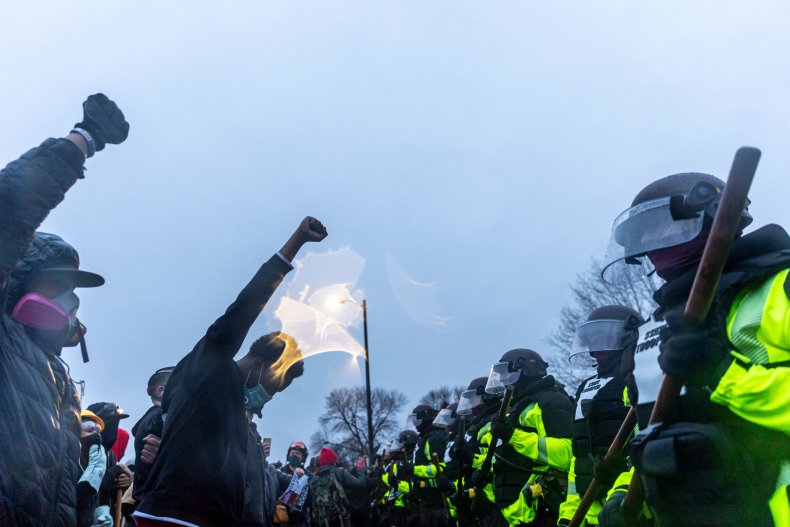 Ellison helped secure a conviction against former Minneapolis Police Officer Derek Chauvin in Floyd's murder; however, Schultz has previously said that Ellison partnered with progressives like Representative Ilhan Omar to "defund the police," MinnPost reported.
Christine Snell, Schultz's campaign manager, told Newsweek in a statement that "Keith Ellison is plummeting in the polls because Minnesotans are fed up with skyrocketing crime that his reckless policies to defund the police and end bail for criminals have created across our state. Keith Ellison has been too extreme for too long, and next week, Minnesotans will reject his extremism and turn a new page in Minnesota."
The MinnPost poll found that Minnesota voters ranked crime as a top issue ahead of the upcoming midterms. Jacobs told Newsweek that "Democrats could well be hurt" by rising crime in the state.
David Schultz, a political science professor at Hamline University in Minnesota, also spoke to Newsweek about how crime could play a role in the upcoming midterms and said, "In many cases, George Floyd's murder...made Minneapolis the poster child or the center for discussions on race, policing and crime in America."
"When the attorney general took over the prosecution of Derek Chauvin, at the request of the county attorney, that also put crime as an issue in the attorney general's race, and at the same time, how the governor did or did not respond to the riots in Minneapolis and rising crime has also made crime an issue for the governor's race," Schultz told Newsweek. "George Floyd put the Twin Cities on the map—we really are looking at it, at this point—how Minneapolis and Minnesota really are kind of a center for the debate on this issue of crime and policing."
Schultz also explained that in Minnesota and across the nation, crime "is not an issue that is favoring the Democrats."
"Given that Minneapolis is at the center of a whole bunch of issues right now, what happens next week on Election Day, really, I think, sends signals, in terms of how people think about policing and crime," Schultz said. "And then of course...any measures that take place next year, statewide or countywide, I definitely think other cities and other states are going to be looking at what Minneapolis is doing in terms of sending signals."
On the other hand, Jacobs told Newsweek that he thinks a lot will depend on the results of the upcoming elections in Minnesota and said that Minneapolis is currently in a "wait and see" period, adding that the city "is not exhibit A for positive change that other cities are going to emulate."
Newsweek reached out to the Ellison, Walz and Jensen campaigns for comment.
Update 11/3/22, 9:16 a.m. ET: This story has been updated to include comment from Schultz's campaign manager.