Minnesota Reports More Than 1,000 Coronavirus Deaths, After Health Official Warns Protests Could Further the Spread
Fourteen new deaths from the novel coronavirus were confirmed in Minnesota on Sunday, raising the state's overall death toll to 1,040 since the onset of the pandemic.
The latest figures, published by Minnesota's Department of Health, come amid escalating demonstrations, in local cities and across the country, to protest the death of George Floyd. He died in Minneapolis on Monday after former police officer Derek Chauvin knelt on his neck for more than eight minutes.
Speaking about the rallies' potential effects on Minnesota's virus outbreak during a news conference on Thursday, Health Commissioner Jan Malcolm acknowledged the motives behind civilian protests but warned they could contribute to further transmission.
"People are moved to want to speak and to want to gather in solidarity and in protest, and we certainly honor and respect that right," Malcolm said, according to a Star Tribune report. "As we know, large gatherings do pose a risk in any epidemic, but certainly where we stand today with the state of COVID-19 spread in our community. Knowing that we have community spread, we just want to again encourage folks who gather to be mindful of the risk."
Although Minnesota's overall outbreak statistics are lower than those confirmed by about one-third of the United States—it ranked 19th among 50 states in terms of total cases confirmed as Sunday afternoon, according to Johns Hopkins University's tracker—increases in daily diagnoses, hospitalizations and deaths from the respiratory syndrome have been reported recently. Overall, at least 24,850 people have contracted the virus in Minnesota, though the university's database suggests the majority have recovered since testing positive.
Thursday marked Minnesota's highest daily jump in virus-related deaths throughout the pandemic, with 35 new fatalities reported, according to the Department of Health. The department's data additionally shows statewide daily diagnosis counts have been higher in May than they were in April, as have hospitalization numbers and intensive care unit admissions.
During Thursday's news conference, Malcolm said officials believe the outbreak's trajectory has not passed its peak in Minnesota, the Star Tribune noted in its report.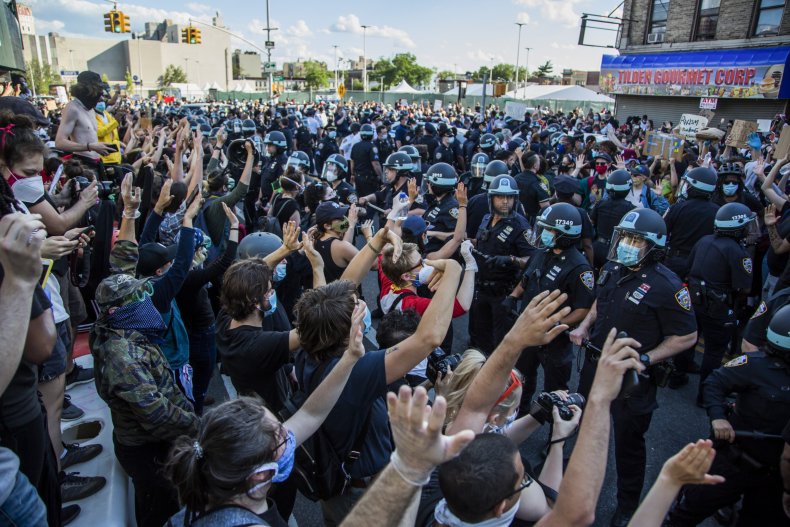 Numerous protests have taken place in Minnesota's twin cities, Minneapolis and St. Paul, since Floyd's deaths last week. On Sunday, a report from CNN estimated at least 30 U.S. cities had seen similar unrest, with the largest reported in major metropolitan areas like Los Angeles, San Francisco, Miami, Detroit and New York. Thousands gathered to protest in London on Sunday as well, according to the BBC.
Newsweek reached out to the Minnesota Department of Health for comments about the state's coronavirus numbers on Sunday, but did not receive a reply in time for publication.