Mississippi Governor Phil Bryant Signs Anti-LGBT Bill Into Law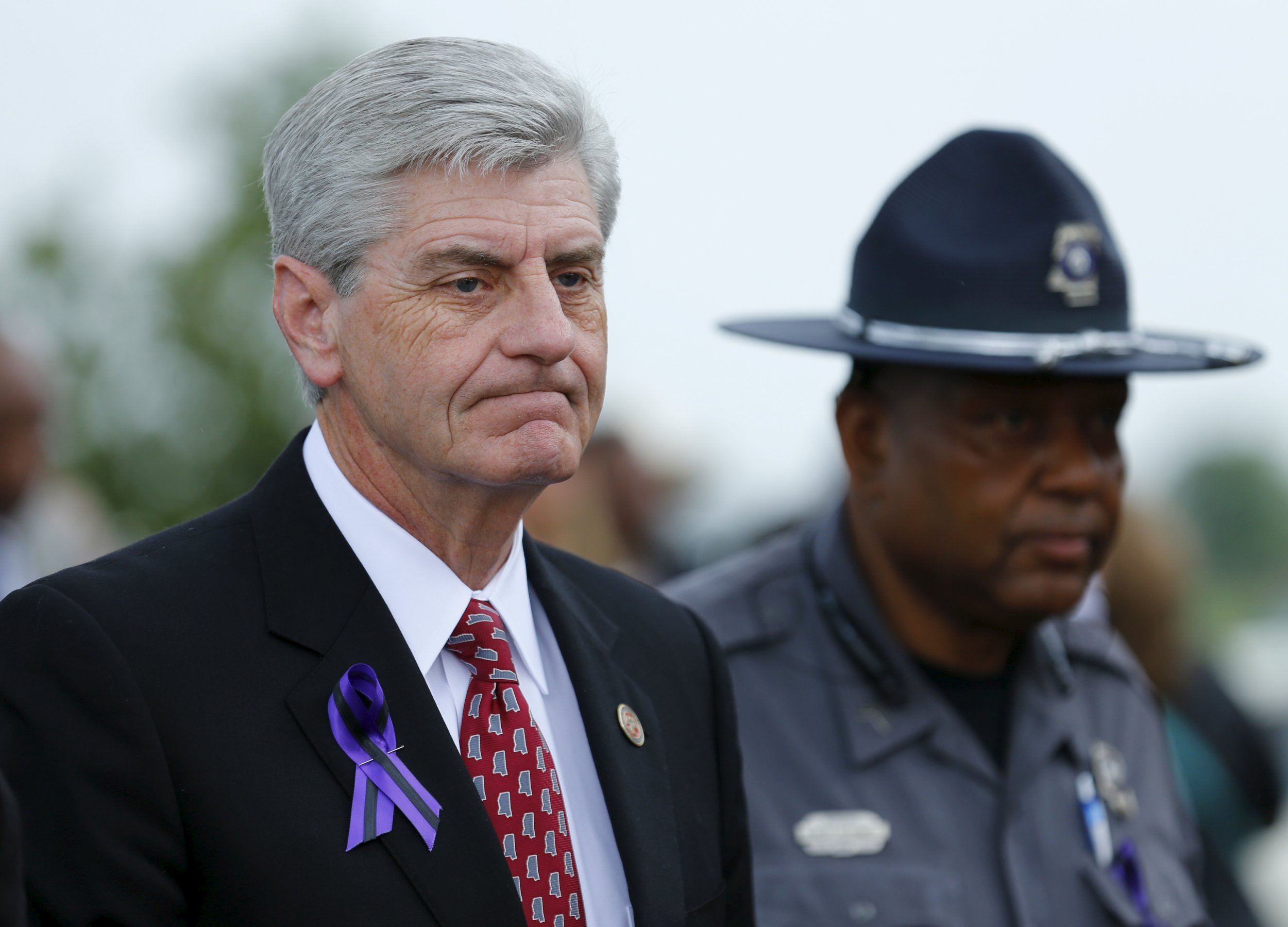 Updated | Mississippi Governor Phil Bryant has signed into law a bill that will allow businesses to refuse to serve LGBT people.
Bryant on Tuesday tweeted a statement saying he signed House Bill 1523 (HB 1523) "to protect sincerely held religious beliefs and moral convictions of individuals, organizations and private associations from discriminatory action by state government or its political subdivisions." The law also covers Mississippi counties, cities and colleges.
The new law will allow individuals and organizations to use religion as a justification to discriminate against people, including LGBT individuals, according to the Human Rights Campaign, an LGBT advocacy group. In addition, the law allows foster parents to subject LGBT children to so-called conversion therapy, a practice that has been banned in several states.
As HB 1523 protects people who believe that "marriage is or should be recognized as the union of one man and one woman" and that sexual relations are "properly reserved to such a marriage," the law makes it legal to discriminate against single parents, according to the ACLU.
HB 1523 also makes it legal for Mississippians to fire people who do not adhere to their religious beliefs and it allows schools to refuse to let transgender students to wear clothing that conforms to their gender identities, according to the ACLU. Mississippians are also allowed to deny housing based on their religious beliefs.
In his statement, Bryant maintains that the bill "does not limit any constitutionally protected rights or actions of any citizen of this state under federal or state laws." What it does do, he says, is "prevent government interference in the lives of the people from which all power to the state is derived."
The Mississippi chapter of the American Civil Liberties Union (ACLU) released a statement on Tuesday calling it a "sad day for the state of Mississippi and for the thousands of Mississippians who can now be turned away from businesses, refused marriage licenses, or denied housing, essential services and needed care based on who they are."
"Far from protecting anyone from 'government discrimination' as the bill claims, it is an attack on the citizens of our state, and it will serve as the Magnolia State's badge of shame," the ACLU said.
Sarah Kate Ellis, president and CEO of GLAAD, the media monitoring organization, said in a statement that Bryant's signing of the "regressive anti-LGBT" law "has put the people and the economy of Mississippi at risk and damaged his state's reputation."
"If Gov. Bryant listened to the stories of Mississippians fired from jobs, refused service, and shunned from their families, then perhaps he might have a sense of why bills like HB 1523 devastate LGBT people and their families," she said.
Mississippi's new law comes two weeks after a similarly discriminatory bill, House Bill 2 (HB 2), was signed into law in North Carolina. In response, Atlanta Mayor Kasim Reed earlier this week became the latest U.S. lawmaker to ban state funded travel to North Carolina in response to HB 2, following New York Governor Andrew Cuomo and Washington, D.C. Mayor Muriel Bowser.
The ACLU filed a lawsuit against North Carolina over the bill last week, and PayPal on Tuesday announced its withdrawal of a planned expansion in Charlotte, which would have created 400 jobs.
A number of other companies, including IBM, Levi Strauss & Co., AT&T and Toyota, spoke out against HB 1523 when it was making its way through the Mississippi legislature last week.
This story has been updated to include reaction from the ACLU and GLAAD.