Mississippi Gov. Reeves Defends Abortion 'Trigger Law' in Tense Interview
CNN host Jake Tapper grilled Mississippi Governor Tate Reeves Sunday about a law in his state that would implement a near-total ban on abortions if Roe v. Wade is overturned.
If the landmark Supreme Court case is struck down, the law would automatically ban all abortions—except in cases of rape, or to save the life of the mother. In a previous interview in December, Reeves said he would enforce the ban.
The governor's interview with Tapper came nearly a week after a draft opinion written by Supreme Court Justice Samuel Alito, which was obtained and published by Politico, showed that a majority of the justices voted to overturn Roe v. Wade.
Tapper noted Sunday that the trigger law that was passed in Mississippi in 2007 "has no exception for incest."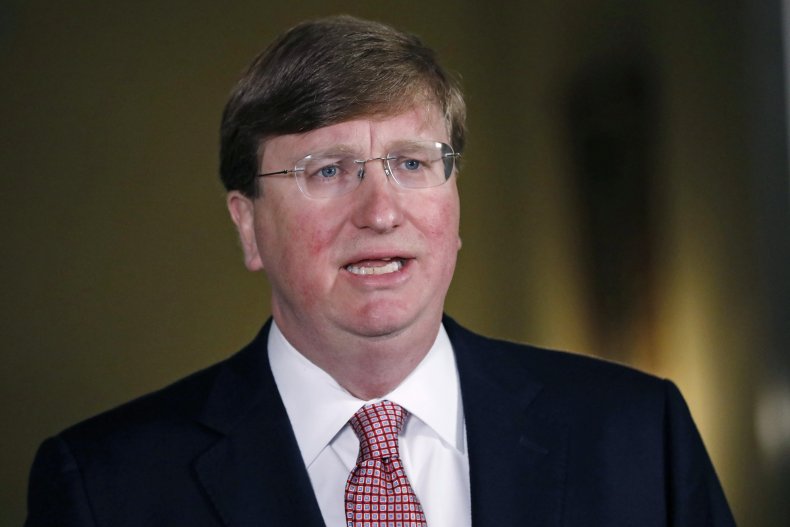 "So assuming that the Supreme Court overturns Roe v. Wade, the state of Mississippi will force girls and women, who are the victims of incest, to carry those [children] to term. Can you explain why that is going to be your law?" the host asked.
"That's going to be the law because in 2007, the Mississippi Legislature passed it," the Republican governor responded, adding that "this sort of speaks to how far the Democrats in Washington have come on this issue." He also noted that when the "trigger law" was enacted, it had the support of key Democratic state lawmakers.
"Why is it acceptable in your state to force girls who are victims of incest to carry those children to term?" Tapper interjected.
Reeves said that "over 92 percent of all abortions in America are elective procedures. When you look at the number of those that actually are involved incest, it's actually less than one percent. And if we need to have that conversation in the future about potential exceptions in the trigger law, we can certainly do that."
Tapper then asked Reeves: "What about a fetus that has serious or fatal abnormalities that will not allow that fetus to live outside the womb? Is the state of Mississippi going to force those girls and women who have this tragedy inside them to carry the child to term?"
Reeves responded: "You're dealing in examples that are rare and are a very small percentage of the overall abortions. And the reason for that is because when you talk to Americans...the vast majority of Americans recognize that the abortion laws in America right now, that is what are extreme."
The governor then said that the "vast majority of Americans support restrictions that are reasonable on abortions, and the overturning of Roe is simply going to return those decision-making processes back to the individual legislatures in all 50 states."
Abortion Ban Then Contraception Ban?
In a separate interview on NBC News Sunday morning, host Chuck Todd asked Reeves if he would sign legislation that would ban contraception if it arrived on his desk.
"Well, I don't think that's going to happen in Mississippi, I'm sure they'll have those conversations in other states," Reeves responded.
"But you're not answering the question," Todd replied.
"There's so many things that we can talk about. What the next movement in the pro-life movement [is] in my view Chuck is simple and that is we must prove that being pro-life is not just about anti-abortion," the governor said.
The next focus of the anti-abortion movement, according to Reeves, will be to ensure that "expecting mothers have the resources that they need" and to make sure that "we make it easier on those babies that are born" by expanding adoptive services and improving the foster care system.
Meanwhile, a poll released on Friday found that only 31 percent of Americans back overturning Roe v. Wade, while 51 percent say it shouldn't be overturned.