Missouri GOP Senator Roy Blunt Gets 2022 Challenger in Democrat Scott Sifton
Republican Senator Roy Blunt of Missouri, who is up for reelection in 2022, just got his another Democratic challenger.
Scott Sifton, a former state representative and state senator, announced his candidacy on Monday. In his campaign launch video, Sifton accused Blunt and Josh Hawley, the state's junior senator, of not speaking out against the false allegations of election fraud spread by former President Donald Trump and members of the Republican Party.
"When he raised his fist and betrayed our democracy, Josh Hawley showed us who he really is," Sifton said in the one-minute video posted to Twitter. "And when Senator Blunt was too weak to stand up to his party's lies, he showed us who he is too."
Sifton added, "So next year when that Senate seat is on the ballot, we, the people of Missouri, need to show who we are."
Sifton grew up in Kansas City and received degrees from Truman State University and the University of Michigan Law School, according to his campaign website. In 2010, he won a seat in the Missouri House and went on to win a state Senate seat in 2012 "by defeating a Republican incumbent—a feat rarely accomplished in Missouri."
In his video, which included footage from the Capitol siege, Sifton said he was running for Congress because he believes in a Missouri "where we raise our hands to support voting rights, not violent insurrection; to salute classroom teachers, not cop killers; and stand up for racial justice; not white supremacy."
Sifton joins Timothy Shepard in the Democratic primary race for the Senate seat. Shepard, an entrepreneur and activist, announced his candidacy last year.
Blunt has served Missouri in the U.S. Senate since 2011, sailing through his first re-election bid in 2016 by defeating Democrat Jason Ksander by roughly 78,000 votes. Before becoming a senator, Blunt represented the state's 7th congressional district in the House of Representatives for more than a decade.
While a majority of Missouri's Republican congressional members objected to the congressional certification of the 2020 presidential election results, Blunt opposed the attempt. In a statement released on January 7, Blunt said his "view is that there is not sufficient evidence to sustain the objections."
Blunt added that the "outrageous attack on the Capitol was a sad day for America. But we will move forward and we will continue living up to the example of democracy we have long set for the world."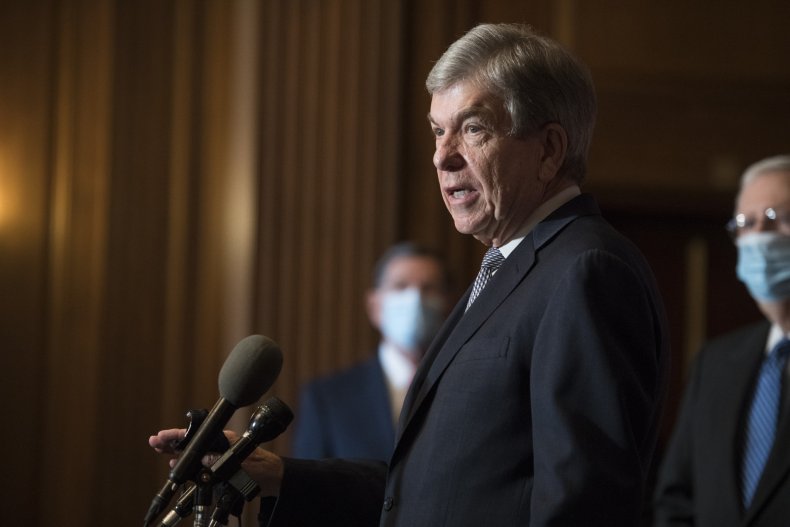 Blunt could also face a Republican primary challenger, if the Trump family follows through on threats to support races against conservatives they perceived as disloyal to the former president.
On January 6, Trump told his supporters to "primary the hell" out of conservative lawmakers who did not object to the Electoral College certification. Eric Trump, a son of the 45th president, also tweeted in early January: "I will personally work to defeat every single Republican Senator / Congressman who doesn't stand up against this fraud - they will be primaried in their next election and they will lose."
That would include Blunt and a dozen other senators up for reaelection in 2022.
In a press release on Monday, Sifton said the U.S. is "at a critical point in its history."
"We just saw what happens when our leaders don't stand up for truth and when they don't put the good of our country over their own political ambitions. Josh Hawley's dangerous conspiracy theories and attempts to overturn the election helped lead to a deadly insurrection, and Roy Blunt—the ultimate insider—was once again too weak to speak out. I'm running for senate because Missouri deserves better. I've always been willing to take on the toughest fights to do right by Missouri families. We need a lot more of that in Washington."
Newsweek has reached out to Senator Blunt's office for a response to Sifton's campaign launch.
Correction: A previous version of this story incorrectly stated that Scott Sifton was Senator Roy Blunt's first Democratic challenger. It has since been updated to include information on Democrat Timothy Shepard, who announced his candidacy against Blunt in 2020.