Mitch McConnell Acknowledges Joe Biden's Win for the First Time: 'The Electoral College Has Spoken'
For the first time since the election, Senate Majority Leader Mitch McConnell on Tuesday acknowledged Joe Biden's victory.
The Kentucky Republican's congratulatory message to the president-elect came the day after the Electoral College affirmed Biden's win.
"Many of us hoped that the presidential election would yield a different result, but our system of government has processes to determine who will be sworn in on January 20. The Electoral College has spoken," McConnell said in a floor speech. "So today, I want to congratulate President-elect Joe Biden."
The recognition of Biden's win—and subsequently, President Donald Trump's loss—comes 38 days after major news networks called the race for the former vice president and longtime senator. In 2016, McConnell congratulated Trump the day after the election, long before the Electoral College made his win over Hillary Clinton official.
McConnell and Biden later spoke by phone, when the two reportedly agreed to meet "sooner rather than later." Biden told reporters that he phoned McConnell, with whom he has a long working history with, to "thank him for the congratulations, told him although we disagree on a lot of things, there's things we can work together on."
Most Senate Republicans acknowledged Biden's victory Monday evening, some more so explicitly than others. Some GOP senators suggested Trump, who has lost dozens of election lawsuits trying to subvert the results through the judicial system and been rejected by the Supreme Court, still has legal remedies at his disposal. The president on Tuesday continued to push false claims and conspiracies of fraud.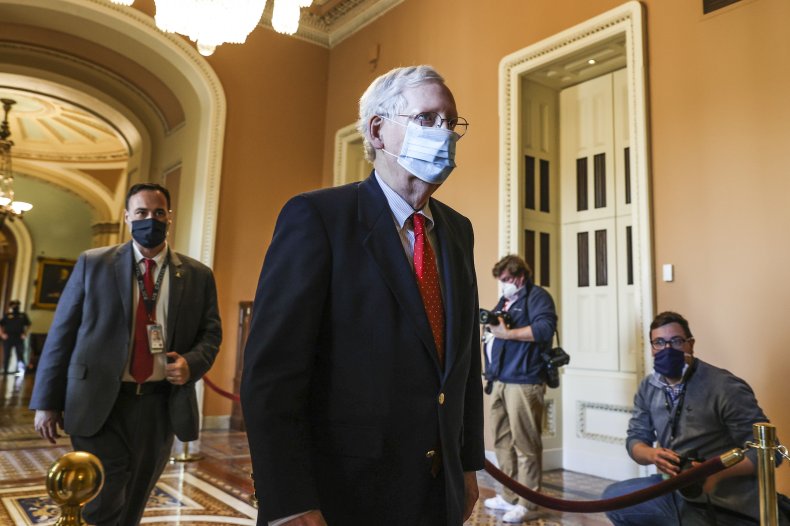 "I understand there are people who feel strongly about the outcome of this election, but in the end, at some point you have to face the music," Senate Majority Whip John Thune (R-S.D.) said Monday evening. "I think once the Electoral College settles the issue today, it's time for everybody to move on."
Senate Minority Leader Chuck Schumer used McConnell's comments as a spring board to call out any Republicans who've yet to acknowledge what has been clear to most people for more than a month.
"For the sake of the democracy, for the sake of the peaceful transition of power, stop the shenanigans, stop the misrepresentations and acknowledge that Joe Biden will be our next president. Enough is enough," the New York Democrat said on the floor. "Republican senators and Republicans throughout the country should follow Leader McConnell's lead and acknowledge now that Joe Biden will be the next president of the United States."
McConnell, in his remarks, went on to offer brief praise for Biden, saying that he has "devoted himself to public service for many years."
In addition, McConnell noted that the incoming administration is bringing a major historical achievement along with it: the first female vice president.
"Beyond our differences, all Americans can take pride that our nation has a female vice president-elect for the very first time," McConnell said.
Before congratulating Biden and Harris, McConnell applauded Trump's accomplishments during his first and only term, such as appointing more than 220 federal judges and three Supreme Court justices that will give America's courts a conservative bend for generations to come.
McConnell also touted Trump's tax cuts, repealing part of the Affordable Care Act and killing a top Iranian general responsible for taking American lives, among other things.
"The outsider who swore he was shake up Washington and lead our country to new accomplishments both at home and abroad proceeded to do exactly that," McConnell said. "President Trump and Vice President Mike Pence deserve our thanks and our gratitude for their tireless work and their essential roles in all of these victories and in many more."
This story was updated to include information about a phone call between Biden and McConnell.