Some Republicans Suggest Trump Still has 'Legal Avenues' Despite Electoral College Win, SCOTUS Loss
Thirty-seven days after Joe Biden was projected the winner of the 2020 election, Republican senators on Monday were finally prepared to acknowledge the Democrat as president-elect, as members of the Electoral College met across the country to affirm Biden's victory.
However, several Senate Republicans suggested President Donald Trump still had potential legal routes to subvert the election, despite dozens of election lawsuit losses and the Supreme Court handing him a fatal blow last week by refusing to consider a suit seeking to toss out millions of legal ballots in pivotal swing states.
The GOP lawmakers, although recognizing Trump's loss, declined to close the door entirely on the notion that the president could somehow still use the courts to overturn an election based on baseless claims of rampant fraud.
"It's a very, very narrow path for the president. I don't see how it gets there from here, given what the Supreme Court did," Sen. Lindsey Graham (R-S.C.) said, as he conceded Biden is now president-elect. "But having said that, I think we'll let those legal challenges play out."
Sen. Thom Tillis (R-N.C.) said Biden is the "presumptive president"—"subject to any pending lawsuits that could change it."
"If you go through the Electoral College, he's presumptive president," Tillis continued. "But I don't want to discount valid, legal disputes that'll be settled over the next couple weeks."
Sen. Rand Paul (R-Ky.) questioned whether "all the legal avenues have played out yet."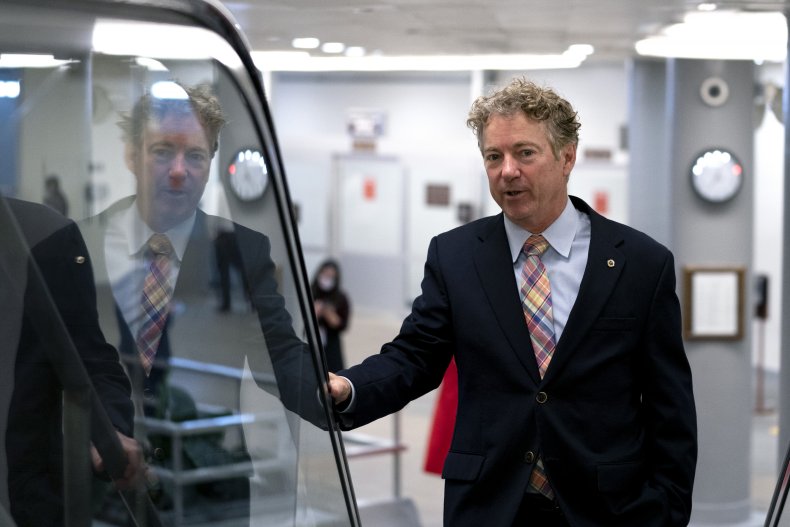 "There's an inauguration that will swear somebody in, and that person will be the president of the United States," said Sen. Kevin Cramer (R-N.D.). "But whether you call it [president-elect] or not, there are legal challenges that are ongoing—not very many, probably not a remedy that would change the outcome."
"Once the president's legal arguments that he wants to make between now" and when Congress certifies the Electoral College count on Jan. 6 "are exhausted," Sen. John Cornyn (R-Texas) said, "certainly Joe Biden's on a path to be president of the United States."
The Supreme Court ruled on Friday said that a Texas-led lawsuit supported by 17 Republican state attorneys general and 126 House Republicans had no legal standing and declined to consider the litigation. The case sought to toss out millions of ballots in four states that Biden won: Georgia, Michigan, Pennsylvania and Wisconsin.
In addition, the Trump campaign and his conservative allies have lost upwards of 50 election-related lawsuits due to a lack of evidence to support the claims that there was widespread voter irregularities.
By and large, Republicans did acknowledge the fact that Monday's Electoral College vote sealed the deal, and it was time to move on, including some of Trump's most loyal congressional allies like Graham. Most Republicans have known since the election that Biden was the true victor and would admit as much privately.
Still, the vast majority of GOP lawmakers refused to cross Trump's decision not to concede until now, aware of the immense power that he and his conservative allies yield among the GOP's base. Republican leadership in the Senate has advised its members against signing onto a last-ditch Hail Mary attempt gaining steam among House Republicans to challenge the Electoral College result when Congress will need to certify the outcome on Jan. 6.
"I understand there are people who feel strongly about the outcome of this election, but in the end, at some point you have to face the music," Senate Majority Whip John Thune (R-S.D.) said. "I think once the Electoral College settles the issue today, it's time for everybody to move on."
But although many responded in the affirmative when prompted about Biden being president-elect, several Republicans deflected and declined to answer directly. Their answers nodded toward a realization that Trump had officially lost but still avoided explicitly stating that such was the case.
Sen. John Barrasso, (R-Wyo.), a top Senate Republican, chided Newsweek for asking a "gotcha question" about whether he believed Biden was president-elect based on the Electoral College certification.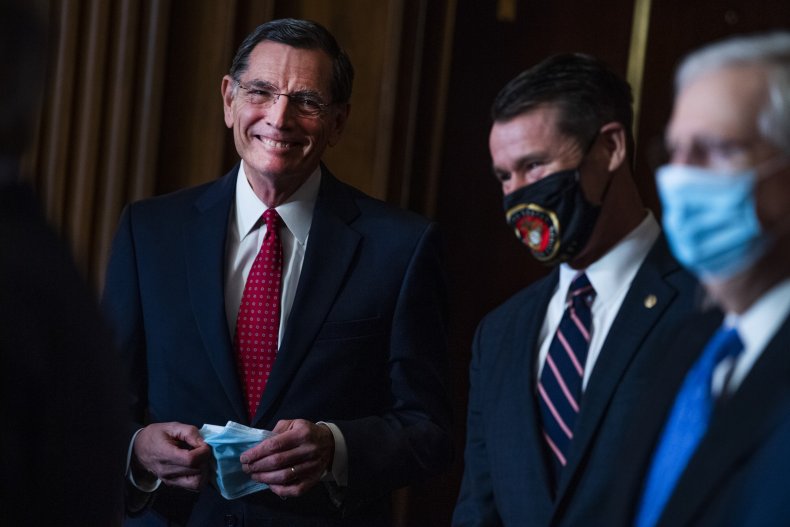 "That's like the gotcha question of the day," Barrasso responded after laughing. "I know what the Constitution says. I know that the Electoral College has voted today, so that tells us a lot."
"I follow the Constitution," Barrasso repeated when pressed further. He later told another Capitol Hill reporter that it was a "gotcha question" because the government transition process formally began weeks ago.
Sen. Steve Daines (R-Mont.) would only go so far as to say: "Montana cast three electoral votes for President Trump, and we'll wait and see now, and Congress will certify that in January."
Sen. Cramer offered a lengthy explanation, eventually nodding toward the notion that Biden's win was official.
"It seems to me that being elected by the Electoral College is a threshold where a title like that is probably most appropriate, and I suppose you can say official, if there is such a thing as official president-Elect, or anything else-elect," Cramer said. "I don't know how a politician refers to another politician."
As of Monday evening, Senate Majority Leader Mitch McConnell had yet to make any public remarks about Biden. The Kentucky Republican's Democratic counterpart, Minority Leader Chuck Schumer (D-N.Y.), directly criticized McConnell and GOP lawmakers for their refusal to acknowledge the results, as well as Trump's efforts to subvert the will of American voters.
"Will he change his tune now that the Electoral College has once again confirmed his victory? Will the rest of my Republican Senate colleagues do the same?" Schumer questioned on the Senate floor. "Just how long are Republicans going to keep up this charade, which has become a national embarrassment?"