Mitch McConnell Delays Gun Debate in Senate to Take on Bank Bill
The Senate majority leader scheduled a banking reform bill for consideration this week, effectively delaying a debate on gun control in Congress's upper chamber as much of the country turns to Capitol Hill to take on firearms regulations.
Senator Mitch McConnell, Republican of Kentucky, announced on Thursday that the Senate will vote on the Economic Growth, Regulatory Relief and Consumer Protection Act, which aims to ease regulations put in place after the 2008 financial crisis. The decision to queue up the banking bill puts a gun debate on hold—this as President Donald Trump has joined the chorus of student activists and gun control advocates in calling for weapons reforms in the wake of the mass shooting at Marjory Stoneman Douglas High School in Parkland, Florida, on February 14 that left 17 people dead.
Taking on the bank bill in lieu of gun control measures won't spare Congress from criticism. Democratic Senators Elizabeth Warren of Massachusetts and Sherrod Brown of Ohio have come out forcefully against it, lamenting both the proposed policy and its timing. The vote will come ahead of the 10-year anniversary of the 2008 banking crisis.
"Ten years after the financial crisis, banks are making record profits and benefiting from a massive tax giveaway," Brown told Newsweek in February. "Congress should be fighting to help working families, not rolling over for banks and doing the bidding of Wall Street."
Senator Mike Crapo, Republican from Idaho, introduced the act back in November. The measure has bipartisan support among Republicans and moderate Democrats, especially those in red states like Senator Heidi Heitkamp of North Dakota.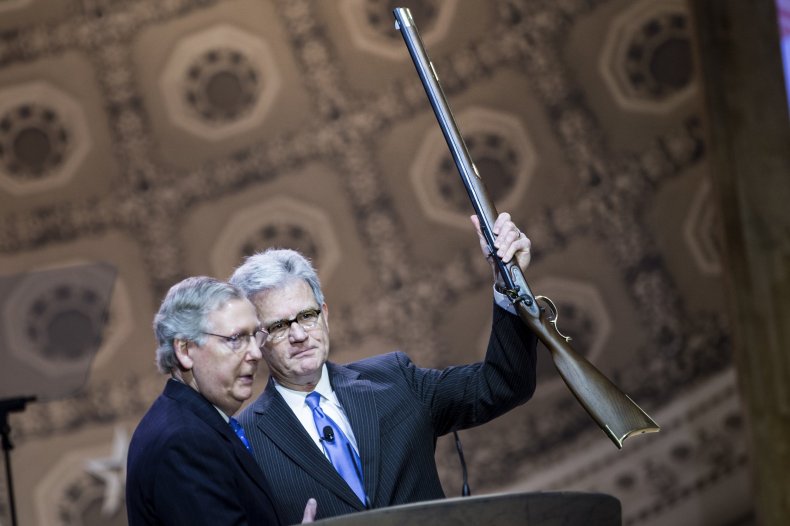 The gun control issue is also gaining bipartisan steam. Senator Marco Rubio, Republican of Florida, proposed six modest gun control bills that he either plans to introduce or supports last Thursday.
That came a day after Trump surprised many lawmakers on both sides of the aisle last week when he expressed support for several gun regulations and called on Congress for reforms during a televised meeting at the White House. Trump chided members of his own party for being "afraid of the NRA,"—though the National Rifle Association's chief lobbyist tweeted the next day that he had met with Trump and Vice President Mike Pence, saying they "don't want gun control."
Regardless of the White House's apparent ambivalence when it comes to gun control, the public is increasingly in favor of reforms. A Quinnipiac Poll conducted in the days after the Stoneman Douglas massacre showed voters have been trending toward stricter regulations for years.
Related: Senators want to roll back bank regulations on the 10-year anniversary of the 2008 financial crisis
The survey found nearly universal support among gun owners, 97 percent, for background checks in all gun purchases.
Proponents for the banking bill argue it would help small regional banks by rolling back regulations implemented in the 2010 Dodd-Frank Act. Under Dodd-Frank, banks holding $50 billion or more in assets are subjected to increased federal oversight. The new bill would lift the bar for federal scrutiny to $250 billion.
In an interview with Politico, Warren pointed out that one of the companies that has become synonymous with the financial crisis, Countrywide Financial, would have escaped that oversight under this proposal as it only had $200 billion in assets. Countrywide, at one point, held more mortgage loans than any other company and was one of the most predatory lenders in the nation.
"The heart of this bill is to take 30 of the 40 biggest banks in this country off the watch list so that they can load up on risks again and if things go wrong put the American taxpayer back on the hook," Warren told the magazine.
Heitkamp defended the bill, saying it would offer relief to rural banks.
"I'm fighting for rural America—and that's what our bipartisan bill is about," Heitkamp said in a statement on the bill in November. "It would provide needed relief to community banks and credit unions, so they can continue enabling small businesses to get financing to operate, helping farmers get loans to support their farms, and allowing families to buy homes in rural communities across our state."