Mitch McConnell Backs Down to Donald Trump, Agrees to Support National Emergency Declaration
Senate Majority Leader Mitch McConnell, Republican from Kentucky, said Thursday that President Donald Trump will sign the bipartisan border security spending bill needed to avert a government shutdown but will also declare a national emergency to supplement additional border wall funding.
"I had an opportunity to speak with President Trump and he, I would say to all my colleagues, has indicated he's prepared to sign the bill," McConnell announced on the Senate floor prior to the chamber passing the funding measure. "He will also be issuing a national emergency declaration at the same time."
White House press secretary Sarah Sanders confirmed the news in a statement.
Trump's grasp for additional border wall funding will be added to the $1.375 billion offered in the bipartisan spending package, which lawmakers from the House and Senate have spent the past few weeks negotiating. The president previously demanded $5.7 billion, but even his most loyal Republican allies in Congress continued to publicly urge him to accept this deal to avert a shutdown.
"This is a down payment on where the president wants to go and where we want to go with him, and that is to secure the borders of the United States. We made some concessions, but we got some, too," said Republican Senator Richard Shelby, a member of the conference committee that produced the agreement, earlier this week. "We believe that the caucus will support this, I believe the House will support it and we hope the president will support it."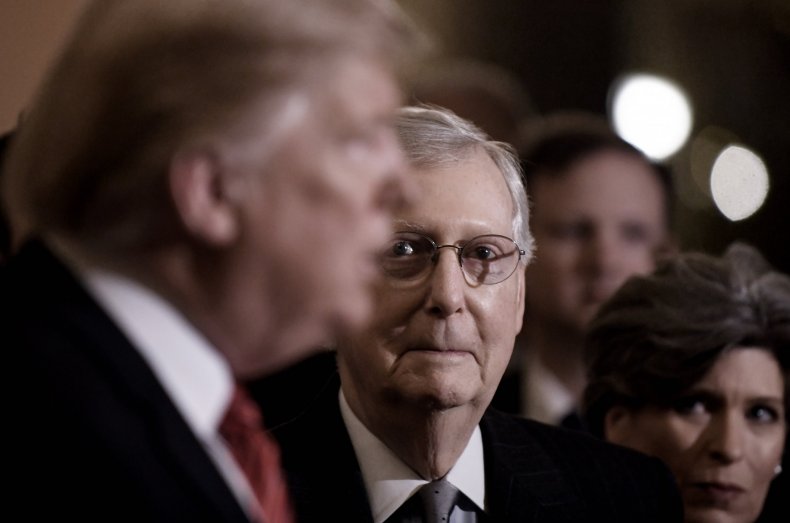 McConnell said he is prepared to support the emergency declaration, which flies in the face of his supposed private warning to Trump against taking such action, as reported by The Washington Post.
"I indicated to [Trump] I'm going to support the national emergency declaration," McConnell said. "So, for all of my colleagues, the president will sign the bill."
Republicans previously told Newsweek they did not support a national emergency declaration by the president and suggested they would consider overriding Trump's decision under the National Emergencies Act of 1976, possibly leading to a rift within the party.
"Barring truly existential circumstances, it sets a precedent which I think in the future could lead to further executive action that raises significant constitutional questions," Republican Senator Marco Rubio of Florida told Newsweek last week.
Asked if she and Democrats would file some sort of legal challenge to Trump's emergency declaration, House Speaker Nancy Pelosi said, "I may. That's an option, and we'll review our options."
"I know the Republicans have some unease about it—no matter what they say," she continued. "But it's important to note that when the president declares this emergency...it's not an emergency. It's a humanitarian challenge to us."
Pelosi warned that a future president could, using Trump's reasoning, declare a national emergency on gun violence. Thursday marked the one-year anniversary of the massacre that left 17 people dead after a gunman opened fire at Marjory Stoneman Douglas High School in Parkland, Florida.