Mitch McConnell's Office Overrun by March for Our Lives Protesters Demanding Tougher Gun Laws
Members of a group lobbying for tougher legislation to prevent future mass shootings have occupied the office of Kentucky Senator Mitch McConnell, demanding he and his fellow lawmakers take action on gun laws.
Footage shared on social media showed members of the March for Our Lives movement sitting in the office of the Senate Majority Leader in Washington on Wednesday night.
March for Our Lives was founded in the aftermath of the mass shooting at Marjory Stoneman Douglas High School, in Parkland, Florida, in February 2018 when former student Nikolas Cruz opened fire and killed 17 people.
A student-led demonstration took place on March 24, 2018, in the Capitol, along with protests around the world, calling for tougher U.S. gun legislation.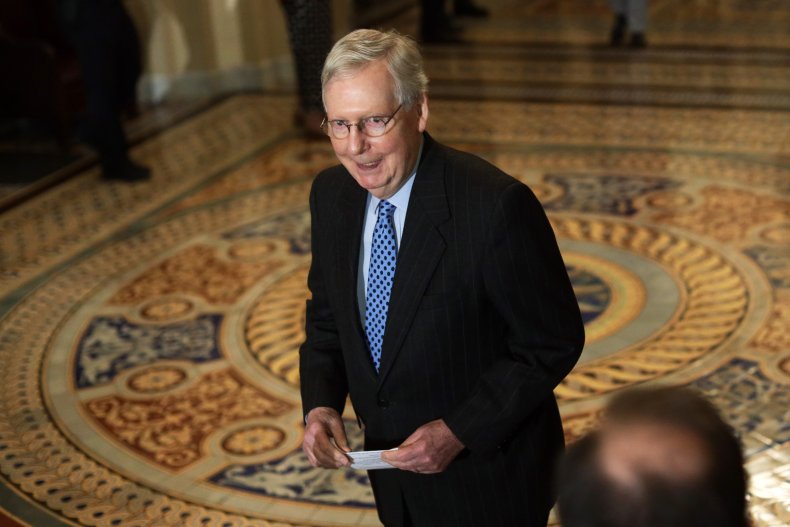 Their demands included introducing universal background checks on gun sales and banning high-capacity magazines.
Congress has passed two bills to widen background check requirements to all private sellers, but neither bill has received a hearing or vote in the Senate. McConnell says this will remain the case unless President Donald Trump says he would back them.
Video footage of the sit-in was tweeted by Julia Peter, with the message: "On the ground with @MFOLDC. They are occupying @senatemajldr's office demanding action to #EndGunViolence."
On Wednesday, the group tweeted that it had presented a message to the Kentucky senator, laying the blame at his door.
It stated that more than 40,000 people have died from gun violence during the year legislation has been "sitting on Majority Leader McConnell's desk."
"Your inaction is literally killing us and nothing is changing. We are doing everything we can to get your attention, yet you still refuse to listen," the message read.
The group tweeted that it delivered to McConnell and other Senators a piece of artwork, called "This is America", created by 18-year-old Gracie Lee.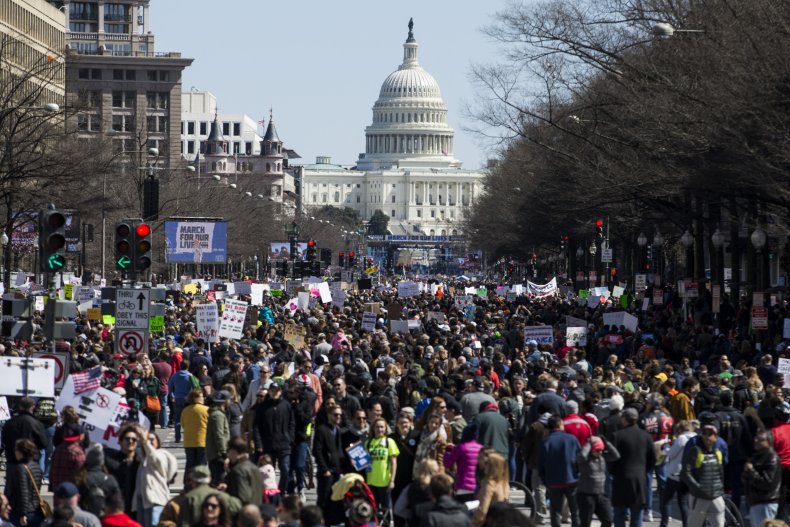 It depicts locations that have been scenes of mass shootings before, such as a Walmart, church, and a school. With it came some crayons and a blank page, and the request to the senators to color in the locations of shootings that "continue to occur while you do nothing."
"When the adults act like children, it's time for the children to start acting like adults," the message read.
Facing criticism from gun control advocates, McConnell said last September that regarding the legislation borne out of bipartisan support, he would be "happy to put it on the floor" if he knew Trump supported it.
However Briana Spainhour, regional organizing director for March for Our Lives, disputed McConnell's point that it was down to Trump, telling Newsweek that her group had gone to office of the Kentucky senator five times in the last year and "every time we go back, we are told 'it is not in our hands, there is nothing we can do'".
"We felt it was childish of them, to put the blame on the president, to say that they can't do anything and that he controls all of the United States Senate.
"If they actually had the courage to do something for their constituents who support it, this would get passed.
"This action is meant to show that we can see they are still acting like children and those who are considered children, or young people, are the ones prepared to do something about it," Spainhour told Newsweek.
Newsweek has contacted McConnell's team for comment. Below is a Statista graphic outlining the number of people impacted by gun violence in the U.S.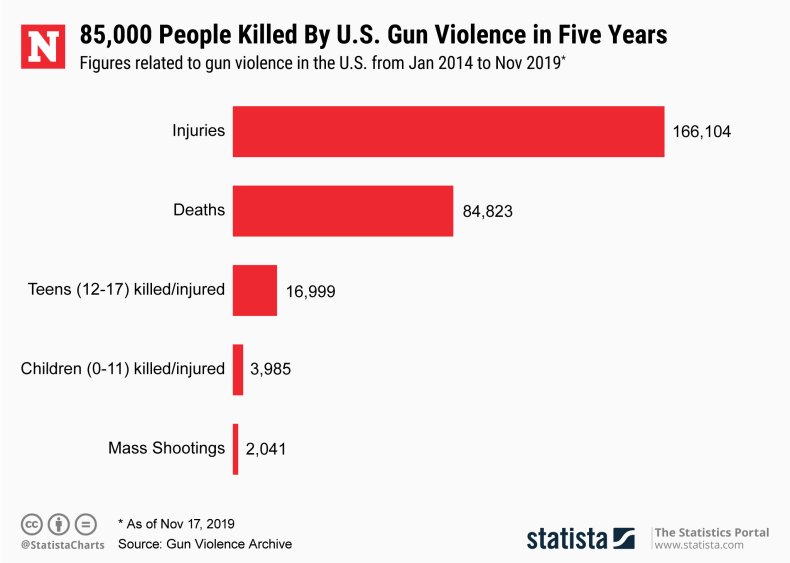 This story has been updated to include comments to Newsweek by the March for Our Lives regional organizing director, Briana Spainhour.