Mitch McConnell Says Joe Manchin 'Almost Single-handedly Is Preserving the Senate'
Senate Minority Leader Mitch McConnell has praised Democrat Joe Manchin for resisting his own party's push to eliminate the filibuster, saying the senator has "stood up" to left-wing lawmakers.
Senator Manchin continues to be a barrier to the Democrats' efforts to get rid of the rule that requires 60 votes to pass most legislation, in order to ease the passage of President Joe Biden's agenda.
With the upper house split 50-50, the West Virginia lawmaker appeared to quash his party's hopes this week when he wrote in The Washington Post that the filibuster was "a critical tool" needed to protect "our democratic form of government."
"There is no circumstance in which I will vote to eliminate or weaken the filibuster," he wrote.
Senator Kyrsten Sinema of Arizona is another centrist Democrat who shares Manchin's views on the filibuster.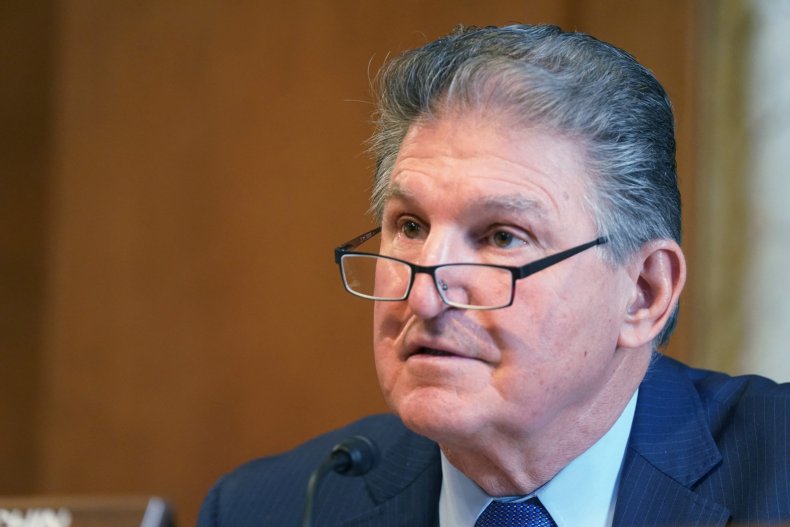 Manchin has also suggested that he might oppose the use of budget reconciliation to pass Biden's $2 trillion infrastructure bill with a simple majority. The Senate parliamentarian, an official who rules on procedure, said on Monday that this could be done.
In his opinion piece for the Post, Manchin wrote: "Senate Democrats must avoid the temptation to abandon our Republican colleagues on important national issues."
Senator McConnell said on Thursday that he took heart from Manchin's stance. On a visit to Pikeville, in his home state of Kentucky, the minority leader told ABC affiliate WCHS: "I really greatly admire Senator Manchin.
"Senator Manchin almost single-handedly is preserving the Senate as we have always known it, which is a body that requires a supermajority to do most things."
In addition, Manchin has not confirmed that he will vote for a House-passed bill that would tighten background checks for firearms purchases—as the president unveiled executive orders on gun control following a spate of mass shootings.
McConnell told WCHS: "Joe Manchin so far has stood up to the left wing of his own party. He's argued for centrist solutions."
However, the West Virginia lawmaker has said he does not relish his role of kingmaker for legislation. He said the U.S. Capitol riots had been a warning for him about the divisions tearing the country apart and galvanized his view that there needed to be a bipartisan approach to legislation.
"Something told me…something's wrong. You can't have this many people split to where they want to go to war with each other," Manchin told CNN about the violence on January 6.
He added that he had seen people with power who had abused it, and others who had destroyed themselves as they sought power. "And I've watched people that had a moment of time to make a difference and change things, and used it," Manchin said. "I would like to be that third."