Senate Minority Leader Mitch McConnell, a Kentucky Republican, voiced rare approval of President Joe Biden—highlighting his agreement with the administration when it comes to its foreign policy toward Myanmar.
McConnell has long championed helping Myanmar—a Southeast Asian nation that has been under military rule for the vast majority of the last six decades—move toward a more democratic system of governance.
In 2015, the country held elections and appeared to be taking significant steps to implement greater civilian governance, but the nation's military launched a coup on February 1, 2021, after its leaders were unhappy with the results of a 2020 election there. The Biden administration has condemned the military coup and implemented sanctions against Myanmar's military leaders.
Although McConnell has opposed essentially all of Biden's domestic agenda, he spoke favorably of the administration's response to Myanmar in an interview with Politico published on Monday. The GOP senator has been directly involved with advising the White House on how to address the crisis.
"On the domestic front, I have not yet witnessed something that I've been happy about," McConnell told Politico. "But in this area, I think their instincts are good. I think they're trying to do the right thing."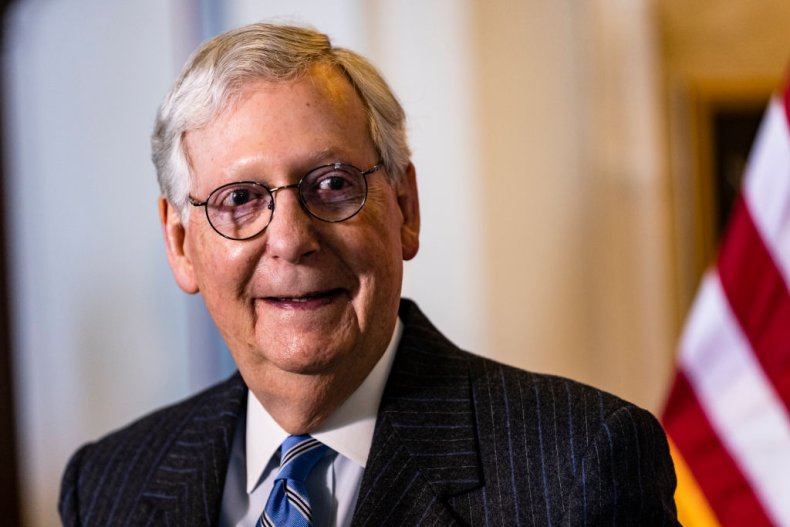 In early February, Biden told reporters that he'd solicited McConnell's advice on the situation in the Asian country.
"We've consulted at length, for example, with Senator McConnell, who's had a very keen interest in this, and his team. We welcome their helpful insights," the president said at the time, noting that the U.S. was also working with international partners.
Although McConnell praised Biden's response to the coup in Myanmar, he also emphasized further steps he believes need to be taken by the administration.
"Our ability to influence this from halfway around the world is limited," McConnell told Politico. "But we do have tools."
The senator noted that "the lion share of the burden is on the State Department and the administration," adding that "in any way that congressional action needs to be a part of this: count me in."
Newsweek reached out to McConnell's office for further comment but did not immediately receive a response.
More than 600 people have reportedly been killed since the launch of the military coup in Myanmar on February 1, the BBC reported this week. Some 80 anti-coup demonstrators were reportedly killed during a Friday protest in the city of Bago.
Military leaders moved at the outset of February to detain civilian lawmakers, claiming that there was widespread fraud during the country's 2020 general election. But those claims have been dismissed by analysts. The election had returned the National League for Democracy political party and its leader, Aung San Suu Kyi, to power. Mass protests have rocked the country since the coup began, but the military has cracked down with increasing violence.