Mitch McConnell Predicts Democrats' $1.7T Build Back Better Bill 'Will Never Become Law'
Senate Minority Leader Mitch McConnell slammed House Democrats for pushing through President Joe Biden's Build Back Better act—predicting this week that the $1.7 trillion legislation "will never become law."
On Friday, the House passed the massive "human infrastructure" social spending package, and the bill will now go to the Senate where its expected to face substantial changes. If the bill is eventually approved by all 50 members of the legislative chamber's Democratic Caucus, it would go back to the House for final approval.
Ahead of the initial House passage of the act, McConnell told Fox News Radio's The Guy Benson Show on Thursday that he doesn't believe it will succeed in the Senate.
"[House Speaker Nancy Pelosi is] literally walking them [Democrats] off a cliff to support a bill that will never become law," McConnell said. The Kentucky Republican pointed to the opposition from centrist Democratic Senators Kyrsten Sinema of Arizona and Joe Manchin of West Virginia to key provisions included in the House version of the Build Back Better act.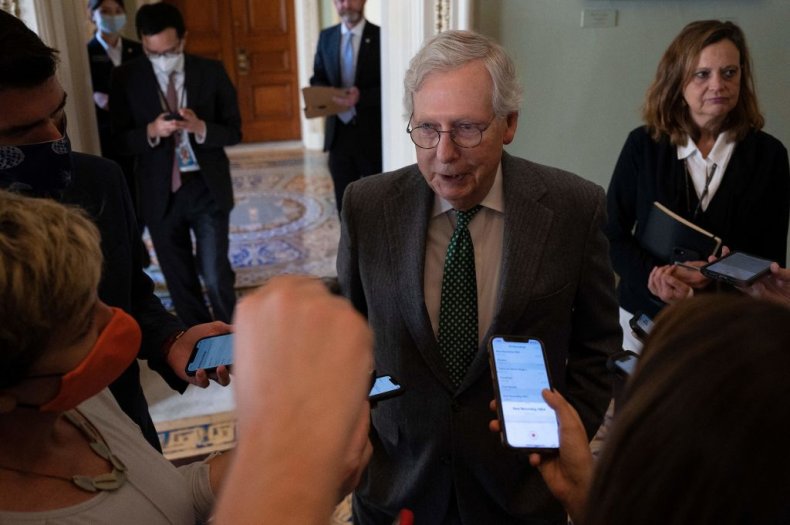 McConnell also doubled down on defending his decision to support Biden's bipartisan infrastructure bill, which got the support of 19 Republican senators and 13 House Republicans. Former President Donald Trump and many GOP lawmakers have been highly critical of McConnell and other Republicans who supported the bill.
"What it did was separate something that's popular, 75 percent of Americans want to see the infrastructure addressed, from something that's unpopular, which is what they were left with after that," McConnell said. Democrats were initially aiming to pass the bipartisan bill and the larger reconciliation package in tandem, but were eventually prevented from doing so due to moderates' concerns.
Sinema and Manchin have already succeed in making Biden's plan substantially smaller. The initial proposal was for some $3.5 trillion in social spending, but that amount was eventually cut in half before it was approved in the House. At the same time, the moderate Democrats have not signed off on the House version and are expected to require significant changes before they will agree to vote in favor.
Manchin told CNN on Thursday that he has not yet decided whether he will support the Build Back Better bill. Asked if House passage of the bill would "influence" his decision, the West Virginia Democrat replied: "No, not at all." Sinema has also not given her stamp of approval for the bill, while some Senate progressives—including Senator Bernie Sanders of Vermont—have qualms with some provisions added by House moderates.
The House passed the legislation on Friday with a party-line vote of 220 to 213. One Democrat, Representative Jared Golden of Maine, voted with all Republicans in opposing the bill. Now the bill will go to the Senate, where negotiations could stretch out for many more weeks—or even months.
As Democrats aim to pass the bill without any GOP support, all 50 members of the Senate Democratic caucus must approve of the bill. Democrats are using the budget reconciliation process in order to push through the legislation, which allows it to pass without the 60 votes required to overcome a legislative filibuster. Whether Biden and Democratic leaders will be able to satisfy all of Manchin's and Sinema's demands without alienating progressives remains to be seen.
Newsweek reached out to Sinema's and Manchin's press representatives for further comment but did not immediately receive a response.