Mitch McConnell Says It Is 'Inconceivable' That Republican-Led Senate Would Vote To Remove Donald Trump
U.S. Senate Majority Leader Mitch McConnell has dismissed the possibility of the Republican-led Senate ever casting enough votes to see President Donald Trump removed from office.
"It's inconceivable to me there would be 67 votes to remove the president from office," McConnell told reporters on Tuesday, according to Reuters.
Still, the Senate majority leader told CBS News in a separate interview that it was "way too early to scope out or announce how we might handle impeachment when it gets to the Senate."
McConnell's comments came as House Democrats held their third day of public hearings in the impeachment inquiry surrounding Trump's July phone call with Ukrainian President Volodymyr Zelenskiy.
On Tuesday, lawmakers heard from decorated Iraq War veteran Lt. Col. Alexander Vindman, the top Ukraine advisor on the National Security Council, and from Jennifer Williams, Vice President Mike Pence's top advisor on Russia.
Both Vindman and Williams confirmed that the July phone call, in which Trump appeared to ask that Ukraine investigate former Vice President and 2020 Democratic presidential candidate Joe Biden and his son Hunter Biden, sparked widespread concern.
"Without hesitation, I knew that I had to report this to the White House counsel," Vindman said. "I had concerns and it was my duty to report my concerns to the proper people in the chain of command."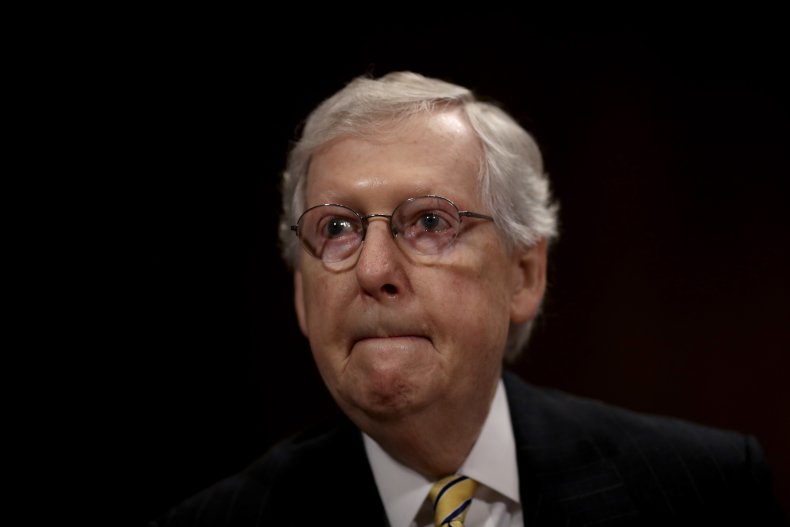 Asked why he was not afraid to testify, Vindman said he knew he was "assuming a lot of risk."
However, he said he felt compelled to speak out "because this is America."
"This is the country I have served and defended, that all of my brothers have served and here, right matters," Vindman, who came to the U.S. as a child, said, as the crowd broke out into applause.
Despite Vindman's proclaimed dedication to his country, Republicans had repeatedly sought to question his credibility and suggest that he could have ulterior motives for testifying against Trump.
In the lead-up to the Iraq War veteran's testimony, Republican Senator Ron Johnson of Wisconsin sent out a letter to his GOP House colleagues suggesting that Vindman could have been part of an effort to remove the president from office, without presenting any evidence.
"A significant number of bureaucrats and staff members within the executive branch have never accepted President Trump as legitimate and resent his unorthodox style and his intrusion onto their 'turf,'" the Republican said, according to Politico.
"They react by leaking to the press and participating in the ongoing effort to sabotage his policies and, if possible, remove him from office. It is entirely possible that Vindman fits this profile," Johnson wrote.
This poll, provided by Statista, shows that many Americans have already made up their minds about President Donald Trump's impeachment.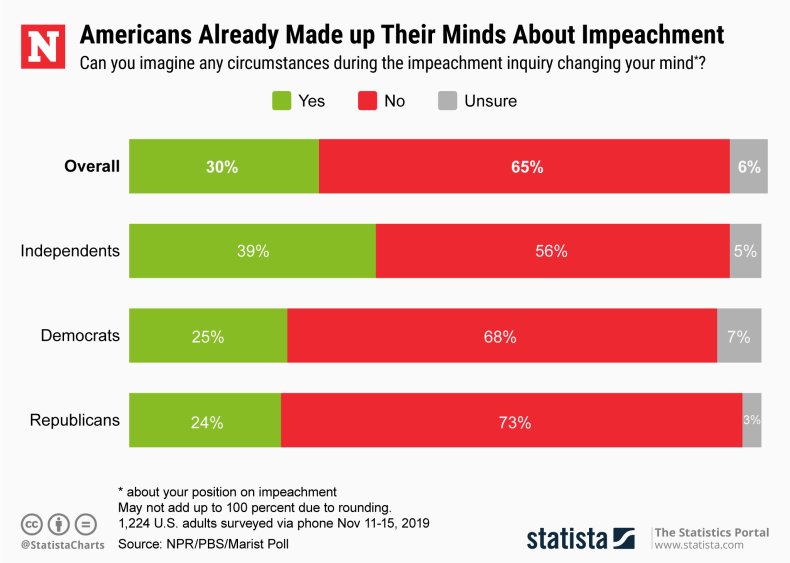 During his testimony Vindman said that his ability to testify before elected officials was proof that his father "made the right decision 40 years ago to leave the Soviet Union and come here to the United States of America in search of a better life for our family."
"Do not worry. I will be fine for telling the truth," he said.
If impeachment proceedings do move forward to the Senate, a trial will be held to determine whether the president committed any crime warranting his removal from office.
If Trump were removed from office, he would be the first president to be removed through impeachment proceedings.