Alexander Vindman Praised on Twitter After He Explains Why He Wasn't Afraid To Testify Against Trump
Lieutenant Colonel Alexander Vindman received significant praise on Twitter after he explained to the House Intelligence Committee why he was not afraid to testify in the impeachment inquiry against President Donald Trump.
"You realized when you came forward out of a sense of duty that you were putting yourself in direct opposition to the most powerful person in the world," Representative Sean Maloney, a Democrat from New York, told Vindman on Tuesday. "Do you realize that sir?" the congressman asked.
"I knew I was assuming a lot of risk," Vindman, who serves as a top Ukraine expert on the National Security Council, replied. Maloney went on to ask the decorated Iraq war veteran how he had "confidence" that he and his family did not need to worry.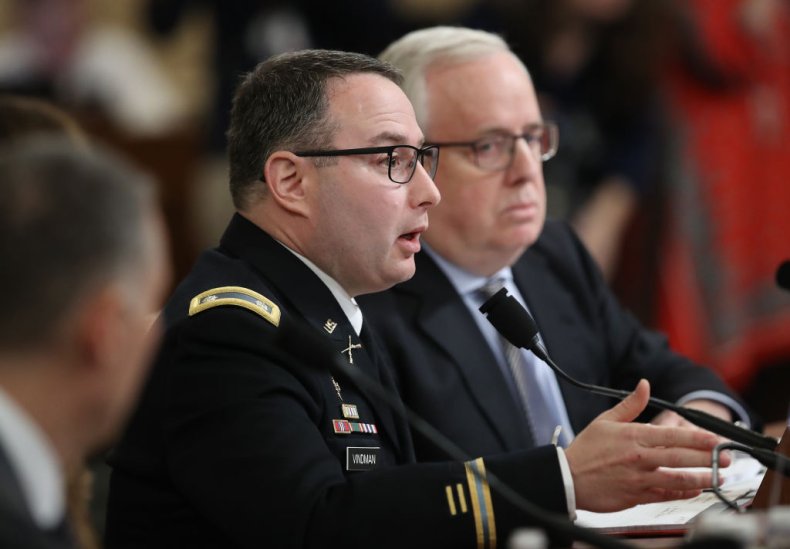 "Congressman, because this is America. This is the country I have served and defended, that all of my brothers have served and here, right matters," Vindman asserted. After Maloney thanked him, the committee chamber then erupted into loud applause.
On Twitter, many users began highlighting Vindman's response, praising him for saying: "Here, right matters."
"When you have a national security staffer standing up to the president of the United States over allegations of abuse of power, it shows the power of democracy," Richard Engels, a chief foreign correspondent for NBC News, tweeted.
"Amen,sir! Truth still matters despite Trump!" podcast host and CNN contributor Tara Setmayer posted to Twitter, sharing the lieutenant colonel's response to Maloney.
"WOW....Lt Col #Vindman said that he wasn't afraid to stand up to @POTUS, despite his father's fears for his life because, 'This is America. Here, right matters.' The onlookers in the committee room gave him an ovation," Dr. Dena Grayson, who previously ran for Congress, tweeted.
"Damn right, LTC Vindman ... 'here, right matters.' A big salute to you for standing up when others bent over," retired Colonel Morris Davis, a former military prosecutor, tweeted.
"'Here, right matters,' brought tears to my eyes," David Rothkopf, a professor and author, wrote.
Actress and comedian Rosie O'Donnell praised Vindman's remarks as well, tweeting out: "'This is America - here right matters' damn right - damn right."
Ahead of and during Vindman's public testimony to investigators on Tuesday, Republicans attempted to question his credibility and suggested he had ulterior motives for testifying against the president. The lieutenant colonel, who was appointed to the National Security Council in 2018, was on the July 25 call that took place between Trump and Ukraine's President Volodymyr Zelenskiy.
That call is now at the center of the impeachment inquiry against Trump, as the president asked Zelenskiy for "a favor" during the conversation, and to open investigations into a debunked conspiracy theory about Democrats and 2016 election interference, as well as into unsubstantiated claims against Democratic presidential candidate Joe Biden and his son Hunter. Ahead of that call, the White House had temporarily suspended nearly $400 million in military aid to Ukraine, which multiple witnesses have testified was a decision made in connection with Trump's desire to have his political rivals investigated.
In a closed door deposition last month, Vindman warned that the administration's actions could "undermine U.S. national security." He reiterated that concern during his Tuesday testimony as well.
Vindman was awarded the Purple Heart after he was wounded in the Iraq War. He went on to serve the U.S. as a foreign area officer in Ukraine and Russia, and then in the Pentagon before assuming his current National Security Council role.