Stimulus Package Passed by House a 'Missed Opportunity' Says Mitch McConnell
The $1.9 trillion coronavirus aid package passed by House Democrats has been dubbed a "missed opportunity" by Senate Minority Leader Mitch McConnell.
Early on Saturday, lawmakers passed the bill 219 to 212 largely along party lines, although two Democrats, Reps. Jared Golden (Maine) and Kurt Schrader (Ore.) — joined all the Republicans representatives in voting against it.
Based on President Joe Biden's proposal, the package includes a third round of stimulus checks of up $1,400 for individuals, a $400 boost to weekly unemployment insurance until the end of August and $8.5 billion to distribute, track and promote COVID-19 vaccines.
The package also included $350 billion for state and local governments, $130 billion to help K-12 schools reopen and expanding the child tax credit to $3,000 per child or $3,600 for children under six.
But McConnell took aim at the legislation which now heads to the Senate. "The House's partisan vote reflects a deliberately partisan process and a missed opportunity to meet Americans' needs," he said according to C-SPAN.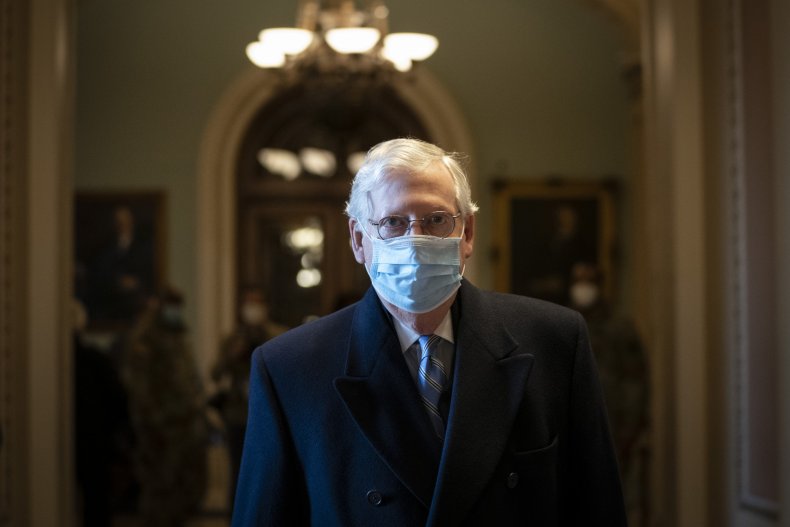 In the upper house, Democrats are expected to amend and then send the legislation back to the House for approval before unemployment insurance benefits expire on March 14.
Meanwhile, the Democratic Party's push to raise the federal minimum wage to $15 is not likely to survive the upper house. This follows the decision by the Senate Parliamentarian that it could not be part of the reconciliation process, which requires only a simple majority rather than 60 votes needed to beat the filibuster.
No Republican Party amendments, ranging from cutting the minimum wage provision to requiring K-12 schools to have reopening plans for in-person teaching to get full funding, were given floor time, The Hill reported.
"When Senate Republicans went to the White House to suggest cooperation, President Biden's team said no thanks," McConnell said.
"The White House Chief of Staff admits this liberal wish-list is 'the most progressive domestic legislation in a generation.' So much for common sense and common ground," he added.
House Minority Leader Kevin McCarthy (R-CA) criticized a Democratic proposal that in lieu of raising the federal minimum wage, penalties would be imposed on large firms paying less than $15 an hour and small businesses would be incentivised to increase workers' wages.
"The swamp is back," McCarthy said during the House floor debate. "To my colleagues who say this bill is bold, I say it's bloated. To those who say it's urgent, I say it's unfocused. To those who say it is popular, I say it is entirely partisan. It has the wrong priorities." Newsweek has contacted the White House for comment.