Bernie Sanders Won't Give Up on $15 Minimum Wage, 'We Are Going To Deal With This'
Senator Bernie Sanders (I-VT) has taken aim at the official who ruled that raising the federal minimum wage cannot be folded into a COVID relief package, saying those championing the $15 rate will continue their fight.
The comments by Sanders came soon after Senate Parliamentarian Elizabeth MacDonough ruled the Raise the Wage Act 2021 did not meet budget rules that would allow it to go through the upper house with a simple majority.
Democrats had hoped that as part of the American Rescue Plan, the wage hike would bypass the 60-vote legislative filibuster.
Describing the ruling as a "setback", Sanders told a virtual town hall organized by People's Action that the "incredibly obtuse and undemocratic rules of the Senate" meant there was an "unelected parliamentarian" who decided if the minimum wage could be part of the overall bill.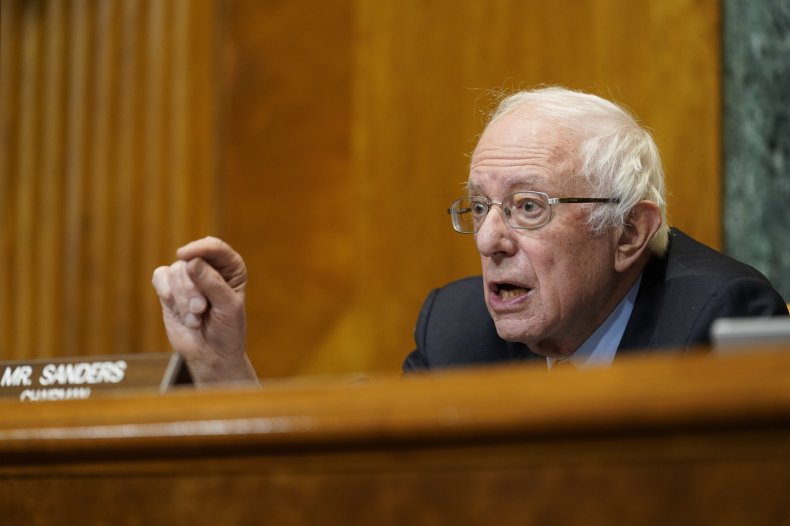 He said "the decision is part of an absurd situation" in which the House of Representatives, President Joe Biden and "60 percent of the American people in polls want to raise the minimum wage," which has been $7.25 since 2009.
"I believe that in a large package, we can barely—but we could do it—get the Senate to approve that," Sanders, who is chair of the Senate Budget Committee, said on Thursday night.
"You have got an unelected parliamentarian...denying 30 million Americans a pay raise. So, we are going to deal with this, I don't want anyone out there to think that we have given up.
"We have got a number of ideas about how we are going to come back but that is certainly not good news," added Sanders.
In a separate statement, Sanders said he would work toward an amendment that "must be included in this reconciliation bill" that would take tax deductions away from large corporations that do not pay at least $15 an hour and to give small businesses incentives to raise wages.
The Congressional Progressive Caucus (CPC) has also said it would continue to fight for a raise to the minimum wage, although some small businesses hit hard by the pandemic are concerned at the provision.
MacDonough's decision is an advisory one and although Vice President Kamala Harris could overrule her, White House Chief of Staff Ron Klain told MSNBC "that's not something we would do."
West Virginia Democratic Senator Joe Manchin has also said he does not want to skirt the Byrd Rule, which prohibits adding "extraneous" measures to the budget process.
White House Press Secretary Jen Psaki said Biden was "disappointed" but "respects the parliamentarian's decision and the Senate's process."
"He will work with leaders in Congress to determine the best path forward because no one in this country should work full time and live in poverty," Psaki said. Newsweek has contacted the White House for further comment.
The graphic below provided by Statista shows the minimum wage state by state.