White House Hedges On Support for Tax on Large Companies Paying Less than $15 an Hour
Some Democrats are proposing a backup plan for a minimum wage hike now that the Senate Parliamentarian ruled the initial provision out of President Joe Biden's $1.9 trillion COVID-19 relief bill. While the White House has not opposed the new proposal, it has also stopped short of throwing its support behind a new tax.
On Friday, Budge Committee Chairman Bernie Sanders and Senate Finance Committee Chairman Ron Wyden suggested that large companies that pay their workers less than $15 an hour should be taxed as part of an effort to fight for a fair wage increase.
Congressional Democrats had originally pushed for the federal minimum wage to go up to $15 an hour but are now looking for new ways to support these workers now that the such an increase has been ruled out for procedural reasons.
The alternative has also earned the support of GOP Senator Josh Hawley who has joined Sanders and Wyden in calling for big corporations to face taxation for underpaying workers a fair wage.
"Mega-corporations can afford to pay their workers $15 an hour, and it's long past time they do so, but this should not come at the expense of small businesses already struggling to make it," Hawley said in a Friday statement.
The Biden administration is focused on passing the bill quickly, whether or not there will be an inclusion to hike up the minimum wage for the first time since 2009, from $7.25 an hour. Time is ticking for the Democrats, who have until March 14 before current coronavirus unemployment benefits expire.
"We recognize there will be continued conversation on this proposal and others as the legislative process plays out over the coming days," a White House spokesperson told The Hill. "Meanwhile our focus will be on the urgent priority of getting this package passed and delivering the relief that is so desperately needed — $1,400 rescue checks for most Americans, funding to get this virus under control, aid to get our schools reopened and desperately needed help for the people who have been hardest hit by this crisis."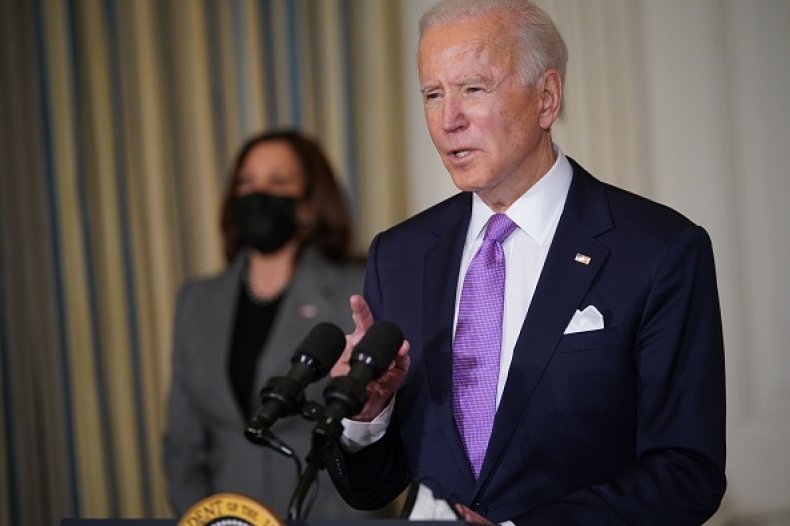 Although the White House has made it clear that it is focused on passing legislation, some Senate Democrats are not backing down from providing minimum wage workers with more dollars.
"The American people elected Democrats to get things done, and they aren't going to accept 'process' as an excuse for failing to deliver on an overwhelmingly popular policy," Wyden said. "We couldn't get in the front door or the back door, so we'll try to go through the window."
Senator Joe Manchin, a centrist Democrat, derailed his colleagues' plans when he blocked a simple majority vote in announcing he would oppose the $15 minimum wage hike last week, offering an $11 increase instead.
Senate Republicans have also tried to provide an alternative to the $15. Senators Mitt Romney and Tom Cotton introduced a bill earlier this week that would bring up the minimum wage to $10 an hour.
Many labor advocates, however, have refused to accept anything less than $15, which they have argued is already a compromise since the rate has not been adjusted for inflation since the proposal was first floated back in 2012.
Progressive Democrats have also called for the removal of Senate Parliamentarian Elizabeth MacDonough after she decided the Raise the Wage Act 2021 does not fall within the remit of budget rules. It is if Vice President Kamala Harris will overrule the decision, though the White House has previously indicated it supports the parliamentarian's ruling.
Newsweek reached out to the White House for further comment but did not hear back before publication.