Mitt Romney Concedes Trump's 'Hold' Over GOP Base 'Unlikely to Be Swayed by Almost Anything'
Senator Mitt Romney conceded that former President Donald Trump's "hold" over the GOP is "unlikely to be swayed" despite an ongoing grand jury investigation in New York that could lead to criminal charges against the former commander in chief.
Prosecutors in New York have convened a grand jury as part of a criminal investigation into Trump and his business practices, The Washington Post first reported this week. Although Trump and his business—the Trump Organization—have been under investigation for some time, legal experts have said the convening of a grand jury demonstrates the seriousness of the charges being considered. But Romney and other Republicans are skeptical that the investigation or any possible charges will have much influence on GOP voters.
"I wouldn't want to speculate on what his legal future might be and as to what impact that would have on politics. You'd have to talk to some pundits," the Utah Republican told The Hill in an article published Thursday morning. "He seems to have a pretty good hold on the base of our party. I think that's unlikely to be swayed by almost anything."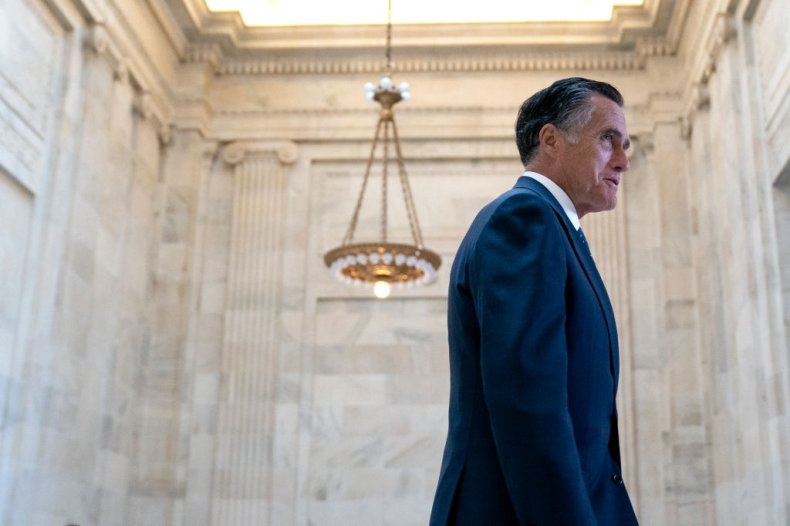 However, Romney—a staunch Trump critic—noted that the former president is facing "a long list" of possible charges and will have to "deal with" the legal issues. "We'll see whether there's some there there or not," the senator said.
Romney has long been critical of Trump and is the only Republican who voted to convict the former president in both of his Senate impeachment trials. Despite his opposition to Trump and his faction within the GOP, the senator appears to be clear-eyed about Trump's influence over his party. A poll released by Quinnipiac University on Wednesday showed that two-thirds of Republican voters want Trump to run again for president in 2024, while only a quarter are opposed.
Some Republicans allied with Trump dismissed the possibility that the grand jury investigation will negatively affect the former president.
"I've heard so much about what's going to happen to Trump I just tune it all out," Senator Lindsey Graham, a South Carolina Republican, told The Hill. "I don't think anything coming out of New York is going to affect Trump very much."
Trump has blasted the grand jury investigation, calling it "a continuation of the greatest Witch Hunt in American history."
"This is purely political, and an affront to the almost 75 million voters who supported me in the Presidential Election, and it's being driven by highly partisan Democrat prosecutors," he said in a Tuesday post on his personal blog.
Newsweek reached out to Trump's office for further comment but did not immediately receive a response.