Mitt Romney Compares U.S. to Authoritarian Belarus if Trump Refuses to Leave Office
Senator Mitt Romney has suggested that a peaceful transition of power is a central tenet of U.S. democracy that deters authoritarianism, in a tweet he sent hours after President Donald Trump declined to commit to accepting the results of the forthcoming election.
The Utah senator did not mention Trump by name in his tweet, which took aim at the prospect of the president not leaving office should he be defeated on November 3.
When asked on Wednesday if he would ensure a peaceful transition to the next administration, Trump responded cryptically and tried to cast doubt on the security of mail-in ballots.
"We're going to have to see what happens, you know, but I've been complaining very strongly about the ballots. The ballots are a disaster," Trump said.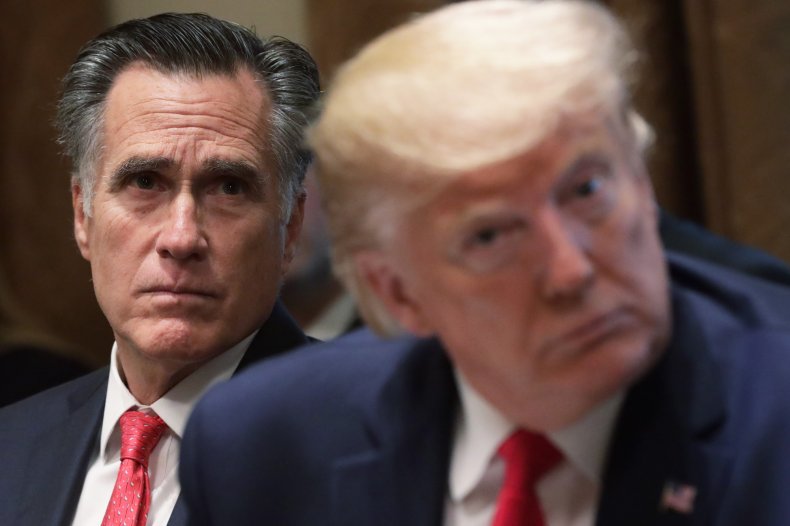 "Get rid of the ballots and you'll have a very peaceful—there won't be a transfer, frankly. There will be a continuation," Trump said. "The ballots are out of control. You know it, and you know who knows it better than anyone else? The Democrats know it better than anyone else," Trump added.
Trump was revisiting his position that mail-in voting would rig the election, despite experts saying there is no evidence for this. In June, Trump told Fox News' anchor Chris Wallace he would "have to see" if he would accept the election results.
Hours after Trump's comments, Romney tweeted: "Fundamental to democracy is the peaceful transition of power; without that, there is Belarus. Any suggestion that a president might not respect this Constitutional guarantee is both unthinkable and unacceptable." Newsweek has contacted the White House for comment.
Romney's reference to Belarus came on the day the eastern European country's police arrested hundreds of protesters opposing the swearing-in of strongman leader Alexander Lukashenko for his sixth term in office, following a disputed election last month. The U.S. state department has said it "cannot consider" Lukashenko the legitimately elected leader of Belarus.
Romney is one of the few Republican senators willing to criticize Trump publicly and last month called Trump's opposition to mail-in voting "a political calculation."
The 2012 Republican presidential contender has also slammed Trump's response to the coronavirus pandemic as well his decision to commute the sentence of former adviser Roger Stone. Romney was also the only Republican to vote for Trump's removal from office during the impeachment trial.
Despite his occasional opposition to Trump, Romney said this week he would back a Senate confirmation vote for the president's U.S. Supreme Court nominee to replace the late liberal Justice Ruth Bader Ginsburg.
As with his criticism of Trump regarding the need for a peaceful transition of power, Romney cited the Constitution in his defense of the president's right to nominate a Supreme Court contender.
"I intend to follow the Constitution and precedent in considering the President's nominee. If the nominee reaches the Senate floor, I intend to vote based upon their qualifications," Romney said in a statement.