Mitt Romney Says Trump Will Be Re-Elected
Republican Utah Senator and 2012 presidential candidate Mitt Romney said today that he expects President Donald Trump to get re-elected in the November 2020 presidential elections. He also expects Republicans to maintain control of the Senate.
"I'm confident that we will keep the majority in the Senate," Romney told reporters after a Republican Senate luncheon. "And I actually have long predicted the president will be re-elected. I continue to think that's the case."
According to a June 6 New York Times article which cited "people familiar with [his] thinking," Romney isn't expected to vote for Trump in the November elections and may write in his wife's name or vote for a different candidate altogether.
"I'm not going to be describing who I'll be voting for," Romney told reporters on Monday.
Romney was the only Republican Senator to vote to convict Trump on one of two articles of impeachment in the February 2020 impeachment proceedings.
On Monday, Trump—who has previously referred to Romney as a "fool" and a "failed presidential candidate"—mocked Romney for marching in a Black Lives Matter protest. Trump wrote, "Tremendous sincerity, what a guy. Hard to believe, with this kind of political talent, his numbers would 'tank' so badly in Utah!"
Romney replied that Trump had "time to do whatever he feels is appropriate" and said he presumed Trump would support efforts to reform police given his previous voicing of concern over the death of George Floyd, a black man killed by a white Minneapolis police officer who kneeled on his neck for nearly nine minutes.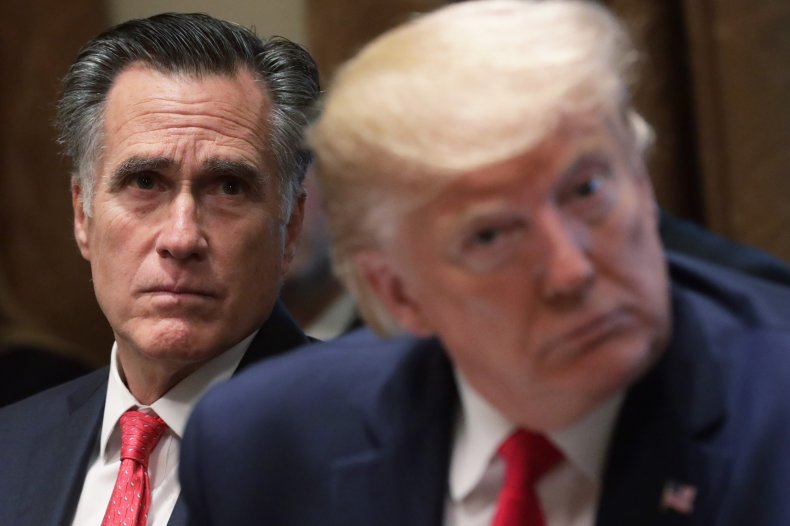 Romney's prediction about Trump bumps up against recent polling that shows Trump losing ground to Democratic presidential nominee Joe Biden.
In three swing states that Trump won in 2016—Michigan, Pennsylvania and Arizona—Biden is leading Trump in most polls by more than 3 percentage points.
Trump's approval rating has also suffered, with 54.8 percent of voters disapproving of his performance, particularly after his handling of the coronavirus pandemic and the protests against police brutality following Floyd's murder on May 25.
A June 8 report from Political Wire also said that Trump's approval and disapproval numbers resemble those of Jimmy Carter and George H.W. Bush, the last two presidents to be defeated for a second term.
However, a June 1 ABC/Post survey revealed that Biden trails Trump in terms of voter enthusiasm. While 87 percent of registered Republican supporters of Trump said they would "definitely" vote for him on November 3, less than 75 percent of registered Democratic supporters said the same of their candidate.
Newsweek reached out to the Trump campaign for comment. This story will be updated with any response.