Trump Supporter Calls Mitt Romney 'Absolute Joke' in Airport Viral Video
A video of Mitt Romney being called "an absolute joke" by an angry Donald Trump supporter has gone viral.
In the clip, an unidentified woman at a Utah airport can be heard criticising the Republican senator and asking him why he is not supporting the president.
It comes after Romney joined a bipartisan group of senators rejecting efforts to stop Joe Biden's victory being certified by Congress on Wednesday.
The video, posted on Tuesday by a Twitter account named Qtah, has been viewed more than 2.9 million times and has racked up more than 21,000 likes and 31,000 retweets.
It shows a woman, who says she is a Republican voter, approaching Romney at Salt Lake City airport as he waits to board a plane to Washington, D.C.
Romney asks her to put her mask, saying it is required by law in the airport. She replies: "Don't tell me what to do."
The woman then adds: "I'm standing six feet away. OK, I'll tell you what. I'm going to do it because I want to have a chat with you."
The woman then asks: "Why aren't you supporting President Trump? You're not supporting him."
Romney answers: "I do support President Trump. I'm sorry, I do agree with many of the things he's for and I support him."
But the woman continues to press the senator, insisting that he does not support the president before asking about whether he will back him over the election.
Romney says: "It's a long story but it's a constitutional process and the Constitution is clear. I will follow the Constitution and I will explain all that when we meet in Congress this week."
The woman then says: "You were voted in as a conservative to represent the conservative constituents. Period."
"Actually, that's not how the Constitution works," Romney replies before closing his laptop and collecting his belongings.
As he moves to walk away, the women says: "It is. You're voted in to represent us. You work for us. Am I wrong?"
He says: "I work for the people of Utah," to which she responds, "Exactly and I am from Utah."
She then says: "There's a lot of people who didn't vote for you. I wouldn't be surprised if you weren't even voted in legally. You're a joke, an absolute joke, it's a disgusting shame."
A second video, which has 1.6 million views, shows Trump supporters yelling "Traitor" at Romney during the flight to Washington. Romney is believed to be sitting further ahead, although he cannot be seen in the clip.
A group of people can be seen with their masks pulled down, chanting "Traitor" and "Traitor Mitt." One woman also shouts: "Resign Mitt. We want to know your connection to Burisma and Joe Biden, Mitt Romney."
The senator is then defended by a woman, who yells: "We love you, Mitt Romney, you're great, you're doing awesome. I'm one of your constituents and I think you're doing wonderful."
Another passenger then says: "You're one of maybe a million who think opposite of you."
Many Trump loyalists have been travelling to D.C. to attend a "Stop the Steal" march on Wednesday.
Trump and his supporters continue to make unfounded claims that President-elect Biden won the election because of widespread voter fraud. These allegations have been rejected or dismissed in more than 50 legal challenges brought to state and federal courts. Even multiple judges appointed by Trump and other Republicans have ruled against the president and his supporters.
Last week, Romney released a statement saying Trump's attempts to overturn the result were an "egregious ploy" that "dangerously threatens our Democratic Republic.
He said: "The congressional power to reject electors is reserved for the most extreme and unusual circumstances. These are far from it. More Americans participated in this election than ever before, and they made their choice. President Trump's lawyers made their case before scores of courts; in every instance, they failed. The Justice Department found no evidence of irregularity sufficient to overturn the election. The Presidential Voter Fraud Commission disbanded without finding such evidence."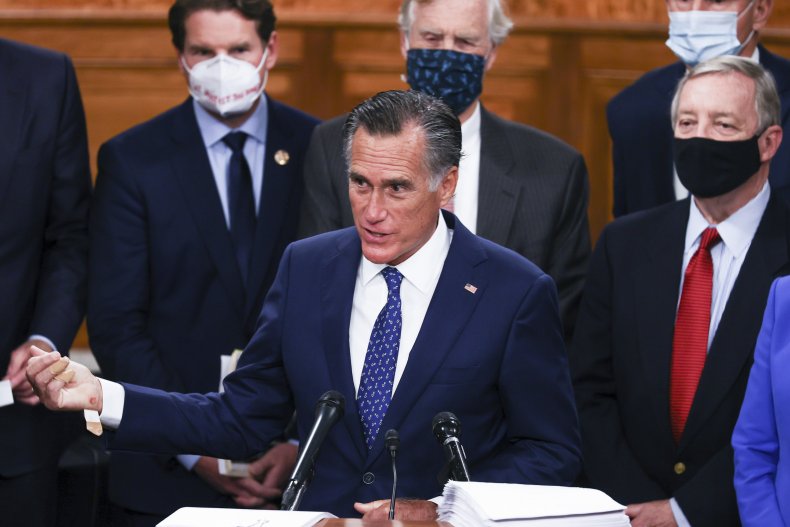 It comes as Senate Republicans Josh Hawley and Ted Cruz lead an effort to object to the election results certification in Congress on Wednesday.
On Sunday, 10 of their Senate colleagues—including Republicans Romney, Lisa Murkowski of Alaska, Susan Collins of Maine and Bill Cassidy of Louisiana—said their actions would "undermine" voters' confidence in elections.
"The 2020 election is over. All challenges through recounts and appeals have been exhausted. At this point, further attempts to cast doubt on the legitimacy of the 2020 Presidential election are contrary to the clearly expressed will of the American people and only serve to undermine Americans' confidence in the already determined election results," the lawmakers said.
"The voters have spoken, and Congress must now fulfill its responsibility to certify the election results."