More GOP Senators Oppose Contesting Biden's Win on Eve of Election Certification
Several Republican senators on Tuesday announced that they will not support the effort by members of their party to overturn President Donald Trump's loss.
Four Republicans in the upper chamber—Tim Scott (R-S.C.), Jerry Moran (R-Kan.), James Inhofe (R-Okla.) and John Boozman (Ark.)—revealed they will oppose their party's endeavor on Wednesday to challenge the legitimacy of President-elect Joe Biden's victory in what is expected to play out as a made-for-TV spectacle that, if successful, would amount to subverting the will of American voters.
"Our Constitution is a magnificent document—and this is coming from a man who was not even fully counted as a man in the original version," Scott, who is Black, said in a statement. "[T]here is no constitutionally viable means for the Congress to overturn an election wherein the states have certified and sent their Electors."
The last-ditch venture to strip Biden of his win by objecting to certify the Electoral College result will undoubtedly fail, despite a growing number of Republicans jumping on board. At least 140 House Republicans are expected to back the move. The politically charged gambit has been used as a fundraising opportunity and will play out as a grand finale test of loyalty to the departing commander in chief.
The quartet of Republican senators joined several of their colleagues in warning that the plan for at least 13 GOP senators—led by Josh Hawley (R-Mo.) and Ted Cruz (R-Texas)—to object to Biden's victory would be unconstitutional and set a dangerous precedent.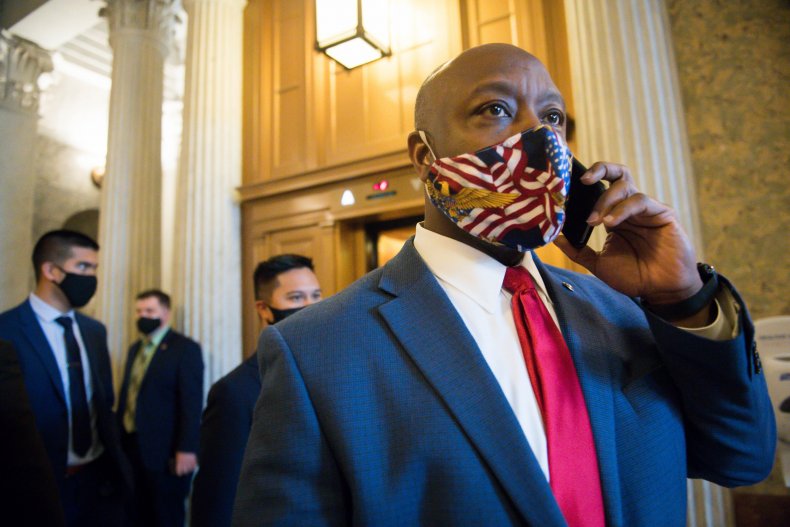 Inhofe is chairman of the Senate Armed Services Committee and a conservative ally to Trump. Still, the longtime lawmaker said it would "violate" his oath to the Constitution to overturn the election results.
"My job on Wednesday is clear, and there are only two things I am permitted to do under the Constitution: ensure the electors are properly certified and count the electoral votes, even when I disagree with the outcome," Inhofe said in a statement. "To challenge a state's certification, given how specific the Constitution is, would be a violation of my oath of office—that is not something I am willing to do and is not something Oklahomans would want me to do."
Moran, chairman of the Senate Veterans Affairs Committee and who is up for re-election in 2022, warned that Congress would be "undermining our democracy" by reversing the election outcome. He also noted that the Trump campaign's dozens of legal filings failed to produce evidence of widespread irregularities, as the president and his allies continue to allege without proof.
"To vote to reject these state-certified electoral votes would be to act outside the bounds of the Constitution, which I will not do," Moran wrote in an op-ed. "[I]n every instance, the judgments were clear, and no judge or Supreme Court justice—including those appointed by President Trump—determined there was evidence sufficient to change the results of the election."
Boozman added in a statement that Congress "does not have the legal authority to change the outcome of the presidential election."
The 13 Senate Republicans expected to challenge the results consist of: Hawley, Cruz, Tommy Tuberville (Ala.), Kelly Loeffler (Ga.), Mike Braun (Ind.), Roger Marshall (Kan.), John Kennedy (La.), Steve Daines (Mont.), James Lankford (Okla.), Marsha Blackburn (Tenn.), Bill Hagerty (Tenn.), Ron Johnson (Wis.) and Cynthia Lummis (Wyo.).
Senate GOP leadership, including Senate Majority Leader Mitch McConnell (R-Ky.) and his top deputies like Majority Whip John Thune (S.D.) and Roy Blunt (Mo.), have publicly lobbied against the endeavor. And hardline conservatives and Trump loyalists like senators Tom Cotton (Ark.) and Lindsey Graham (S.C.) oppose the move.
However, leadership's messaging trying to steer the conference away from engaging in the controversial process has become quieter in recent weeks as more Republicans have joined the movement and fractured the party.
This story was updated to include a statement from Sen. Boozman. This is a developing story and will be updated with any additional, relevant information as it becomes available.