Mitt Romney Wants Parents to Receive Hundreds of Dollars Per Child Monthly Till They Turn 18
Senator Mitt Romney, a Utah Republican, put forward a plan that would provide the vast majority of American parents with $350 per month for each child under 6 years of age, and $250 per month for children ages 6 to 17.
The Romney plan comes as Democratic lawmakers are working to put forward a similar proposal. President Joe Biden has pushed for significantly expanding benefits going to children.
Romney's Family Security Act could potentially become a point of bipartisan compromise, as Democrats aim to increase child benefits through Biden's proposed $1.9 trillion COVID-19 stimulus package.
"American families are facing greater financial strain, worsened by the COVID-19 pandemic, and marriage and birth rates are at an all-time low," Romney said in a statement emailed to Newsweek.
"On top of that, we have not comprehensively reformed our family support system in nearly three decades, and our changing economy has left millions of families behind. Now is the time to renew our commitment to families to help them meet the challenges they face as they take on most important work any of us will ever do—raising our society's children," he said.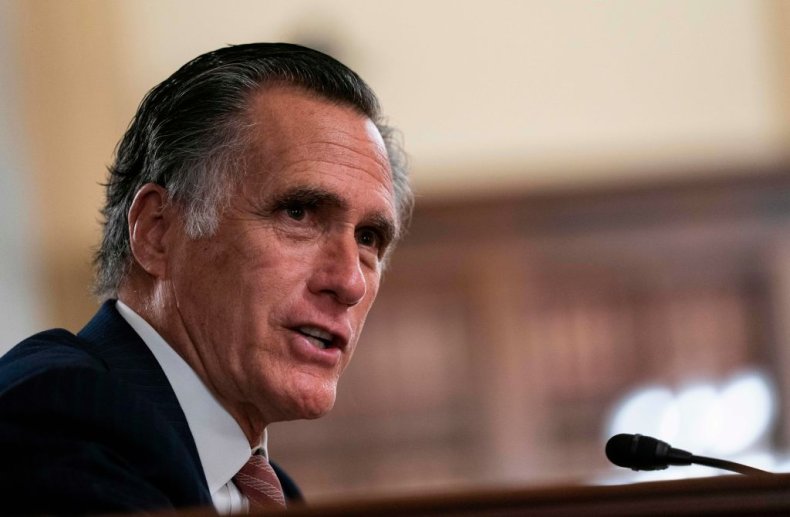 Under Romney's plan, parents earning a combined income of $400,000 would receive $350 per month for children from birth until 6 years of age. Parents would then receive $250 per month for children 6 years of age through the age of 17. The benefits would be capped at up to $1,250 per month for each family. The GOP lawmakers plan would distribute the money through the Social Security Administration.
Meanwhile, Democrats are working on a similar proposal through Biden's COVID-19 relief plan that would provide up to an additional $1,600 annually in child tax credits. That plan would raise the benefit from the maximum amount of $2,000 to $3,600 annually. The Democratic proposal would distribute the money through the IRS instead of the Social Security Administration.
Romney's proposal would replace current child tax credits and the Temporary Assistance for Needy Families program—which will likely lead to Democratic pushback. However, Romney's plan would provide up to $4,200 per year for children aged 0 to 5, and $3,000 per year for children 6 to 17. The Democratic plan would provide up to $3,600 annually.
A report published Thursday by the Niskanen Center, a Washington, D.C.-based think tank, said its analysis of Romney's proposal "would reduce U.S. child poverty by roughly one third, and deep child poverty by half."
"A monthly child allowance enables the consolidation of duplicative policies and programs," the think tank assessed.
Ernie Tedeschi, an economist who served in the Treasury Department under former President Barack Obama, spoke favorably of Romney's plan.
"Romney's proposal shows that there's substantial bipartisan agreement around expanding child benefits," Tedeschi told The Washington Post. "A permanent expansion along the lines of what Senator Romney or President Biden have proposed would be among the most pro-family, anti-poverty policies in a generation."