Miya Marcano Was Kidnapped and Taken Out of Window, Family Says as Search Enters Sixth Day
Miya Marcano's family reportedly said that the 19-year-old Valencia College student was kidnapped and taken out of her bedroom window in Orlando, Florida.
As the search for Marcano enters its sixth day, the family believes that she is still alive and that new evidence in her room indicated that she wasn't taken out the front door, Orlando's WESH reported.
The young woman was last seen at Arden Villas Apartments, where she worked and lived near the University of Central Florida. Deputies searched around the complex, but haven't found her.
"Miya was kidnapped. Miya was kidnapped out of her room at Arden Villas through her bedroom window. I'm calling on all resources, the FBI, we need you," Miya's aunt, Semone Westmaas said, according to the news outlet. "We want Miya to be found, and whoever is involved, if there was more than Armando, we're asking you to find them."
Florida police are still searching for Marcano, who was supposed to travel from Orlando to Fort Lauderdale on Friday night to visit her family. However, she never made it to the flight. No one has heard from her since, according to the Orange County Sheriff's Office.
Her father Marlon Marcano said he spoke to his daughter that Friday afternoon but has not heard from her when she got off work.
Residents at Arden Villas received a letter stating that police will be searching storage units and garages Thursday, according to WESH.
"Our understanding is that there will be teams out at the Arden Villa apartments today. This is still very much an active investigation," the Orange County Sheriff's Office told Newsweek on Thursday, adding that there are no further updates at the moment.
On Monday, the Orange County Sheriff's Office learned that Armando Manuel Caballero, a person of interest in Marcano's disappearance, was found dead by the Seminole County Police. It's believed that he committed suicide.
According to Orange County Sheriff John Mina, Caballero worked in maintenance at the apartment complex and was reportedly romantically interested in Marcano who didn't feel the same way.
Newly released footage that was reportedly shot on Saturday, one day after the young woman disappeared, showed a man matching the description of Caballero parking a silver Ford Fusion and walking into a nearby building with a blanket and a backpack. Police said that the car matches the same vehicle that belongs to Caballero.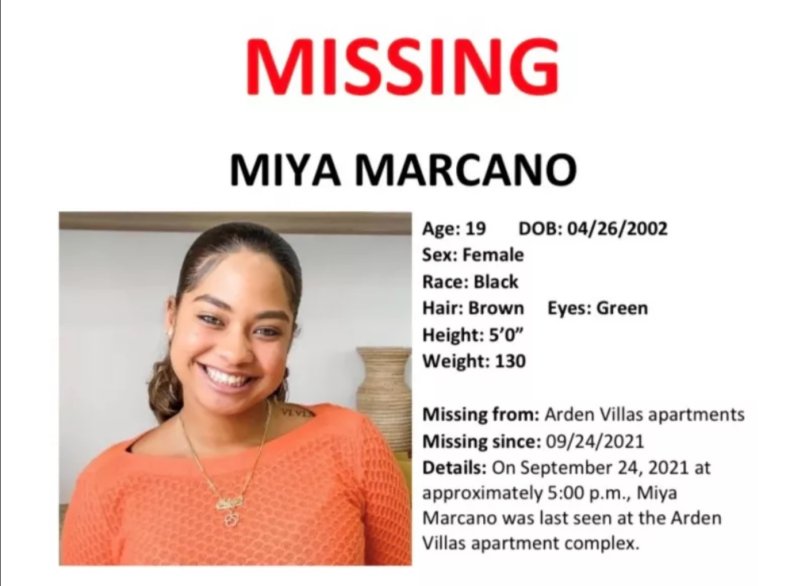 The family told WFTV that they believe that the items in Caballero's bag belonged to Marcano.
Prior to his death, Caballero told investigators that he last saw Marcano around 3 p.m. on Friday, around two hours before she disappeared. Sheriff Mina said that the police later learned that Caballero used a master key around 4:30 p.m. to enter Marcano's house without permission.
An arrest warrant to arrest Caballero was later issued on burglary charges, the sheriff's office told Newsweek on Wednesday. The police also discovered suspicious items in Marcano's apartment and the apartment where Caballero's body was found but didn't disclose further details.