ALCS Dates 2019: Updated Houston Astros vs. New York Yankees Schedule, TV Times
The New York Yankees and the Houston Astros enjoyed an unscheduled day off as Mother Nature intervened to disrupt the American League Championship Series.
Game 4 between the Yankees and the Astros was scheduled for Wednesday night at Yankee Stadium but was called off due to inclement weather.
The game has been rescheduled for Thursday night with first pitch at 8:08 p.m. ET, while Game 5, which will also be in New York, has been moved by a day to Friday, with first pitch at 7:08 p.m. ET.
Friday was originally scheduled to be a day off; the two teams would have used it to travel to Houston, Texas, if necessary.
Should Game 6 and Game 7 still be required, they will be played on Saturday and Sunday in Houston as originally planned, which means the two teams could play four games in consecutive days.
Game 4 was the first playoff game to be postponed since Game 4 of the National League Division Series between the Chicago Cubs and the Washington Nationals in 2017.
Championship Series in both leagues had not been postponed since Game 3 of the 2014 American League Championship Series, between the Baltimore Orioles and the Kansas City Royals, was called off.
The postponement has had an impact on both teams' rotation, giving the managers a chance to bring back their their Game 1 starters—Zack Greinke for the Astros and Masahiro Tanaka for the Yankees—back for Game 4.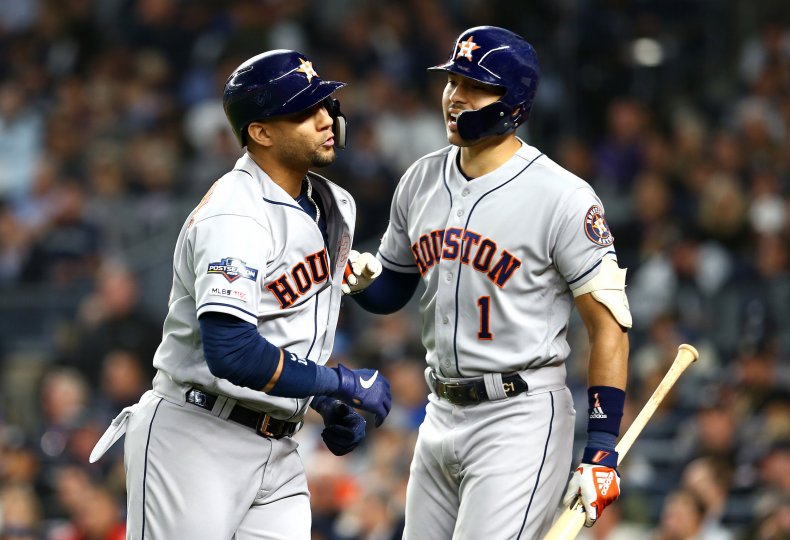 "It gives everybody a day off and an opportunity to collect ourselves," Astros manager A.J. Hinch was quoted as saying by ESPN.
"It changes our pitching a little bit; how beneficial is probably easier to answer after I see how guys perform and how the pitching plays out."
In Game 5, meanwhile, the Yankees are likely to turn to James Paxton, while the Astros will start Justin Verlander.
Playing four days in a row, however, will stretch the Yankees' bullpen.
New York's relievers are arguably the best in the majors and they have relied on them heavily so far in the postseason—Tanaka is the only Yankees pitcher to record at least five innings in each of his playoff starts this season—but they will need to be managed carefully with four matches in as many days.
"They're going to need to give us some innings if we're going to be successful," Yankees manager Aaron Boone was quoted as saying by The New York Times on Wednesday.
After losing the opening game at home, Houston regained home field advantage and took a 2-1 lead in the series after winning 4-1 at Yankee Stadium on Tuesday night.
The Astros took an 2-0 lead in the first two innings as Jose Altuve and Josh Reddick homered off Luis Severino, before Gerrit Cole kept the Yankees scoreless.
Houston extended its lead to 4-0 in the seventh, before the Yankees pulled one back in the eighth inning.
American League Championship Series updated schedule (All times ET)
Thursday, October 17
Game 4: Houston Astros @ New York Yankees—8:08 p.m., FS1
Friday, October 18
Game 5: Houston Astros @ New York Yankees—7:08 p.m., FS1
Saturday, October 19*
Game 6: New York Yankees @ Houston Astros—8:08 p.m., FS1
Sunday, October 20*
Game 7: New York Yankees @ Houston Astros—7:38 p.m., FS1
*If necessary
ALCS Dates 2019: Updated Houston Astros vs. New York Yankees Schedule, TV Times | Sports