Which MLB Teams Are Allowing Fans at Games This Season? Breakdown for All 30 Ballparks
Baseball is back and while it will still look different than it did in the pre-coronavirus age, the new MLB season will be far closer to normality than its previous iteration.
After the league squeezed in a 60-game regular season sprint as the COVID-19 outbreak ground sports to a halt last year, this season will feature the full 162-game marathon.
More significantly, after playing behind closed doors last season, all 30 teams will allow fans inside ballparks this year. Some, like the Boston Red Sox Washington Nationals, will operate at 12 percent of capacity, but Globe Field will be a packed house for the Texas Rangers' season opener.
Here's a breakdown of how many fans each team will allow into their ballparks this season.
American League
Baltimore Orioles
While Maryland Gov. Larry Hogan said last month that large venues can operate at 50 percent of capacity, the Orioles will allow approximately 11,000 fans at Camden Yards, which amounts to 25 percent of capacity. Additionally, Opening Day tickets are only available to plan holders.
Boston Red Sox
Having served as mass vaccination site, Fenway Park will revert to its traditional role of ballpark from April 1. The Red Sox, however, will be limited to welcome approximately 4,500 fans, or 12 percent of capacity.
Chicago White Sox
The White Sox had hoped Chicago authorities would allow them to operate Guaranteed Rate Field at 30 percent of capacity, but had to settle for 25 percent instead. Only 9,000 fans, approximately 22 percent of capacity, will be allowed to attend the home opener against the Kansas City Royals next week.
Cleveland Indians
The Indians will allow 10,500 fans at Progressive Field at the beginning of the season. The team, however, has already indicated it will look to increase capacity each month from the current level, which amounts to approximately 30 percent of capacity.
Detroit Tigers
Comerica Park will operate at 20 percent capacity on Opening Day, meaning approximately 8,200 fans will be able to attend the Tigers game against the Indians.
Kansas City Royals
The Royals will welcome approximately 10,000 fans for their Opening Day game against the Texas Rangers and plan to increase attendance at Kauffman Stadium from the current 30 percent capacity each month throughout the season.
Los Angeles Angels
The Angels received good news earlier this week, when Orange County allowed them to increase their planned capacity from 20 to 33 percent. That means approximately 14,800 will be able to attend the game against the White Sox on Opening Day at Angel Stadium of Anaheim.
Minnesota Twins
Target Field will operate at a 25 percent capacity—approximately 10,000 fans— when the Twins welcome the Seattle Mariners for their home opener on April 8.
New York Yankees
Yankee Stadium will operate at 20 percent of capacity on Opening Day against the Blue Jays. As per New York state guidelines, however, spectators must provide proof of vaccination or of a negative COVID-19 test carried out no longer than 72 prior to the event they want to attend.
The team has said it hopes to increase capacity from next month.
Oakland Athletics
While venues in Alameda County can operate at 33 percent of capacity, the A's will have to make do with 26 percent as they can't adhere with the state's requirements of pods of two and four fans. That means the Oakland Coliseum will welcome 12,200 fans on Opening Day against the Houston Astros.
Seattle Mariners
T-Mobile Park will operate at 20 percent capacity when the Mariners host the San Francisco Giants on Opening Day, with approximately 9,000 fans expected to attend.
Tampa Bay Rays
Like the Mariners, the Rays will also welcome 9,000 fans for their home opener next week as Tropicana Field is set to operate at 20 percent capacity. Rays president Matt Silverman said in a statement last month that the team was "hopeful conditions will continue to improve, allowing for more fans to join as the season progresses."
Texas Rangers
Globe Life Field will be at full capacity on Opening Day against the Toronto Blue Jays, but capacity in the 40,518 venue will be reduced to allow for socially-distanced seating options.
Toronto Blue Jays
The Blue Jays won't play in Canada until the second half of the season at the earliest and will play their home games at TD Ballpark, their spring facility in Dunedin, Florida. The venue will allow just under 1,300 fans, amounting to 15 percent of capacity.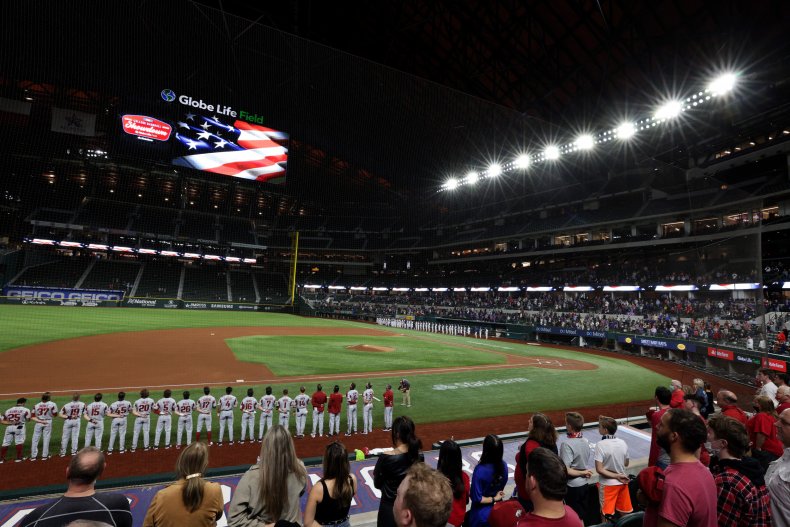 National League
Arizona Diamondbacks
The Diamondbacks will welcome 20,000 fans for their home opener against the Cincinnati Reds next week, after Arizona Gov. Doug Ducey lifted some of the state's COVID-19 restrictions earlier this week. The move allowed the team to sell an additional 8,000 tickets, meaning Chase Field will operate at 42 percent capacity.
Atlanta Braves
Trust Park will operate at 33 percent capacity and welcome approximately 13,500 fans for the Braves home opener against the Philadelphia Phillies next week. The team has said capacity will be re-evaluated after each home stand.
Chicago Cubs
Wrigley Field will be a quarter full when the Cubs take on the Pittsburgh Pirates on Opening Day. Like the White Sox, the Cubs were denied permission to operate their ballparks at 30 percent capacity and got approval to fill 25 percent of seats, which amounts to 10,000 fans at Wrigley Field.
Cincinnati Reds
The Reds will play in front of around 12,700 fans when they take on the St. Louis Cardinals on Opening Day. The figure amounts to 30 percent of Great American Ballpark's capacity.
Colorado Rockies
The Rockies will welcome over 21,000 fans on Opening Day after the Colorado Department of Public Health last month raised the capacity venues could operate at from 25 to 42.6 percent.
Houston Astros
Like the Rangers, the Astros were given the green light to operate Minute Maid Park at full capacity, but opted to settle on operating at 50 percent instead. That means that in April at least, not more than 20,500 fans will attend the Astros' home games.
Los Angeles Dodgers
Dodger Stadium will operated at around 24 percent of capacity for the beginning of the season, with between 13,000 to 14,000 fans allowed. The percentage is slightly lower than the 33 percent capacity L.A. County allows large venues to operate that, but the Dodgers had to settle for it in order to comply with the state's social-distancing requirements.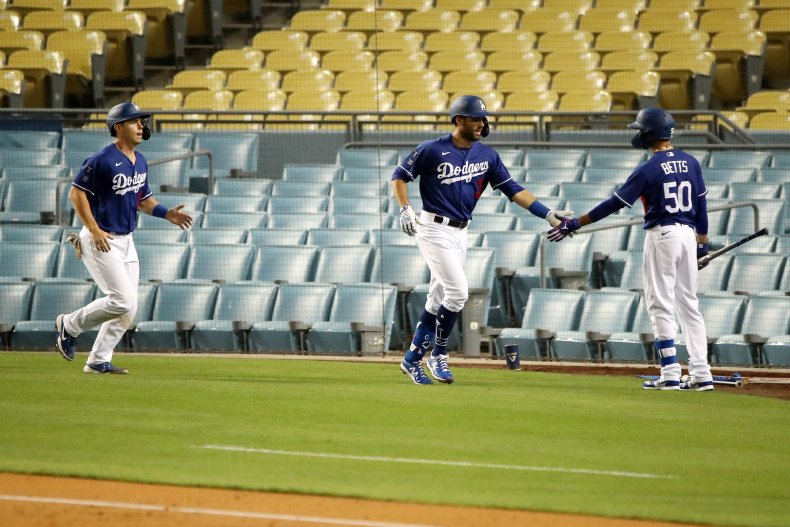 Miami Marlins
Like several other ballparks, Marlins Park will operate at 25 percent capacity with around 9,400 fans allowed in.
Milwaukee Brewers
The Brewers will welcome just under 10,500 fans—25 percent of capacity—at American Family Field for Opening Day, but have already stated they hope to "work toward increasing the capacity if health metrics continue to improve."
New York Mets
The Mets can host up to 8,400 fans to begin the season, or 20 percent capacity of Citi Field. The same state requirements that apply to Yankee Stadium will be in force at Citi Field.
Philadelphia Phillies
The Phillies will welcome around 8,600 fans—around 20 percent of capacity—at Citizens Bank Park when they take on the Braves on Opening Day.
Pittsburgh Pirates
PNC Park will operate at 20 percent of capacity at the beginning of the season, meaning 7,600 people will be allowed into the ballpark. The figure, however, includes not just fans but team employees as well.
San Diego Padres
Around 8,000 fans will be allowed at Petco Park for the Padres game against the Diamondbacks on Opening Day. The figure represents around 20 percent of capacity.
San Francisco Giants
Like the Padres and the Phillies, the Giants will also operate at 20 percent capacity with just over 8,000 fans allowed at Oracle Park for the team's home opener against the Rockies next week.
St. Louis Cardinals
The Cardinals will play in front of 14,600 fans in their home opener next week, which amounts to 32 percent capacity of Busch Stadium.
Washington Nationals
Only 5,000 fans will be allowed at Nationals Park on Opening Day against the Mets. The Nats, however, have indicated they hope to increase from the current 12 percent from later this month.