A Republican Senate candidate told the daughter of civil rights icon Martin Luther King Jr. that he understands her father's history better than she does—at least when it comes to guns.
Josh Mandel, a Senate candidate running in Ohio's Republican primary, took to Twitter Tuesday to tell Bernice King that her father, who was slain by an assassin's bullet, "knew the importance of the Second Amendment." The dustup is the latest to come out of the competitive and, at times, contentious Republican primary race for the key Senate seat.
The exchange between the two began earlier Tuesday when Mandel tweeted out a video showing the candidate standing on Edmund Pettus Bridge in Alabama. The bridge is famously where peaceful civil rights activists (including King) were beaten by police during a 1965 march.
"Martin Luther King marched right here, so skin color wouldn't matter," Mandel said in the ad before cutting to pictures of him standing next to Black servicemen from his time in the U.S. Marine Corps.
Mandel, in another tweet, thanked Bernice King and the King Center, a foundation named after the civil rights leader, "for motivating me to film this ad."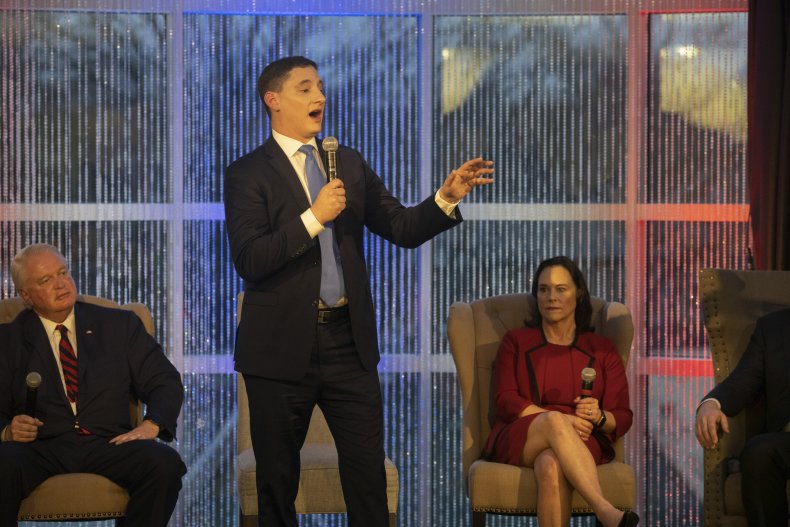 "Josh: Regretfully, I do not believe that I or @TheKingCenter legitimately motivated you to film this ad, as it is in opposition to nonviolence and to much of what my father taught," Bernice King replied on Twitter. "I encourage you to study my father/nonviolence in full."
She included a link to a nonviolence training offered by the center.
But Mandel replied telling her to "study your history better."
"Your father knew the importance of the Second Amendment when he tried to exercise his right to self-defense and was wrongly denied a gun permit by anti-gun racists," said Mandel.
This isn't the first time that conservatives have claimed King's legacy in supporting gun rights. In January 2019, the National Rifle Association marked Martin Luther King Jr. Day by tweeting how the civil rights leader was denied a concealed carry permit.
Adam Winkler, a UCLA law professor, wrote in a 2011 article for HuffPost that King did in fact apply for a concealed carry permit in the mid-1950s after receiving constant death threats and has his house bombed. King likely met the legal requirement to get a permit, but police in Jim Crow Alabama denied it, using their legal "wiggle room" to discriminate against African Americans, he wrote.
"Eventually, King gave up any hope of armed self-defense and embraced nonviolence more completely," wrote Winkler, who came across King's permit while researching his book Gunfight.
Charles E. Cobb Jr., a former field secretary for the Student Nonviolent Coordinating Committee, told the Associated Press in 2016 that King appreciated the South's culture of gun possession, but later rejected it.
"When they bombed his house in 1956, his first instinct was to apply for a gun permit," Cobb said. "He moves toward nonviolence slowly. By the 1960s, he abandoned the idea of weapons for self-defense."
Bernice King continued the debate with Mandel on Tuesday, tweeting out a section of her father's book Stride Toward Freedom: The Montgomery Story. In the section, King wrote that he had applied for a gun license, but after it was refused he reconsidered how he could carry a firearm while being a leader of a nonviolent movement.
"I encourage you to read the entire book," she added.
A February poll from Trafalgar Group shows Mandel is leading the Republican primary with 21 percent. Behind him is investment banker Mike Gibbons at 16.4 percent and writer and venture capitalist J.D. Vance at 14.3 percent.
Earlier this month, a video captured Mandel and Gibbons going toe to toe during a debate. Vance released a new political advertisement on Tuesday asking voters if they "hate Mexicans," and went on to say the president's "open border is killing Ohioans."
Newsweek has reached out to Bernice King and Mandel for comment.