Savchenko Protesters Toss Molotov Cocktails at Kiev's Russian Embassy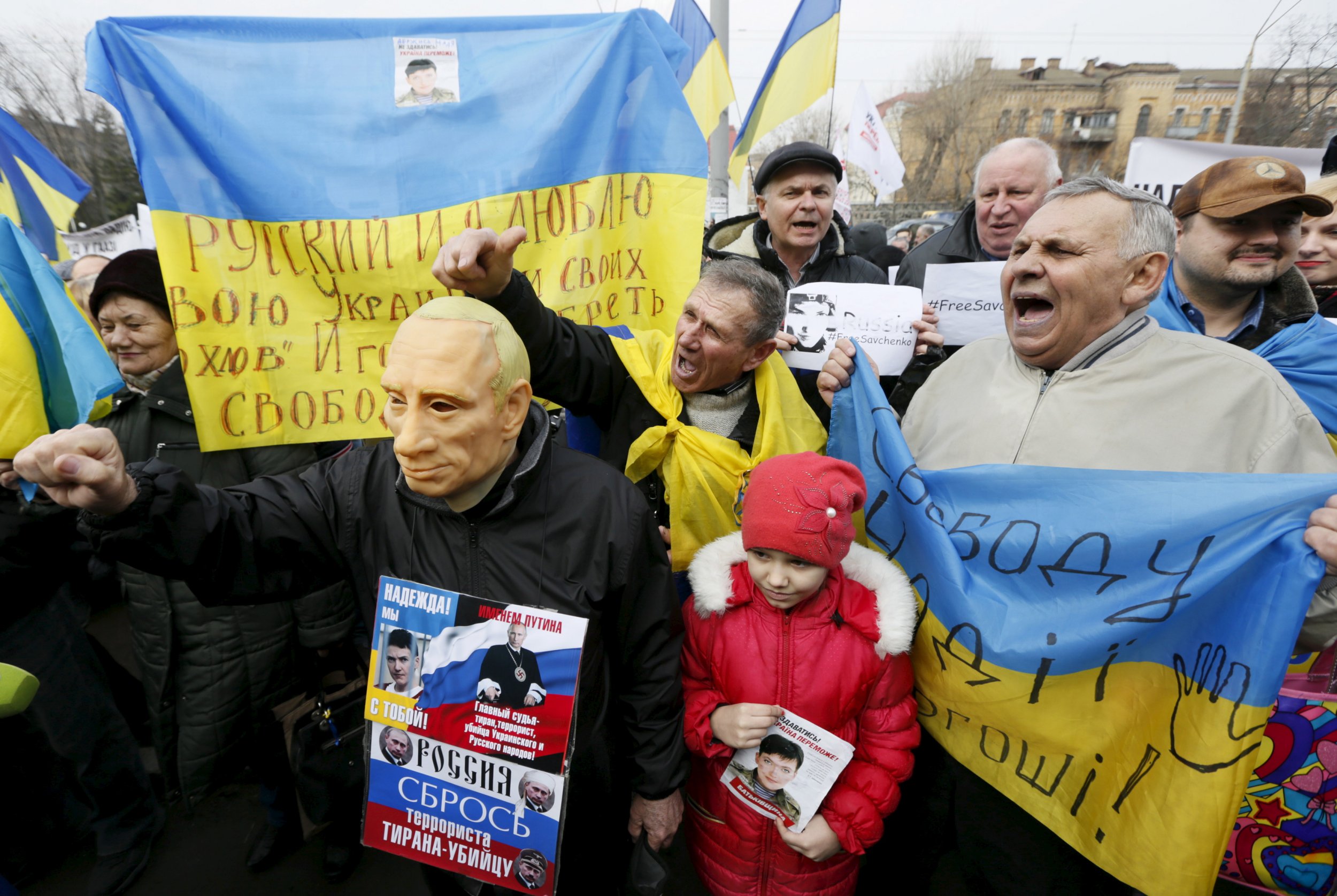 Ukraine has detained three people for hurling Molotov cocktails at Kiev's Russian embassy, as protests against the likely conviction of Ukrainian pilot Nadiya Savchenko continue.
Savchenko has been detained in Russia since 2014 under allegations of being complicit in the killing of two Russian journalists in eastern Ukraine and illegally trying to sneak into Russia, posing as a refugee. Her defense has said she was abducted into Russia by pro-Russian rebels who had captured her well before the journalists died.
The case has come under intense scrutiny for being politically motivated and both the Ukrainian government and U.S. Secretary of State John Kerry have asked Russia to release Savchenko. The final verdict on her case is expected on March 21 or March 22, and protests targeting Russian diplomatic missions in Kiev, Odessa, Lviv and outside Ukraine have increased in the run-up to the date.
Kiev's police confirmed in a statement on Thursday that two men and a woman were arrested early in the day for throwing flaming objects at the embassy of a "foreign state". More bottles and lighter fluid was seized from the group before they were taken into custody.
According to state news agency RIA Novosti, Oleg Grishin, press secretary of the Russian embassy in Kiev, confirmed that the incident took place around 3 o'clock in the morning, when "several Molotov cocktails" were thrown.
Video of the incident was posted by the detained woman on her Facebook page, where she declared that she and the other protesters were "patriots of Ukraine" who were acting "in support of Nadiya Savchenko".
The incident occurred after Ukraine's President Petro Poroshenko officially announced that he is ready to arrange Savchenko's release as part of a prisoner swap with Russia. Speaking while on a trip to Turkey on Wednesday evening, Poroshenko said that he is prepared to do "everything possible to ensure she returns home as soon as possible, alive and well."
Savchenko has previously said she does not want to be traded for Russian soldiers captured in Ukraine.
However, Poroshenko also said that Russia has not come up with "any satisfactory initiative" for such a swap and that Russia has shown no sign of being open to negotiation over the last two years.
Earlier in the day on Wednesday, Russian Foreign Ministry spokeswoman Maria Zakharova said talk of a prisoner swap could not take place "in theory or in practice" until court's final verdict. Kremlin spokesman Dmitry Peskov also quashed speculation of a swap, saying he was not aware of any ongoing discussions on the subject and urged everyone to respect Russia's justice system.
Savchenko announced on Thursday that she will end the "dry" hunger strike she had declared a few days earlier and will drink water but refuse food. According to her lawyer Mark Feygin, Poroshenko officially asked the pilot to end her strike because Ukraine needs "a healthy Nadiya Savchenko."
"We are all very worried for you," Poroshenko wrote in a letter that Feygin posted on his Twitter account.
Protests in support of Savchenko are expected to continue in Ukraine until the verdict is pronounced.